When the NY Times writes about a humble Hot Dog stand you tend to regard it a bit differently. For not only is it a place that sells hot dogs and all things to be consumed when drunk at night, it is apparently much more than that. It is said that if you stood in front of there for 3 days, you'd see the who's who and who's not of Finland. Celebrities and politicians stop by Jaskan Grilli at some time to satisfy their alcohol induced cravings for meat, salt and fat. Normally placid Finns have been known the break out in fights in the queue.
Due to a conflict of plan schedules and unreliable international SMSs we are meeting my sister  at midnight after her plane from London arrived in at 11pm. And now the fun has only started. We get on the bus at my husband's uncle and aunt's house at 11pm and it appears that the party has already started on the bus. A huge group of drunk youths (doesn't that phrase make me sound old?) are yelling and popping beers open on the back of the bus.Their rowdiness doesn't faze the driver and neither does the beer which has been spilled all over the seat and aisles of the bus-behaviour that would get you thrown off the bus in Australia goes unheeded. Both girls and boys hold open bottles of beer or alcohol and walking down the street swaying and singing loudly is de rigeur.
12am Helsinki
It's also the time of the year where the sun sets at 11pm and rises again at 3am, giving it an even more surreal atmosphere. We've been up for over 24 hours having woken at 4am to go to Tsukiji fish markets with naps taken in between but the fact that the sun is shining tricks our bodies into believing that it is much earlier than it is.
The queue
The Finns are friendly if you stop and ask them directions (and we did several times) and whilst my husband speaks some Finnish, we resorted to getting directions in English to save time. We're told that Jaskan Grilli is near Storyville restaurant and that it is a white cube-if lost again everyone knows it apparently. My husband's cousin of course knows it but is baffled by the NY Times review of it, to him it's just a Hot Dog stand.
Menu and ordering
But here we are standing in front of the white cube, there's no signage saying "Jaskan grilli" but you know it from the queues and the fact that an item called the "Kannibal" appears on the menu. For €10, you will get three meat patties, a sausage, minced beef, ham, ham sausage and a fried egg sandwiched between a large bun.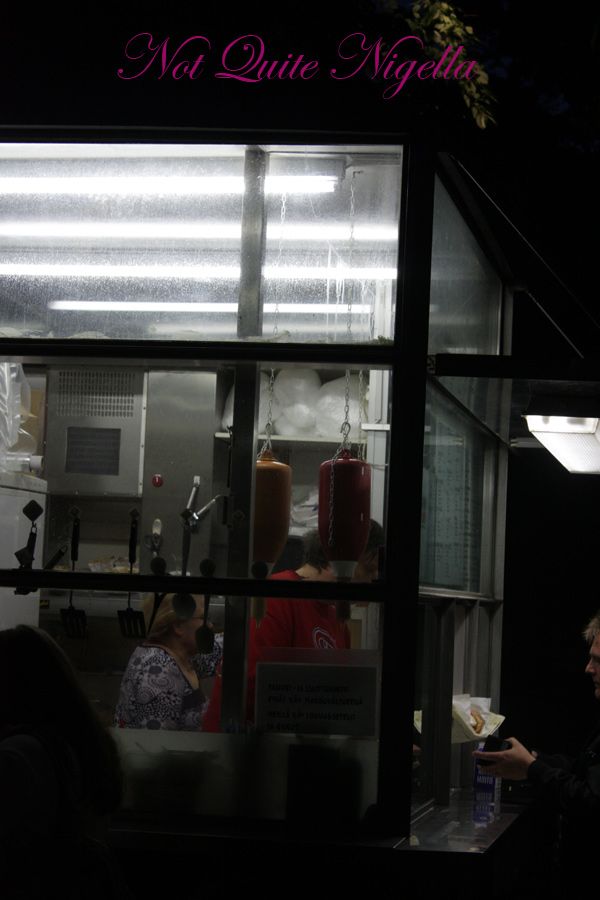 Two huge udder like sauces
And lets not forget the sauces, said to be up to 14 sauces: we're curious, there are two udder like sauces hanging from the ceiling. Perhaps there are several mixed in there although one appears to be a tomato sauce and one a thousand island looking sauce.
The "Kannibal"
Food porn closeup of the Kannibal
Taking our "Kannibal" to the nearby table and seats (bolted down) we open it up, it looks big but not unconquerable if you were very hungry and partial to processed meats with an aversion to vegetables. It's satisfying in the way that only processed meats and grease can be, like that greasy kebab  (or person) late at night that you wouldn't look twice at during the day.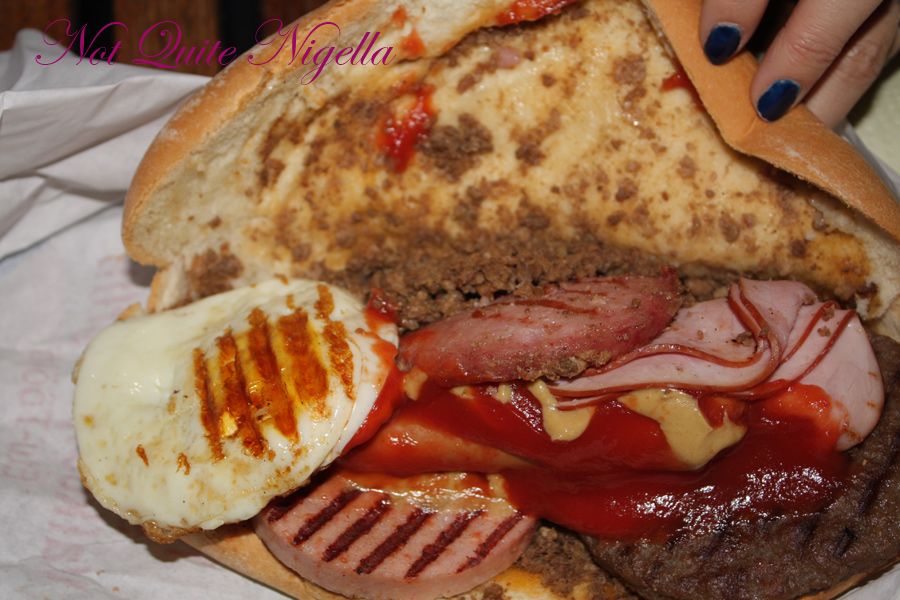 Eeek! Best not to take a peek inside
The sauce tastes like a mixture of tomato sauce and mayonnaise-it's good although I don't know if it's necessarily a mixture of all of the things it is said to be. But the man sitting next to us who has dripped some on his jacket seems to like it-he dripped some on his jacket and then proceeded to lick it off! The guy behind the counter goes outside for a cigarette break and asks us where we're from. He knows Australia as that is where the Formula One is being held. I have been well briefed by my husband that Rally Car driving and Formula One is a national obsession and this man is no exception. He admires Kimi because he drinks every day.
Kimi fan
No fist fights broke out while we were there- perhaps it's just legend or perhaps we were out too early. Fortified with grease and faux meat, we make our way into the weaving drunken teens and find our way home. And we did, at 3am when the sun was rising again. I can only suppose it's part of the Jaskan Grilli experience.
Jaskan Grilli
Dagmarinkatu, Helsinki, 100
Behind Parliament House (not Parliament Square or Senate Square)
Helsinki Finland
Open 19.30-4.30am