Do you ever get food anxiety before you head off to destinations unknown? Do you feel the need to arm yourself with a vending machine item that you would normally eschew but now gratefully punch buttons for? Heading off on the Rail Europe regional TER train we are seated in the first class compartment which is thankfully quite empty and I have two seats on which to stretch out. I'm armed with a waffle from the vending machine for the princely sum of €1 and we take the three hour journey to Tours.
For the entire trip I admit I was so tired that I slept soundly the entire way only to be awoken as we approached Tours. Amboise is actually just a couple of hours from Paris by train or car. The drive from Tours to the picturesque and pretty town of Amboise reminds me why discovering these little cities reminds me of picking a chocolate from a box. Every one is unique and worth every bite, every moment savoured.
The town is delightful to look at, multi faceted and also small enough to explore easily by foot. It holds many treasures inside it with châteaux, wine tastings, third generation chocolatiers as well as Chateau Royal d'Amboise which is where Leonardo Da Vinci was buried and the Chateau du Clos Luce where he spent his final three years. Not only that, another castle (yes there is no shortage of castles) has a Renaissance chef who specialises in making food from the Renaissance period (stay tuned for that!).
We arrive at our hotel for the evening, Le Pavilion des Lys, an elegant 18th century residence owned by chef Sébastien Bégouin. The salon or living room is welcoming but stylish and the seven rooms up the winding staircase are all individually decorated and I have myself a deluxe room. A Louis Vuitton chair with the canvas and trim from a genuine bag is edged by fur.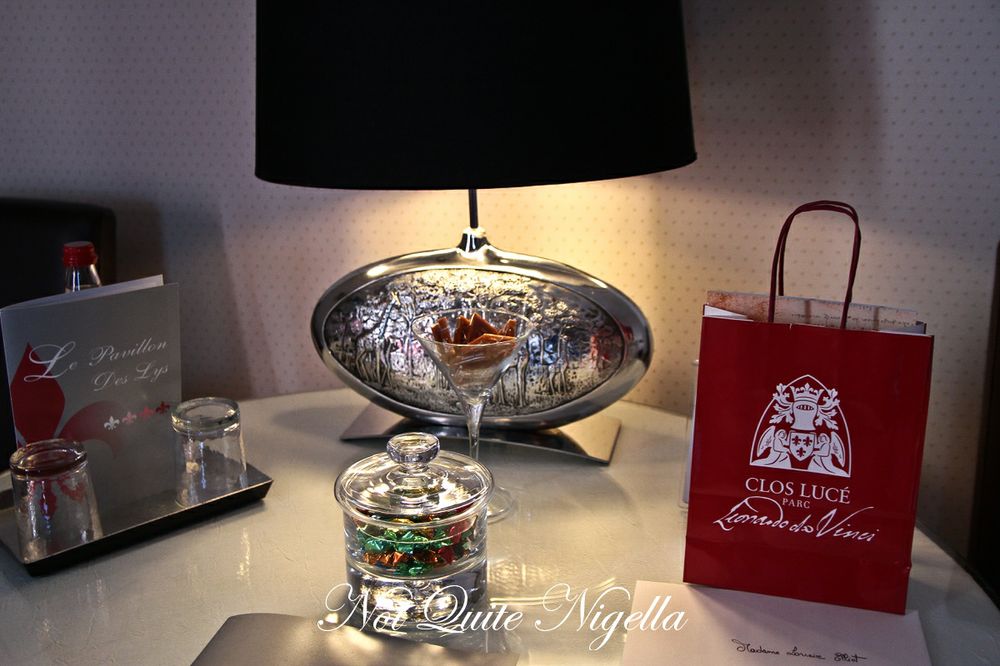 My room at the top right of the stairs (number 20) is decorated with a striking red and white theme. There is a king sized bed that looks temptingly comfortable and the room is very spacious. There are salted caramels and bonbons on the table and a large wardrobe to hang clothes.
The bathroom has a bath and a shower, a separate toilet and toiletries include shampoo 2 in 1, body gel and a divine smelling body lotion. I look at the bath longingly wishing that I had time to soak in it.
And I usually skip breakfast but I couldn't possibly here. The breakfast spread is one of the most impressive and luscious that I've seen with hand picked goodies including the most luscious dessert figs and apricots proffered in enormous glass bowls the size of vases. The pastries and jams are all worth every calorie and you can also order hot food from the menu.
Even the cellar door in Amboise is not your usual one. At Caveau des Vignerons d'Amboise, a collective of 10 winemakers or vignerons take turns manning the cellar door with each taking one month of the year. The cellar door is located at the base of the Château d'Amboise There are wine tastings as well as cheese sales for the gorgeous Sainte-Maure goat's cheese.
Sainte-Maure goat's cheese
I love the romance and drama of a castle or and for the castle lover, the Loire Valley has 19 castles to visit in a castle trail. You can choose the castles that you want to visit based on different factors and one of the most popular for art lovers is the one that Leonardo Da Vinci lived in. Tickets to the museum range from €11-13.50 depending on high or low season and you can download a iPhone guide for the museum as there is no guide.
In 1515, at the age of 63, Leonardo Da Vinci moved to Amboise at the invitation of the French King Francis The 1st. He brought three key paintings with him: the Mona Lisa, St John the Baptist and the virgin Saint Anne. At Chateau Le Clos Lucé, he stayed with his entourage including his lover and lived out his final years there without any pressure to produce any works of art.
Chateau Le Clos Lucé was originally built by Etienne le Loup who originally worked as a kitchenaid in the king's kitchen. The legend goes that King Francis I liked to be anonymous and when he went downstairs to the kitchen and asked the young marmiton or kitchenhand le Loup how much money he made. Le Loup answered "As much as the King." When asked what he meant by this he explained that he earns what he spends. The king, liking that mysterious response made le Loup a counsellour and gave him money so that he could have his own château. It was then bought by the royal family in 1490.
When Da Vinci arrived he had paralysis in his right hand and worked slowly as was his custom. The bed in his bedroom still sits in its canopied dark velvet glory and to the left sits a copy of a painting of his last days where he lies in the bed in the arms of King Francis I, his long white hair trailing onto the pillow.
Downstairs in the gardens and the museum are many of his inventions brought to life. None of the machines from his sketches were built during his time and some include the multiple shooting machine gun, the tank which was designed and rendered in wood with several guns coming out from under the hood. The design for the tank actually had such a crucial flaw that they supposed that it was done on purpose in case the designs fell into the wrong hands.
There are interactive versions of his designs as well as large representations of the sketches. Which brings us to the Renaissance lunch where chef Sieur Sausin recreates food from the renaissance period after researching the subject in depth.
Chef Sieur Sausin
Renaissance food is interesting because it straddles the late middle ages and early modern and it was a time where spices were introduced to French cuisine. Spices were a costly addition to a meal and they explain to us why the upper class used to eat food with their pinkies extended. The pinkie was to taste the spices without contaminating them with saliva. It was a three year return trip by sea to India for the spices so they were very expensive.
Madame Sausin
Sieur's wife, who serves us in period costume, also tells us that people used to share the same drinking vessel and that spoons were the only implement on the table. Two pronged forks were only to be used in the kitchen and not on the table as it reminded people too much of the devil's pitchfork. This changed in 1550 when Catherine de Medici arrived from Italy where they were more evolved with the table customs and she brought the habit of eating with a fork and knife at the table. This also helped with the fashion at the time which was the stiff collar and the fork prevented the collar from getting dirty.
Meat was cooked for hours and usually pigs or animals were skewered and roasted whole from their beard to the tail. She tells us that the beard was called "barbe" and the tail "queue" and hence the term barbecue was created (although this is commonly disregarded as fact and more folklore).
We start with some wine and there are two to choose from: a white wine with sage, sugar and mint called "Vin de sauge" which is actually very pleasant. The red wine is a sweet mulled wine called hypocras which is sweet and drinkable-dangerous in other words! ;)
We start off with some Fleur de Lys puff pastry topped with cheese and herbs and baked. They're crunchy and the fleur de lys is a lovely pattern.
Crayfish and avocado
The little shot glass is the first in a series of amuse bouches. This has a layer of lemony avocado and crayfish at the bottom. The crayfish layer with mustard seeds is delicious although I didn't go for the moussey avocado layer which had a flavour that was hard to place (an enquiry yields just lemon as the other ingredient although few of us tasted more than this).
Our next two amuses are beetroot and bacon lardons cooked in their own fat. The beetroot is a sweet and earthy puree and the lardons add a nice saltiness to the beetroot. The other one is grilled vegetables topped with a white anchovy. The vegetables very well seasoned and the anchovy gives a punch of flavour.
The bread arrives and they explain that there was a ritual to pray before meals. Then people would signal the cross over the bread and it used to be shared with everyone breaking a bit of bread off. Interestingly, the words for sharing bread is "co" (with) and "pain" (bread) and copain means good friend. And she explains that in the absence of other ingredients, they used to use breadcrumbs and poppyseeds to thicken sauces.
Asparagus puff pastry
Travels to America brought back items such as pepper, corn, maize,  tomato, potato, banana, pineapple and vanilla. Coffee came from Ethiopia and it took 50 years for it to become used in Paris after it landed in Marseille. Cocao was used as a powder cooking it with crayfish. The custom was also that men were served before women. Our entree has three spears of fat asparagus with a creamy foam on top and a green pea puree on the side. There was also saffron cooked asparagus spears in the puff pastry container which was crispy.
Pork filet mignon
The sweet pork with bay leaf butter is tender and juicy and the mushrooms are divine-so moreish I could have had a plate of these on my own! They were paired with a sweet garlic and zucchini frittata which was soft, moist and eggy.
Before dessert there is a cheese course with a brie and a Saint Maure goat's cheese which I adore.
Chocolate cake
An unusual mix the centre is like a chocolate cake whereas the outside was like a chocolate biscuit. The strawberry sauce is generously poured but is very sweet and I didn't really go for this dessert.
One last stop while we are in Amboise! I promised to also show you the chocolate shop didn't I? Bigot (pronounced bee-go) is a beauty and three generations strong. With a dizzyingly delicious range of cakes, chocolate and ice creams, all made on the premises, it was established in 1913. Service is very friendly as it has been in all of Amboise as they are used to international tourists due to the Da Vinci museum's popularity.
Puits d'amour on right
There are wonderful items like Puits d'amour which means "well of love." It is a rum based custard tart and is one of their best sellers. There are also delicious items like the Bostock which is an almond cream filling, grilled and then served with coffee ice cream, whipped cream and chocolate sauce. Doesn't that sound amazing like you want to dive headfirst into it and eat your way out?
Catherine Bigot
Next year they will have been open for a century and Catherine, the third generation of the Bigot family, shows me the photos and the original oven and paddles that her grandfather used. Originally, the shop was a third of a size and with each successive generation, the shop and space has expanded.
The original oven and paddles above
They have eight staff to make the chocolate, pastries and ice creams. And we can't go without trying the Leonardo Da Vinci chocolates in both milk and dark. They are divine, with a rich gianduja filling and the dark outer and sweet inside is a particularly lovely combination. The enrobing is skillfully thin too.
It's a very sad goodbye to one of my favourite stops on our regional France trip!
So tell me Dear Reader, if you could go back to any era in history, what would it be?
NQN travelled as a guest of Rail Europe.
Rail Europe
Rail Europe is the exclusive distributor of the France Rail Pass in the world. www.raileurope.com.au
Le Pavillon des Lys
9 Rue d'Orange 37400 Amboise, France
Tel: +33 02 47 30 01 01
www.pavillondeslys.com
Sieur Sausin and historical cuisine
L'Auberge du Prieuré: a gastronomic journey from the time of Leonardo de Vinci
Tel: +33 (0)2 47 57 55 78
Open June to September, every day except Wednesday for lunch: service from 12 noon to 4.00pm.
Bigot
2 Rue Nationale 37400 Amboise, France
Tel: +33 02 47 57 04 46
Bigot Amboise - Patisserie chocolaterie Bigot à AMBOISE
www.bigot-amboise.com