I had told a friend of mine, M, about Una's at Double Bay and how their Schnitzels came with sauce. "PFfffttt!!" she said indignantly "Schnitzel should never come with sauce!!". As a proud Austrian, she is highly opinionated on the foods from her native land. And I in turn, vowed never to serve her Austrian food, should I get in trouble for fiddling with it.
We walk into The Austrian Club this cold, Wintry night, our stomachs happily anticipating a large meal full of meat and potatoes and various other ingredients that make up Austrian cuisine. The Austrian Club is situated in Frenchs Forest, close to other National clubs such as the Czech club and the Danish Club. Of course we are going here with M and her monkey-toting son I. After 15 years in Australia, this is her first time to the club. On the outside she says that it is much like a typical Austrian building, white with brown trim and a fire bell at the top. And the sign outside proudly sports Gösser beer, the popular Austrian Beer. So far so good.
Inside, it looks quaint and is comfortable like a hall with checked tablecloth covered tables and we are reassured by M, that it looks just like back home. She point out the various details, from the curtains to the wall plaques and the signs that would separate foreigners from natives.
For example there is the "Stammtisch" sign above a table which reserves that tables for the elders or regulars. An Austrian would never sit at that table unless they were one and each club would have one of these tables put aside for their special patrons. The fixtures above the lights she says are based on the equipment that they use on the oxen that plough the fields in Austria.
Food orders are taken at the table by the wait staff and drinks are ordered a the nearby bar. And it's cash only for both (which threw us a little and had us hurriedly counting cash in wallets and nominating people to wash dishes).
We order with the advice from M as to what is typically Austrian and then she comes back from the bar with cans of Almdudler, a popular Austrian soft drink flavoured lightly with herbs (much like a Chi drink). The red can features an Alpine looking couple and it's said to be their National drink, second only to Coca Cola in sales, although it doesn't contain caffeine and the taste is light and refreshing.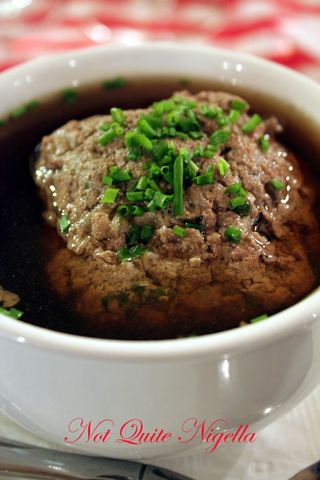 They bring the bowls of Liver Dumpling Soup out and M is instantly pleased. She examines it for a moment and says satisfied, it looks right, the colours are right, the bowl is right, it's done just right before declaring "Mahlzeit!" their version of Bon Appetit. It's unmistakebly liver-y, like a heavy-ish soup dumpling, the broth is good, quite rich in flavour too.
Not long after our mains arrive, the Vienna Schnitzel is three pieces of light golden crumbed schnitzel. It's fairly crispy although I'd have to still say that I prefer Una's. The accompanying potato salad is delicious, a little similar in texture to Japanese potato salad in that part of the potatoes are mashed.
The House platter, with three different types of pork is certainly meat heavy the roast pork succulently soft with the most delicious crackling. I try not to eat crackling too often but I can't help myself here. The Kassler and speck are also good, but they are distinctly different from each other, the Kassler being saltier and the speck being like a delicious pork belly, almost sweet in flavour.
The accompanying Knodel (bread dumpling) is perfect (I've made these before and I'm glad to report that they taste very similar) and the sauerkraut also good, not too vinegary.
Wiener Zwiebelrostbraten mit Bratkartoffeln und Salat – Vienna scotch fillet with crispy onions roast potatoes and salad $20.90
The last savoury dish is one that M urged us to try as it is apparently very typical of Viennese food. It's a scotch fillet steak with a thick tumble of crispy fried onions. The steak is enormous and for the most part decent with a little gristle and fat around it but I love the fried onions on top and wish there was a whole new bowl of these. The accompanying roast potatoes are delicious and the salad, although wet with dressing at the bottom (I'm assured that's the way) is also welcome in this meat heavy meal.
No meal is complete without the Vienna Apple Strudel with cream and icecream. M takes a bite and gives it a thumbs up. She points out that they use fresh apples in their strudel, hence the different taste to other strudels and a bite of it definitely shows us this.
The pancake with raspberry jam (choice of chocolate sauce, strawberry or apricot jam) is thin, like a crepe, spread with jam and rolled up. M also tells me that any leftover pancakes or crepes are then thinly sliced up into fettucine sized widths and then served with a clear soup for their "Pancake Soup" (also available on the menu).
During the meal, the Club President pulls up a chair and sits down with us (M assures us that this is all very normal for a country style restaurant). He explains that the club has about 700 members and he has been President for about 25 years. The restaurant itself operates as a separate business and does well. The drinks are separate and the work here outside of the restaurant is done by volunteers including his job as the President of the club.
We're full to the brim and my husband comments that it's one of the few meat-heavy meals that he's actually enjoyed. We ask M what they eat in Summer when it can reach 30 degrees and one might lean towards lighter dishes and replies "The same, except cold!"
The Austrian Club
20 Gratten Crescent Frenchs Forest
Tel: +61 (02) 9452 3304
Restaurant open Friday/Saturday: from 6pm Sunday: from 12 noon to 8pm.
Tuesdays open only for the Air Rifle club
http://www.austrianclubsydney.com/