Once upon a time, an email went around to my three partners in crime: Mr NQN, Queen Viv and Miss America. I asked them if they would like to come along with me on a little progressive degustation of Chatswood's new Eat Street. Formerly the railway station, they've turned it into a small collection of restaurants including the Bavarian Bier Cafe, Mamak, Arigato Izakaya and Rocket. And would my darling friends like to turn their stomachs over to me in the name of a progressive degustation? The answer was an instant yes. Ahh I do love my friends...
Bavarian Bier Cafe
"Banana beer...it's so wrong but yet it's not bad" Queen Viv says taking a sip of my Ladies Beer. It's a ferociously hot evening and the end to a busy working week. So what's a gal to do at the Bavarian Bier Cafe but to order a beer?
Ladies banana beer on left
I'm curious when we see Ladies Beer on the menu so I ask the waiter and they explain that these beers are flavoured with fruit syrups (in cherry, peach, banana, lychee and passionfruit) and have no bitterness to them thus making them a ladies beer (cue Emily Howard). In fact the beers on the menu have a bitterness rating to them. I take a sip of my banana beer and it is indeed not bitter at all and has a banana flavour to it. Most interesting and a little strange but not offensive at all.
Diesel beer-how manly!
Mr NQN's starts the weekend off with a Diesel-a dark lager mixed with Coca Cola just for the curiosity value and they explain to us that this is the "hangover beer". Hair of the dog I suppose...
Flammebrot with speck $16.50
Food time! We start with a flammebrot which is a pizza style of item with a choice of three toppings-we choose the speck. The bread part is a cross between a pizza and a pane croccante crispbread so that it is crisp at the edges but softer towards the centre. It's spread with a cream cheese and is topped with onions and speck. It's not bad-we'd imagine that this would be a good tummy filler to go along with the beer.
Munich Brewer's platter for two $74
We also nibble on a Munich Brewer's platter for two-we actually intended it to be some small nibblies but then the plate comes out and takes us by surprise. It is enormous and comes with two large slices of crispy crackling pork belly (oh so delicious, but you need the steak knives for these babies), chargrilled kassler, six sausages, two pieces of fabulous schnitzel, sauerkraut, sweet red cabbage, cinnamon apples and sebago mash.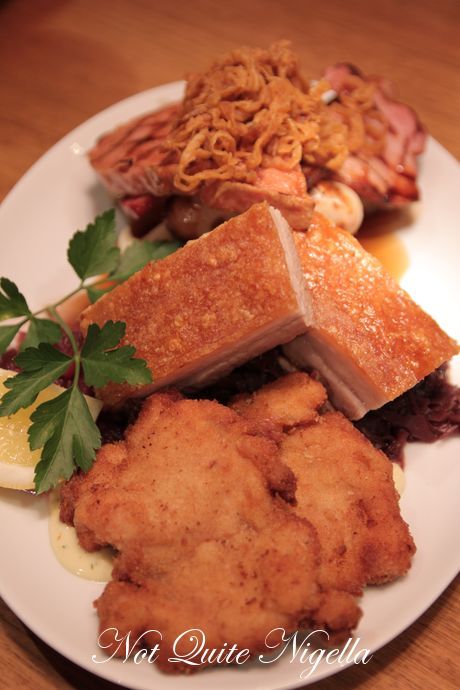 The sausages are a Nurmberg sausage, a cheese kransky filled with NZ vintage cheese, a thüringer, a leberkase, a beef with marjoram, a bratwrust and a frankfurter and they're all delicious but my heart is with the schnitzel and the pork belly with the sweet red cabbage and cinnamon apples. We can't finish it, it is so large and this is our first place to dine.
Stop! Schnapps time! Like Hammertime but better
Ding ding ding! A waiter walks past with a long wooden plank holding some colourful shots and everyone looks around. They're schnapps shots and every order of schnapps comes with a bonus bell ringing to celebrate it. Lured by the bell chimes we just have to try some for ourselves so we take advice from our friendly manager who also shows us how to hold the glass when you drinks schnapps. You are supposed to look into the eyes of your drinking partners when you drink schnapps. And yes the manager tells us that some night, towards the end of the evening, there is an almost constant ringing of the schnapps bell.
Bergfeuer Mountain Fire $8 on left and Sour apple Schnapps $7 on right
We try two schnapps from the two ends of the spectrum, a very easy to drink sour apple schnapps at a 16% alcohol and then we try one of their signature "fire and ice" schnapps  (and a metre of six schnapps can be had for $42 if you are game). Our second schnapps comes from the opposite end and is a 50% alcohol schnapps. Like the name says there is a hot, warming fire sensation when the schnapps goes down but an icey menthol type aftertaste. It also has a very sweet almost faux orange or bubble gum flavour to it afterwards.
And on Tuesdays, there is a schnitzel special where a schnitzel can be had for $17 (instead of $27) and if you are a good girl or boy and finish your schnitzel, you get a free shot of schnapps. Now why didn't parents try this with our food? ;)
Arigato Izakaya
To the ringing of the bell, we move onto Arigato Izakaya next door where we will be eating our mains. It would have perhaps been more prudent to  start the degustation at the izakaya which features small plates of goodies and then progress to the Bavarian Bier Cafe. There's a large wooden wheel suspended from the ceiling and it is decorated on brown wooden tones.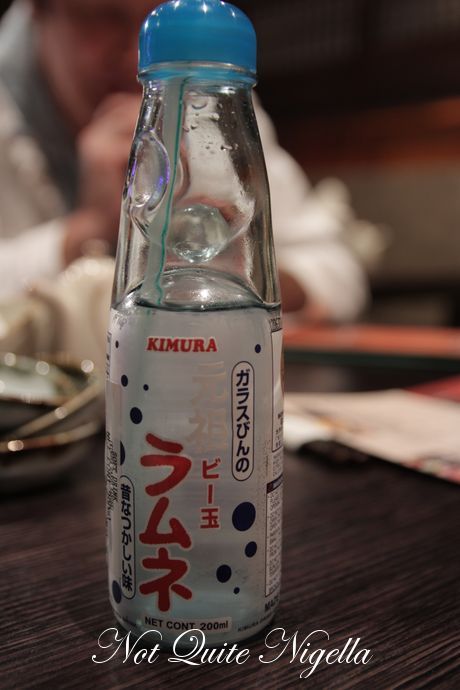 We're thirsty as it's so hot tonight so we quench our thirst with Japanese Lemonade or "Ramune". These come in cute bottles where you release the suspended ball by punching in the top with the little plastic device it comes with. The lemonade is sweet with a slight bubblegum flavour.
MrNQN at our urging orders the Blue Ocean, a Soju (Korean distilled beverage) drink which also tastes like bubblegum.
Karaage chicken $8.90
We start with the lightly gingery karaage chicken which is tender and juicy and comes with a very mayonnaisey cabbage salad and mayonnaise drizzle on top. The chicken is very tender and a good size for biting into. The others find that there is too much mayonnaise but speaking as complete mayo freak I'm not complaining-more for me! ;)
Seaweed soup $4.50
Miss America was pining for some seaweed soup so we ordered this. This reminds me more of a Chinese soup with fragrant smokey sesame oil and beef slices and a very generous amount of seaweed in it.
Gyoza 5 pieces for $6.80
I'm not sure why we always order gyoza, it's probably because all four of us love dumplings. Still, we're never truly in love with them. They're not bad mind you, but they're not as exciting as other dumplings or the other food we've ordered.
Soft shell crab salad $9.80
The soft shell crab salad is freshly cooked and hot and the soft shell crab is nice although it is a little oily as deep fried soft shell crab can often be.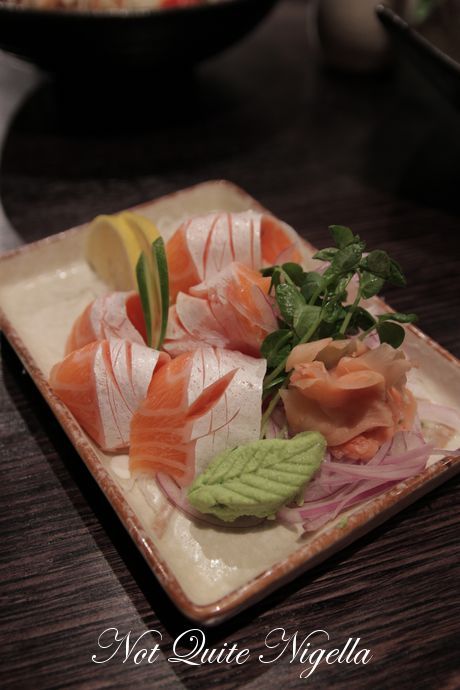 Salmon belly sashimi $7.80
We come to our favourite of the night. The salmon belly sashimi is gorgeously silky and fatty and just melts in the mouth. It was everyone's favourite dish. Oh bliss!
Chef's special sashimi A $39
A sashimi platter can always be a bit of a risk. You never know how generous they are going to be with the sashimi. Luckily for us, they're very generous here. This is an enormous serve with a good variety of sashimi. The pieces of sashimi are thicker than other places and sliced down the centre but still attached the bottom and there is salmon, kingfish, tuna, oysters with roe, maguro and hamachi. There is also a Hokkigai surf clam sashimi which is firm with an ever so slight ruberriness to it - Queen Viv doesn't mind it but it's not my cup of tea.
Not surprisingly, we are clutching our stomachs somewhat at the amount of food we have eaten. Ahh the price you pay for not pacing yourself at a progressive degustation!
Rocket
We arrive at Rocket at around 9.30pm for our dessert and there has been a misunderstanding about our booking time. We were booked in for 9:30 but they had us down for 8:30pm and now they tell us that their chef has left for the evening and they give us a chiding for this. We're uncomfortable and don't feel particularly welcome. After a few moments they relent as we are about to leave and we are shown to our table but it is still awkward.  A shame as the desserts were quite good indeed.
Pre dessert: vanilla bean panna cotta with mango sorbet
The panna cotta was rich and creamy with the mango sorbet a refreshing touch to it.
Chocolate marquise with spiced cherry compote $15
The chocolate marquise is a beautifully light as air chocolate mousse coated in a thin, shiny glossy chocolate coating. Despite having a natural aversion to chocolate desserts in hot weather especially after a very large meal this is light and moreish. The fresh cherry compote isn't particularly spiced but lends a welcome fruitiness to the dessert.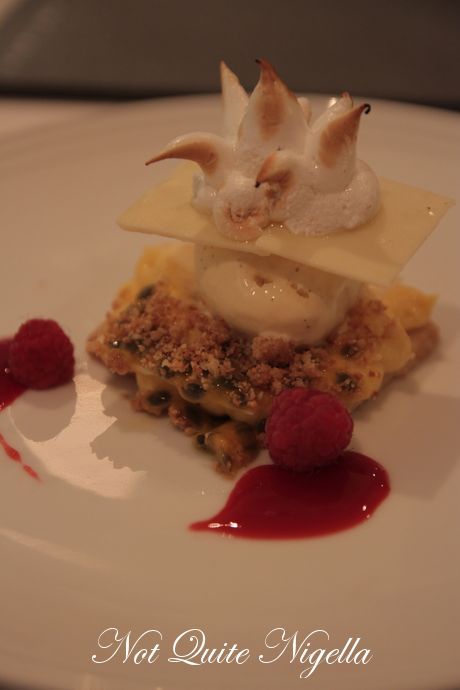 Lavender honey glace, passion fruit, soft meringue $15
I try some of Mr NQN's dessert (they had run out of the other two desserts) and there is a scoop of lavender honey ice cream sitting on a bed of tangy passionfruit laced curd and some biscuit crumbles. The scoop was topped with a sheet of thin white chocolate on which some burnished meringue piping resembling a jester's hat. It has a good balance of sweet, crunchy and tangy.
Mamak
And last but not least is a visit to Mamak. We didn't manage to visit Mamak on this first visit to Chatswood's Eat Street so Mr NQN and I returned there one evening with The Assman in tow. We were starving, having thought ahead about our food fest to come and our plan was to come twenty five minutes before it opened at 6pm and to get in line into the notorious, seemingly permanent queue and get a seat.
Spreading the roti dough
Until we arrived. It was disturbingly empty outside. There was not a single person standing outside which we have never seen with a Mamak. We get a little closer and peer inside the door to see a restaurant full of people as the opening time was actually 5:30pm! To cap it off permanently late The Assman texts us to tell us that he is running about 10 to 25 minutes late and we know that as soon as we get the table he will saunter in and take a seat. It's an Elliott trick that they're known for ;)
Tossing the roti dough
The girl that greets us is very polite and regretful to let us know that everyone has literally just sat down and so we will have to wait for a group to finish their meal until we get a table. Another couple talk to her but since there are only two of them she allows them in (the couple are nice enough to point out that we were waiting first). But soon it feels as the queue is crushing and soon snakes around the corner. The Mamak staff member has everyone's names and we stand at the front of the queue studying the menu and praying for a table of three to finish and leave. Forty minutes later we take a seat and inside we see that it's pretty much a doppelganger of the Chinatown version.
Stretching the dough even more!
We order quickly. We are hungry and considering we now have the menu etched in our brain after staring at it for 40 minutes we know exactly what we want. My friend Buxom Wench recommended the teh tarik, roti canai and the fish curry to us. We order in a haze of hunger and we over order but desperate and hungry times call for this desperate measure.
Roti toss!
Limau Ais $3.50
As I take the long walk around to the bathroom and return the food has already arrived-YAY! And of course The Assman arrives just then. I told you, it's a talent they have...
Tek Tarik $3.50
The teh tarik was a bit late in coming (it arrived after the mains did) but it's delicious. It's pulled tea where tea is made from pouring it from glass to glass at a height so that foamy bubbles form. It is a sweet, strong black tea which almost chocolatey overtones to it.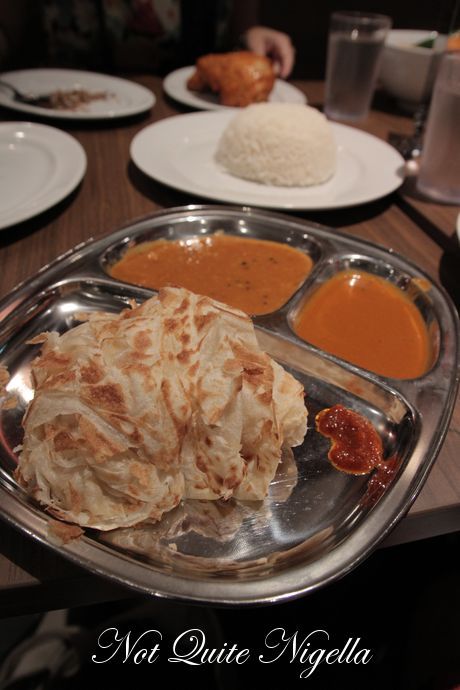 Roti Canai $5
The fluffy multi layered roti is crispy, puffy and airfilled and paired with two curry sauces and a chilli sambal. The  Assman is particularly taken with the roti.
Ayam Goreng $7 ($3.50 each)
It's no wonder the queues are forming as the value is excellent at Mamak. The two deep fried chicken thighs are enormous. They're coated in a thin, crunchy spiced bright orange coloured batter and the chicken inside is gloriously juicy. OK it's not exactly low fat but the crunch and the softness are addictive and I even eat some of the bones they're so soft.
Kari Ikan (fish curry) $16
The fish curry comes out in a very generous serve. Slightly tangy from tamarind it is cooked in, it is lovely and spicy and also has whole tomatoes, okra and eggplant. A little warning, it comes with bones and all so we watch out for these which Buxom Wench had warned us about.
Rojak $12
My favourite item was the rojak which was just the right balance of crunchy, soft, sweet and savoury. A salad was just the right order for this hot weather and it is made with finely julienned cucumber, deep fried tofu cubes, half a hard boiled egg, shredded yam beans and a rich and thick peanut sauce and crunchy prawn and coconut fritters. This is a mamak rojak or inidna rojak as opposed to fruit rojaks that I've had before and I much prefer this one. I love the sauce so much that I use the roti to mop it up with.
A dozen satay $14 half beef half chicken
In order to try both chicken and beef, one needs to order the whole dozen sticks. They're slender sticks flavoured with ginger with a nice char to them-and I do like it when the meat is so flavoursome that you can eat the satay sticks by themselves without the sauce. The chicken sticks in particular are good, the beef are a little offal-ly in flavour.
Nasi Lemak vegetarian $7.50 + $3 for vegetable curry)
The Assman makes quick work of his nasi lemak-I try a bit of coconut rice which is rich and aromatic.
Kari Sayur $7.50
I snuck a little taste of his vegetarian curry made thick with red lentils and it was rich and deep in flavour with a good amount of spice to it. There is tomato, carrot, potato and eggplant in this curry.
Ais Kacang $5
"Do we have room for dessert?" I ask Mr NQN and The Assman and they nod. I breathe a sigh of relief-you see I love Ais Kacang as it reminds me of trips to Singapore to see my mother's family. It's the perfect dessert for a hot day. It comes as a tower of shaved ice with rose water syrup, sweetened condensed milk, and a molassesey gula melaka syrup which hides a scoop of sweetened red beans and tiny cubes of grass jelly. The whole shebang is topped with creamed corn. And I had to fight my way to get some as it was both Mr NQN's and The Assman's favourite dish.
Roti Tisu $9
The roti tisu is an enormous witches hat shaped item that comes to the table along with the eyeballs of everyone else around you it attracts that much attention. No matter how many times one comes past, people stare. It's paper thin, as signified by the name and coated in a crispy, sugary crunch so that it shatters like the thinnest glass into shards which you dip into the ice cream. It's like a super thin palmier cookie. Despite Mr NQN's dislike for crunchy or dry things, biscuits and wafers, he and the Assman eagerly finish this off and have a lot of fun dipping these into the ice cream.
We ask for takeaway containers to take some of the dishes with us as we weren't able to finish some of them and these are furnished with a smile. We pay at the counter and walk out the door to a queue that stretches out the back and side of the street.
So tell me Dear Reader, do you often or ever queue for food?
NQN ate at Bavarian Bier Cafe, Izakaya Arigato and Rocket as guests of Chatswood Eat Street.
Bavarian Bier Cafe
Chatswood Central Precinct 1 -5 Railway Street Chatswood NSW 2067
Tel: +61 (02) 8922 8100
Izakaya Arigato
Chatswood Central Precinct 1 -5 Railway Street Chatswood NSW 2067
Tel: +61 (02) 9411 6596
Rocket
Chatswood Central Precinct 1 -5 Railway Street Chatswood NSW 2067
Tel: +61 (02) 9411 8233
Mamak
Chatswood Central Precinct 1 -5 Railway Street Chatswood NSW 2067
Tel: +61 (02) 9411 4411