I've spoken here many times about my friend M, originally from Austria, who I bonded with in the corporate jungle over the subject of food. We both didn't expect to become such fast and good friends, well actually I didn't have any preconceptions but she recently told me that she didn't think she and I would have anything in common when she first saw me, but food has a mysterious way of bonding people. And all the better for me, because she has introduced me to all things Austrian. When she sent me an email asking if I'd like to come with her and her boys to the Austrian Club for the Krampus and Nikolo Christmas event, I said yes (of course after googling what Krampus and Nikolo were as I had no idea what they were!).
Oompapa band Tyrolian Echo
For those of you that have never heard of it before, on December 5th, the chain wielding Devil figure (Krampus), comes running through the cities and country areas of Austria searching for naughty children that he beats with hazelnut branches (yes really, I'm not making this up!). He drags the chains and generally creates a lot of commotion. Then on December 6th Nikolo arrives, he is Santa Claus or Saint Nicholas as we know him, and he roams the street with Krampus giving out little gifts to children. According to Wikipedia: "The present day Krampus costume consists of wooden masks or Larve, sheep's skin and horns. Considerable effort goes into the manufacture of the hand-crafted masks, as many younger adults in rural communities engage competitively in the Krampus events." So you see why I just had to say yes. And do try image googling "Krampus", you may think you've come across a bunch of Lordi fans.
At 8pm we buy our $12 admission tickets to the event (I break out my rusty High School German which actually seems to be a vague approximation of what I should say) and walk into the Austrian Hall. It's full and there's an Oompapa band, The Tyrolian Echoes, playing all of the oldies and goodies including Edelweiss (and is it bizarre I know all of the words to this?) coaxing the attendees onto the floor by playing their favourites.
Trophies and a tall Christmas tree
We've eaten a bit beforehand but a quick look at the night's special menu convinces us to share one dish and have some desserts. They're an organised and orderly lot these Austrians and the waitress lets us know that desserts will be served at 8.30pm as they're made fresh and mains before then to help with serving the many guests here tonight.
There's also Christmas Stollen available for purchase tonight.
Wiener Schwammerlrosbraten mit Salat und Bratkartoffel(Scotch Fillet with Mushroom sauce) $20.90
Our Scotch Fillet with mushroom sauce is medium rare, just as we ordered it it's lovely and pink inside with a bit of chewiness. The mushrooms are not forest mushrooms (M asked the waitress to check with the chef as they should really be forest mushrooms) but still the meat is cooked just as we ordered and the sauce is tasty on top of it.
Marillenknodel mit Fruchtsauce (Apricot Dumplings) $6.50
The desserts of course are what get us excited and tonight we've ordered one of each of the desserts. The first one to arrive is the Marillenknodel mit Fruchtsauce (Apricot Dumplings). They're served with ice cream but M says to try just the dumpling and apricot filling alone so we can savour the actual taste. It's a slightly sweet heavy dumpling which I can imagine going down a treat in cold weather, the apricot slightly tangy. And like M thought, I do prefer it without the ice cream.
Blackforest cake $6.50
Let me see if I can drag up my rusty German here-Black Forest Cake or Schwarzwaldkirschtorte is one of those cakes I always thought was so exotic when I was little. After all it was a chocolate cake, had cherries in it and chocolate flakes or curls and whipped cream. Previously, I was always a little disappointed when I tasted it though, feeling let down. This Schwarzwaldkirschtorte isn't bad though, I get plenty of kirsch and cherries inside which I do like although it isn't as damp as I've had (sometimes it's soaked in Kirsch).
Wiener Apfelstrudel mit Obers und vanilleeis (Vienna Apple Strudel with cream and ice Cream) $6.50
Most of the table orders the Vienna Apple Strudel with cream and ice cream and are rapturous over this. It smells delicious but we've already tried this before (and yes it was fantastic).
Coupe Danemark mit Schokoladensauce und Obers (Danish ice cream and chocolate sauce with wafers) $6.50
In is relieved when his Danish ice cream and chocolate sauce with wafers arrives. Adults received theirs in a martini glass but he receives his in an old fashioned ice cream glass. It's sweet and creamy but I have to admit after the exoticness of the other desserts, I prefer those.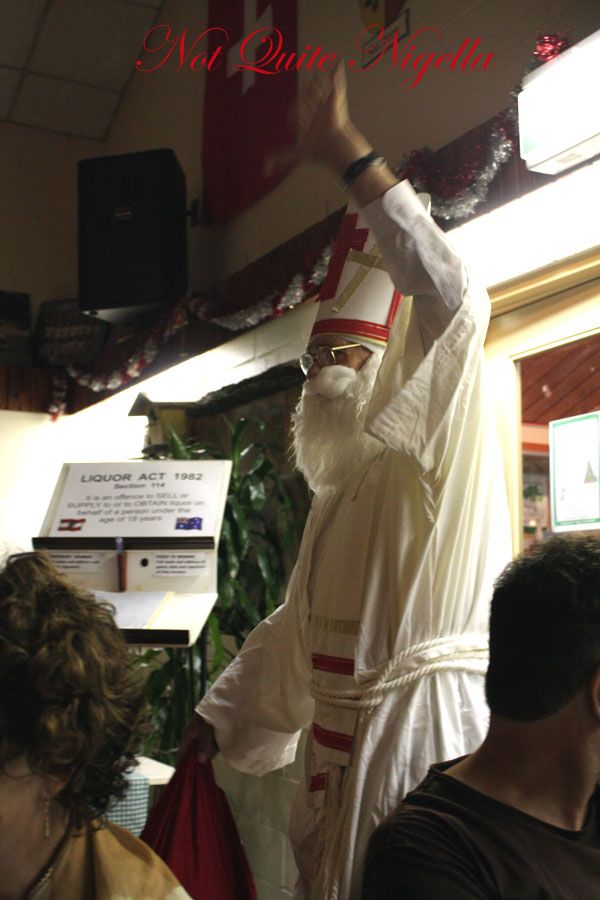 Nikolo arrives!
Krampus "beating" people (more tapping lightly in today's world of lawsuits)
And at 9.15pm sharp, just as the club president had advised, Krampus and Nikolo arrive. Krampus has his customary branches and chains but thankfully doesn't beat anyone with them, preferring to tap unsuspecting women with them and pretend that someone else has done it. And Nikolo gives bags of lollies to the women, girls and children to reward us for being good. Ok maybe we haven't been exactly good but he gives it to us anyway.
The Austrian Club
20 Gratten Crescent Frenchs Forest
Tel: +61 (02) 9452 3304
Bookings for Krampus and Nikolo advised
Restaurant open Friday/Saturday: from 6pm Sunday: from 12 noon to 8pm
Cash Only
Tuesdays open only for the Air Rifle club
http://www.austrianclubsydney.com/
](https://images.notquitenigella.com/images/an-austrian-christmas-tradition-krampus-nikolo/a3-krampusaustrianclub_me.jpg)