Another dinner in the restaurant with the in laws. Can you already hear the theme to Jaws? This evening, unlike other times, the ordering, usually 10 minutes fraught with tension, queries, exclamations and inquisitions, is relatively stress free. Could things be changing with my in laws? Or was it the fact that both Mr NQN's parents, the strictest vegans were absent?
We are at Ta Ta Thai just near Neutral Bay wharf. The lower north shore has Thai options a plenty but this one, slightly hidden away in a suburban area was recommended to us. The decor is simple but nice and the service is good although a mix up as to the number of people puts us on a table with one less space and we're elbows to knees.  The menu is made up of three pages and there is a section of vegetarian dishes which keeps the in laws happy. Prices are reasonable with the most expensive item at $16.90.
Coconut drink $5
The enormous young coconut drink is refreshing and a crowd pleaser, full of sweet, cool liquid. We call this the Elliott Coca Cola as they drink it so much.
Heavenly crab $8
The heavenly crab are crumbed crab balls, filled with soft white crab meat inside with an extremely sweet sauce on the side. I wasn't in love with these as I felt like you can get something similar frozen and sold at takeaway stores. Oh and all of us noted that we have these plates too! :)
Hoy jor $7
The hoy jor reminded me of a Chinese dish which is wrapped in yuba (fried bean curd skin) and deep fried. This is filled with prawn and crab meat and fried until crispy and suits the same sweet sauce better than the crab balls.
Toon thong $7
The toon thong had a slightly watery filling with a crunchy outer and a soft, spongey interior. Out of the entrees and mains, we really did prefer the mains.
Aura with a curry puff in one hand and a spring roll in another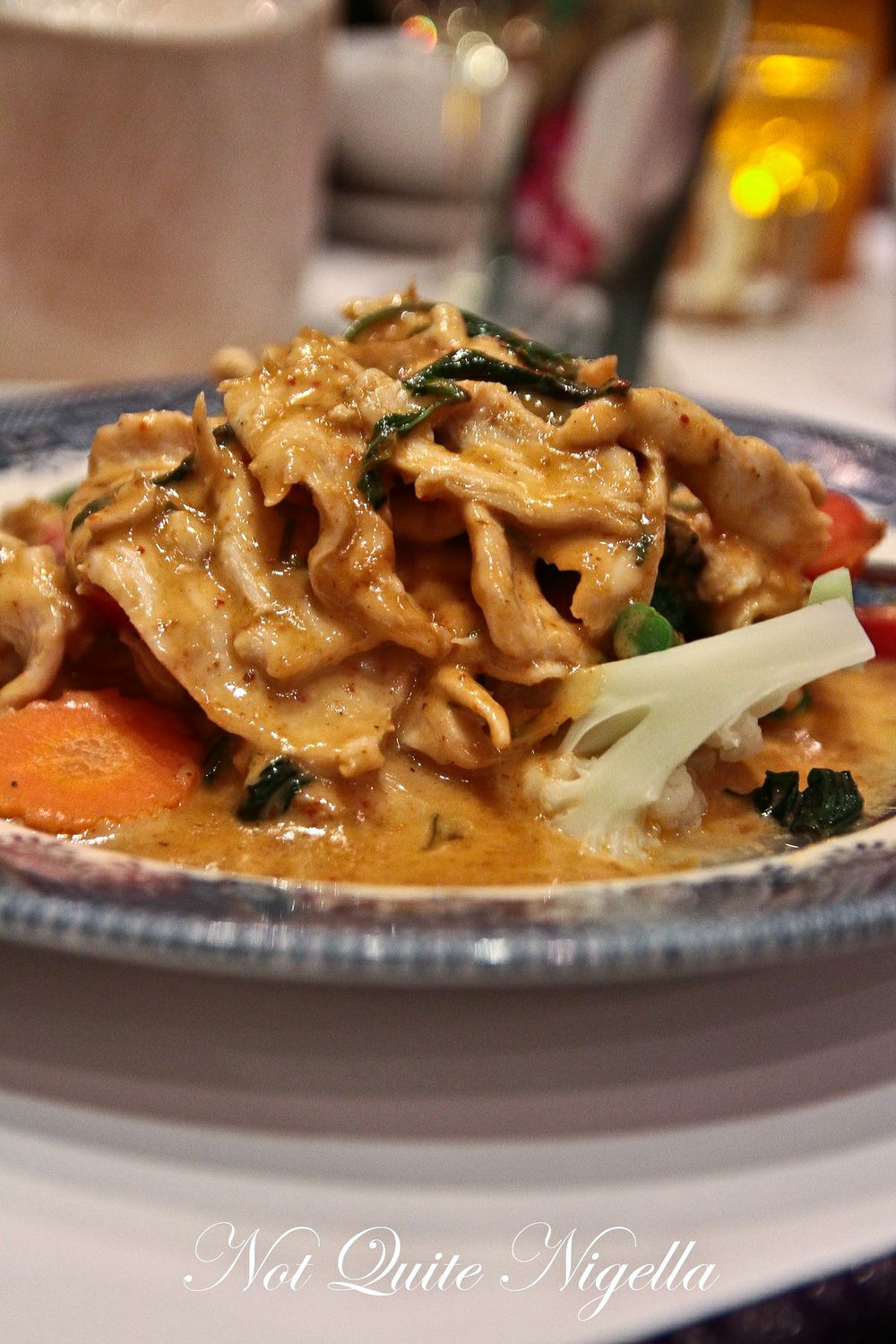 Chicken Penang curry $13.50
The chicken panang curry has a richly flavoured curry sauce with slices of chicken and cauliflower, bok choy, carrot, Thai basil and broccoli. It's our favourite main with a really good balance of flavours and creaminess and was recommended to us by our waitress.
Duck salad $15.90
The fresh lemongrass, onion and spicy flavours are excellent here although the duck in the dish isn't as bountiful as we've had at other places.  The salad itself is very good and the duck tender.
Ta Ta Ocean seafood only $16.90
The Ta Ta Ocean is a generous serve of seafood and mixed vegetables in a delicious, moppable sauce that I kept going back for. The seafood is tender and there is squid, prawns, deep fried fish and mussels. I should add that the rice portions are very generous and they often offer to top up rice and are constantly topping up water.
Pad Kra Kroa with prawns $16.90
This dish looked very similar to the dish above it. I should have perhaps checked myself as they were both recommended to us and we wanted something a bit different like the gai yang or crying tiger. The stir fry has a nice amount of Thai basil in it and is sweet with snow peas, mushrooms, bay corn and six fat butterflied shrimp.
As it is Araluen and Laporello's birthdays, I made a couple of cakes for the occasion including a Mondrian Battenberg cake and a cheesecake. Amaya brings out the candles, two trick candles that won't blow out and they fascinate little Aura Lily. It's about 9:15pm when we've left this Saturday night and they suburb is quiet. And not a drama in sight the whole night!
So tell me Dear Reader, are your family dinners stress free or is there drama?
Ta Ta Thai
15 Hayes Street Neutral Bay NSW 2089
Tel: +61 (02) 9908 3159