You know a place is hot when it's relatively early in the evening and there are crowds standing outside. When you walk up the stairs there are also crowds at the front desk and a crowd waiting.
The touchscreen on which you order
The reason? A Japanese restaurant that offers Touchscreen technology-instead of placing your order with the waitress or waiter, you simply press the items desired on the touchscreen tv and it will be delivered to you before you even know it.
The interior is all stone and wood with large sake bottles displayed on one wall as well as minimalist touches in the decor. Queen Viv, my husband and I are seated at a wooden booth with a touchscreen at our side and we're also given a laminated food and a drinks menu. The service is very polite and friendly and the waiter asks if we've ever ordered via the touchscreen before. We suppose that we can figure it out, after all it's just pressing and probably easier than ordering with a human and we set off to scour the 362 item menu to see what catches our eye.
There are also some rules to follow!
Step 1: Press to select quantity of item and order
Step 2: Press to confirm
Step 3: Order confirmed and sent!
After sifting through the various sections (Entrees, Grilled & Fried, Sushi and Sashimi etc) we touch the screen and order each item. As you press an item you confirm the number and then confirm it again and it sends it to the kitchen. You don't decide your whole menu and then send it to the kitchen all at once, it's done one dish at a time. Which is good if you're organised but bad if you want to retract an order if you see something better later. Even water for the table is ordered through the touchscreen.
The menu is very reasonably priced with most dishes under $10, with some seafood items the only ones above but there is also room for those seeking to spend more with lobster done in various ways (sashimi, grilled etc) at over $100. There are four languages: English, Japanese, Chinese and Korean and the non alchoholic drink section includes cocktails named after the gemstones for each month.
Sushi Roulette $8.50
The item that had us most intrigued was the Sushi Roulette. A Roulette Wheel of 6 pieces sushi arrives, 5 pieces have a normal level of wasabi whereas one is stuffed full of the stuff. Should you be the person to get the said piece, eye watering and sinus clearing should follow. For someone like me that doesn't like Wasabi it's an interesting proposition. My husband gets the piece with the wasabi although he assures us that despite its fierce look, the wasabi is milder than the wasabi that he has at home.* I had read a hint as to how to tell which is the telltale piece and should you wish to be privy to this, read on, otherwise you should skip to the picture of the next photo after the Wasabi laden piece. *
According to Here Comes the Food the pieces that have wasabi smeared on the outside are the normal ones, the piece that looks like it hardly has any wasabi on the outside is THE sushi bomb! They've also suggested an ingenious mind game to play with your friends "...You can play certain 'mind-games' (which I was unfortunately the victim of!) at your own risk: be the first person to take the plunge and opt to choose the first sushi, pretend you've got the 'doomed' piece (which hopefully you don't have) and writhe in agony for a few moments before composing yourself. Afterwards, the group which you're with will feel safe about eating the rest of the pieces and may even opt to add further wasabi to their personal preferences. Sit back...and watch in eager anticipation as one of your group members suffers to their own disbelief and dismay."
Chicken Nankotsu $6.50
The rest of our food arrives in quick succession, in the same order that it was punched in. The Chicken Nankotsu, one of my favourite dishes made of deep fried crunchy white chicken bone, is quietly crunchy and seasoned with salt and pepper. The pieces are cut into small squares and it's good nibble food.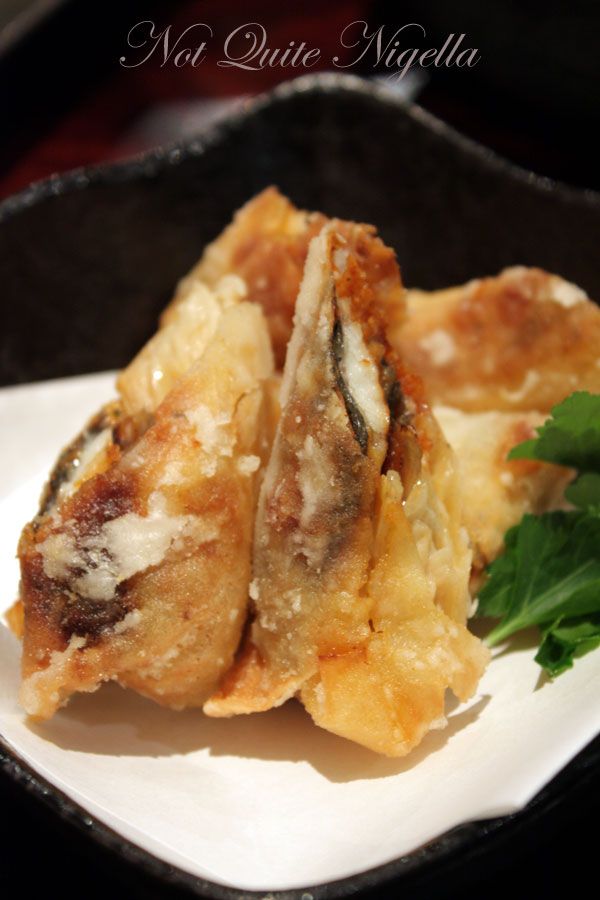 Eel cheese spring roll $6.20
We chose this dish for it's unusual ingredients as we've never tasted eel with cheese. Whilst it wasn't bad, we probably wouldn't order it again, the eel is rich, the cheese is rich and deep frying the whole thing in pastry seems like the quickest way to give yourself a heart attack.
Lightly grilled salmon and scallop box sushi $11.90
Years ago when sushi really took off here, we used to joke about sushi newbies ordering that their sushi to be cooked. Now Aburi sushi or grilled sushi is an item that we're seeing pop up on a lot of menus. Our "box sushi" is a rectagular piece of sushi rice with one half with scallop sashimi and one half with salmon sashimi.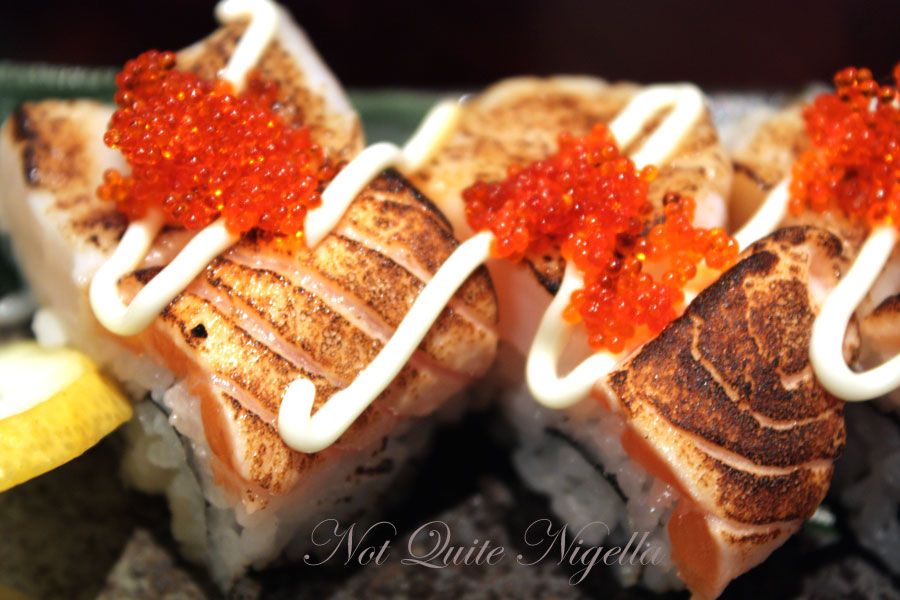 The top is then blowtorched so that it is lightly grilled whilst still maintaining that raw voluptuousness to the fish and scallops, never turning it fully cooked. Queen Viv and I like this dish a lot.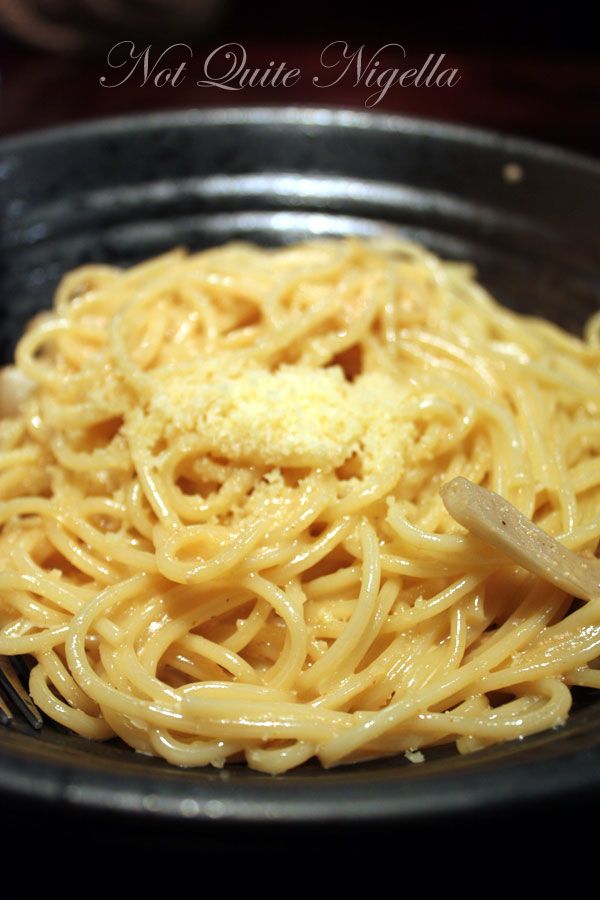 Mantaiko spaghetti $9.50
I love Japanese spaghetti, when I lived in Japan I used to buy the ready made single serve foil pouches if I needed a quick dinner. So we've chosen the Mentaiko spaghetti which has some mushrooms and squid although it's nowhere near as pretty as in the picture with the squid rings circling the top of the spaghetti mound. Here, the "bits" are sitting underneath the spaghetti and we don't get squid rings, just a few stray tentacles. However woeful it looks, it tastes great. I find that Japanese never overcook their spaghetti which I like as I find overcooked spaghetti just horrible.
Scallop eyes $5.90
We weren't quite sure what Scallop eyes were which only intrigued us more so we felt we needed to order it. It comes in a small bowl, half with Korean marinated bean sprouts the other half a chewy textured item with a spicy, sesame flavoured coating. Interesting and I like it although Queen Viv and my husband are more taken with the next dish.
Seaweed Salad $5.50
We all like seaweed salad and our bowl of this vividly coloured chili and sesame seed flecked salad goes quickly although I find I like this a little less than I normally do as it seems to have more of the mysterious slimy fluid in it. No matter Queen Viv and my husband happily finish this off.
Steamed Spanner crab $11.90
We leave the steamed spanner crab til last to conquer as there is a lot of work in eating crab. The cold sweet delicate meat eases off the legs easily although we need the claw crackers and pokers to get the rest out.
WA assorted dessert $9.90 Mochi sticky rice flour ball filled with strawberry and red bean, Black sesame ice cream and green tea pannacotta
We can't resist getting the dessert platter (one of two, the other platter looking to have ice cream, vanilla pudding and cheesecake). We're swayed by the large pink mochi. Digging into it is stretchy sweet bliss, when you secure a corner of the ball you pull and never let go until it snaps and you are rewarded with the sweet combination of red bean and strawberry.
Inside the strawberry and red bean mochi
The green tea pannacotta was originally explained to us as green tea mousse but it is most certainly more pannacotta than green tea. It's mild and the sturdyish texture is not as appealing as a mousse. The black sesame ice cream is delicious, sometimes I find black sesame too overpowering but this is just right.
Despite the crowds, we are never rushed or hurried, our water is topped up at all times and the service is very courteous. When we're ready for our bill, we press the button and are given the message that our bill is on the way. It comes quickly and we pay and leave, past the crowds inside the waiting area and the small crowd outside.
Wagaya Japanese restaurant
Level 1, 78-86 Harbour St Haymarket Sydney
Tel: +61 (02) 9212 6068
Open 7 days
17:00-2:00am