I love a bargain as much as anyone else. However this doesn't extend to rummaging in sales bins or queuing up from 6am to get into a Department Store sale only to jostle around and snatch clothes from other shoppers. I am a lazy bargain hunter at best but when a bargain presents itself and it's in easy reach, I grab it. The easiest bargain to be had in this GFC riddled world has to be Sushi Choo's $20 All You Can Eat Sushi available from 12-1pm or 6-8pm every day.
I did a double take when I first saw the bargain advertised thinking that it must be one of those cheap and nasty sushi chains that is always featuring in the news for food poisoning scares. Surely this isn't _Merivale's _Sushi Choo? Home to the chic and perfectly merchandised furniture and staff? I immediately told my husband who readily agreed to a date. We rarely go to Sushi Trains because he can easily eat $50 worth of sushi in one sitting so the idea of eating as much as he wanted for $20 appealed to him enormously.
Just in case, we've made a booking for two people for 6pm. We arrive at 5.58pm only to be asked to wait for 2 minutes while they get the train 100% ready. At 6pm the black wooden barriers slide open and we enter the room which is bathed in a glowing red. The interior is beautiful although it does strike me as more "Chinese" than "Japanese" (I imagine a Franck Eggelhoffer Interior Decorator type saying "Just make it look Asian!") except for the robots and Astro Boy figurines.
The sushi train is in full motion snaking its offering around the room. It seems most customers are partaking of the $20 all you can eat deal although a la carte plates can also be ordered (prices are pretty reasonable for many of the a la carte offerings). During the promotion times, the sushi train is a reduced version of the menu so not all of the regular sushi train plates are featured.
Mr NQN declares this to be delicious although I didn't try this for myself.
The spicy seaweed salad is of course a favourite with its spicy sesame dressing. I confess we probably ate about 7 plates of this (but Your Honour, they're small servings!).
I can admit my little secret to you Dear Reader: I love Japanese Mayo mixed with soy sauce to dip my sushi into. Our lovely waiter who is both courteous and friendly offers me a Jalapeño Mayo which I eagerly try. It's fantastic and gives a little kick to the sushi as my sinuses can't take wasabi.
My favourite sushi was the dynamite tuna roll. Edged with roe, it's filled with delicious raw spicy tuna and cucumber with the chili giving it an extra dimension.
The salmon nigiri is sublime as the salmon absolutely melts in the mouth. Mr NQN usually doesn't like salmon but he eagerly eats these choosing them over his usual favourite, raw tuna.
The tuna nigiri isn't bad although I am always prefer salmon and as I mentioned, even the avowed tuna lover Mr NQN prefers the salmon here.
I've never been a big fan of cooked prawn nigiri finding the prawn comparatively tough next to the rice but this one is surprisingly tasty and probably the only cooked prawn nigiri I've really enjoyed.
Perfect beer snack food, we enjoy popping the salty edamame pods and releasing the little beans into our mouths.
The pickles are sweet with a sesame flavour.
It seems anything with salmon is good here and this is no exception and it's a nice match with the creamy avocado.
Unfortunately with the fried prawn sushi roll, the crumbed prawn inside was not as freshly cooked as I like and was lukewarm to cold.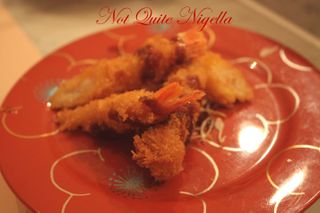 The panko crumbed prawns are freshly cooked and give us a nice break from the sushi.
Unfortunately these were not my favourite and I left most of this behind as it was quite dry in texture.
The crispy potato croquette is freshly fried and piping hot and with a soft potato filling inside.
"I know this is cheating but I just wanted to bring you this to try out" says our favourite waiter. He explains that the dish he is holding is part of the regular sushi train that comes out after 8pm. Outside the hours of the promotion, diners have a card that sits on the table. Each plate ranges from $3 to $9 (for dishes such as the grilled eel) and when the plates are cleared, the waiter stamps the card in a fusion of sushi train and yum cha.
It's a cooked salmon roll with cream cheese with avocado, kingfish and tuna on top with Jalapeno mayo and terikayi sauce on the side. Essentially three types of fish. We dig in eagerly and it's delicious, all of the flavours playing together well with a judicious amount of cream cheese (which can be quite frankly ghastly in sushi if overdone).
And the total bill? $45 - $5 for the miso soup and $20 per person for all the sushi we could eat and more. Even Mr NQN (the proud tightass) declares it 10 out of 10 for value (and in turn he demotes his beloved Shanghai Night restaurant to 9.5/10 for value).
So tell me Dear Reader, what's the best deal you've spotted during this GFC?
And because it's Wednesday, here is our Wednesday Wallpaper! How about a bit of Persian Love?
Also I would like to announce the winners of the Brasserie Bread Roll Call competition:
Zi-Yang from Blake Dawson
Sarah from Suede
Are the lucky recipients of the box of Brasserie Bread! Mei from Brasserie Bread will contact you to arrange delivery. Thanks to everyone that entered :)
Sushi Choo at Ivy
Level G, 320 George Street, Sydney, NSW
Tel: +61 (02) 9240 3000
Open: Monday - Friday 11.00am - late. Saturday 6pm - late