Inspired by the moistness of the Middle Eastern Blood Orange cake that eschewed flour in favour of almond meal, I combined a recipe of Nigella's for Flourless Chocolate Brownies and an idea from Tessa Kiros's Apples from Jam. With strawberries being plentiful now, I had two punnets of gorgeously huge and sweet berries. I love strawberries and whipped cream, in fact it's my favourite way of eating them, but this can really only be improved with the addition of chocolate in its gooeyest form.
Brownies are never going to qualify as a health food, the number of eggs and weight of sugar and butter would effectively muzzle any such claims but there is nothing quite like that gorgeous moistness and quivering inner. And this brownie recipe is the Queen of Quiver. That is to mean that it is also a little more delicate than a sturdier less quiver-prone brownie but the reward is in the texture. Yes it is a downright pain to arrange into place but the grateful glances and moans of appreciation will help ease any plating traumas past.
DID YOU MAKE THIS RECIPE? Share your creations by tagging @notquitenigella on Instagram with the hashtag #notquitenigella
Flourless Chocolate Brownies with chocolate sauce
220g dark chocolate, 70% cocoa solids
2 teaspoons vanilla extract
100g chopped walnuts or brazil nuts
1 punnet of strawberries, rinsed and hulled and halved
1/2 lot of Chocolate sauce (see below)
Step 1 - Preheat the oven to 170°C/gas mark 3. Melt the chocolate and butter gently over a low heat in a heavy-based saucepan or in a microwave on medium heat watching like a hawk. Once melted, take off the heat and mix in the vanilla and sugar, and let it cool a little.
Step 2 - Beat the eggs into the mixture along with the ground almonds and chopped walnuts. Turn into a greased and lined baking tin, a 24x24 square one is specified but I used a longer 22x30cms one as I wanted a rectangular sandwich cake although a slightly smaller one might have been better.
Step 3 - Bake batter in the oven for 35-40 minutes, so that the top has set but the mixture will still be gooey. Now comes the hard part, waiting til its cool so that it's sturdier, cut in half down the middle if making a large sandwich cake, or cut into squares if making individual sandwich cakes.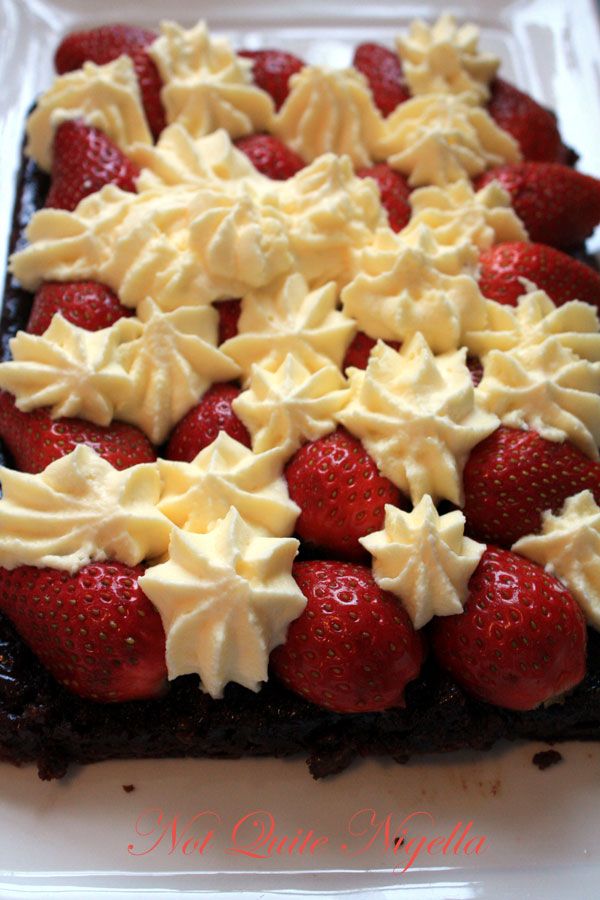 Step 4 - Carefully and gingerly move it onto a serving plate and top the half with halved strawberries and then cream. I piped it but you needn't do that, just dolloping the cream in between berries will do. Then, ever so carefully lift the other half of the brownie on top. Drizzle Chocolate sauce over the top and have a forks and plates at the ready, people will be restless and demanding of a slice.
Hot Chocolate Sauce
This will make you double what you need for the sandwich cake so you can either halve the quantity of use the rest for ice cream or in a hot chocolate. Either way you'll be happy.
15ml or 1 tablespoon golden syrup
Step 1 - Melt chocolate and double cream until smooth, stir in golden syrup and stir until well combined.
Recipe adapted from Nigella Express by Nigella Lawson
This is also my entry to Meeta's from What's for lunch honey?'s Fruit and Chocolate Monthly Mingle :)