The Burlington, Matthew Kemp and Lela Radojkovic's One Hatted North side restaurant is one that we are grateful for. Growing up in the East I took if for granted that there were lots of good restaurants around but when I moved North I found it was a little harder to find these gems. Prices are more reasonable here than the already reasonable-for-the-standard-of-food at Restaurant Balzac and this Saturday night my husband are scheduled for a romantic dinner, just the two of us, and of course the omnipresent camera.
From the outside, it doesn't look like anything much, quite plain with unadorned windows but the interior is warm, reminiscent of Balzac with a little less fancy in the front room, with a middle room and large back room for a large private table with a huge chandelier atop. My husband swears that it used to be one of those Haunted or Host a Murder party venues and indeed, looking at the top floor from the outside it looks a bit spooky. We're given our menus but I already know what I want having scoured the website already on several separate occasions (yes I am obsessed). I order two entree sizes meals while my husband orders an entree and a main. We've asked about the Eton Mess, his famed dessert but it's not on the menu tonight. Like Balzac, the service is friendly and informal except for our main waitress who lacks the warmth of the rest of the staff and is instead cooly polite.
The bread arrives, 2 slices of a rye sourdough loaf with butter, at a little too soft a temperature. The bread is very good however with a good crust on the outside.
We're not waiting long before our entrees arrive, mine is the Terrine of smoked ham hock and pork cheek, ear beignets and remoulade. I've ordered the entree size which is 1 slice of the terrine. On the website there are 4 slices pictured so I expected 2 slices with 4 slices being the main size. It's wonderfully good, reportedly taking two days to make, the brawn consisting of soft meat melding together with the carrots, celery and herbs and bound together and suspended in gelatine.
The thin crunchy toast slivers are indeed very crunchy and the little pig's ear beignets are crispily good. And remoulade is one of my favourite accompaniments and it goes oh so perfectly with the rest of this dish.
My husband's Veloute of baby garden peas with scallops has him reluctantly surrendering half his plate to me. It's resoundingly heady with peas and smooth as silk, the barely cooked scallops a nice foil to the soup. I have my half and he takes the plate back and proceeds to scoop and scoop as much as he can from the plate.
It's a short break before our mains arrive, I've ordered the Croquettes of salt cod and pimento, three fat freshly cooked, hot and crispy fish croquettes, perfectly seasoned and paired with a pimento tinged mayonnaise, small fried garlic slivers and deep fried parsley shards. Delicious.
My husband's main of Grain fed sirloin with hand cut chips, beef jus and sauce Bearnaise comes out and they offer him a choice of 4 mustards, each housed in a cute little copper pot. The horseradish is made on the premises every day so he opts for this being a wasabi lover and loves its pungent quality.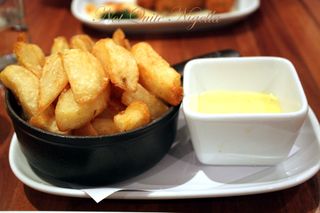 Me I'm the opposite and steer clear of it preferring the perfectly medium rare steak with the Bernaise sauce and fat hand cut chips (although a bit more tarragon in the Bernaise would suit me).
We don't have a lot of room left so we opt to share a dessert, the Creme Catalan, a Spanish version of the Creme Brulee with cinnamon and a touch of orange zest unless I am mistaken. The top has a great toffee crunch (a must). It's my favourite part of a creme so if it doesn't come with this, I am very disappointed. I didn't realise that my husband was so used to my obsession with the toffee crust that when I asked him why he wasn't eating, he said (surprised at the question) that he thought that I was getting the whole toffee top and he was getting the bottom half. I feel guilty for being a toffee hog. Momentarily of course.
The Burlington
6 Burlington Street Crows Nest 2065 Sydney
Tel: +61 (02) 9439 7888
Email: [admin@burlingtonbardining.com.au
](mailto:admin@burlingtonbardining.com.au)Open: Monday to Friday for lunch from 12.00pm
Monday to Saturday for dinner from 6.00pm
http://www.burlingtonbardining.com.au/