"Mother, I'm dropping off something in a few minutes" I said on the phone one night.
"What is it?" she asked.
"A pig's head" I said bracing myself for the inevitable.
"A whaaaat?" she asked, aghast.
Allow me to explain how a delivery of a roasted (not raw) pig's head came to come about. You see I was dining with Mr NQN, Dave and Sarah at The Montpellier Public House. It is the new restaurant from the team at Restaurant Balzac still in the sandstone building in Randwick. The changes are seen in a completely different idea and menu but because it was a while between visits, I don't know if the interior had changed much or not. Instead of the fine dining room of Balzac, downstairs has turned into a busy, buzzy bar and upstairs is the dining room. The menu has also changed with a mainly modern British menu as befits the origins of the chef Matthew Kemp. And we note that prices are very reasonable indeed with most mains under the $30 mark.
The friendly waitress lets us know that tonight, there is only one pig's head and it will be about an hour until it is ready. Sold! One pot roasted pig's head to the crazy table of four in the corner! We take her recommendations for the entrees and mains too.
The brawn with chunks of meat in a jellied broth, set in a tin and sliced is delicious. The meat and jelly are soft and they come with two slices of charred bread and some finely crumbed gelatinous pig's ears and tail portions.
The flavour of the trout was good with the added dill and creamy texture and fresh, soft trout although I have to be honest, I have a slight affliction when dining out and that is if I think I could make something similar at home, I tend to dismiss it slightly. Is that an illness? Perhaps... Nevertheless the soda bread and trout go well together alongside the pickles.
The baked beans with an enormous soft yolked fried duck egg is how to lure anyone out of bed on an early morning. The beans are sweet and smokey and full of flavour with little cubes of pork belly and the salty, rich black pudding and duck egg provide the perfect foil for this. And I may have just started drooling again after reliving this dish.
This dish was the polar opposite of the above dish in terms of richness. It was light, crunchy and delicate this was about subtle flavours with delicate mounds of crab meat and mussels on cos lettuce leaves with thinly sliced fennel and dill.
Mid meal, a table of eight settles down next to us and we find the noise level very high in this sandstone and wooden dining room. In fact, it gets quite uncomfortably noisy in our section we can't imagine if the other two tables were full.
Now as we were sharing, the table that we had for four wasn't quite big enough for the mains so luckily the table next to us was empty and we could spread out. The pie changes and today's pie is a beef one with jellied eel juice on top. And before you think that is sounds awful, it was actually very nice. The eel flavour was subtle and we were all confused as we thought that there was eel meat but we could only find chunks of tender beef. The eel juice which is jellified yet still warm sits on top of the beef layer and on top of this sits a layer of lightly crunchy mash on top. There were some very crispy, large croutons strips of crispy pancetta and deep fried parsley.
The favourite however was the shoulder of lamb, braised on the bone for maximum flavour, tender as tender could be. It was paired with a metal skewer of breaded, deep fried sweetbreads and plump, flavoursome truss tomatoes and a herb sauce. The flavours went well together and all you needed was some bread to soak up that delicious sauce (oh and a spoon, we really needed one of those too).
The pig's head, and it is an enormous beast, came to the table on a plate resting on some pot roasted onions. It's quite an arresting sight with the hairs still intact on it's jowly face (and incidentally, it is technically half a pig's head as it has been cut in half vertically) and obviously quite large compared to the suckling pig we had at Bungalow 8 a few weeks earlier. And now is when we make use of the steak knives and the large carving fork given and saw away at the cheek. The meat was quite plain although the crackling good and some of us would have liked  marinade or dry rub on the meat to give it extra flavour or perhaps a sauce. As it was, it came with a jug not of gravy and thought but of the pan drippings which we didn't really go for. The vegetable component was a plate of crispy roast potatoes and sweet potatoes (and incidentally the sweet potatoes dunked in the lamb sauce were a heavenly combination).
"I wanted some spotted dick" I say pouting. I don't think I've ever tried spotted dick and it was on the website menu which I had stalked online but alas that has been replaced with Christmas pudding for the festive season. Ah well...I choose the knickerbocker glory to console myself. And it did the trick, the strawberry ice cream tasting of real strawberries with fresh mango slices, toffee shards and a toffee brittle biscuit.
Dave's choice, a chocolate sundae, is full of rich chocolaty goodness including large chunks of brownie (real, cripsy topped brownie), hazelnut, toffee bits, chocolate sauce and rich chocolate ice cream.
We all love an Eton Mess and this is a good one with strawberries, thick cream and crunchy meringue although I like it when there's a little of the natural fruit syrup from macerating the fruit in there to sweeten it even further. We all felt that there was perhaps a tad too much cream.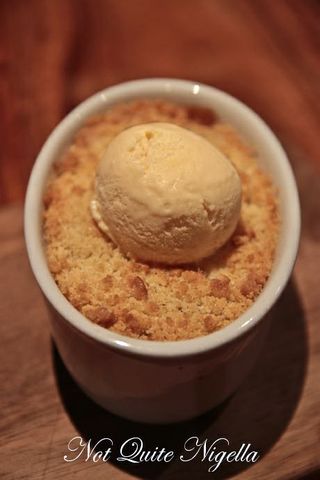 The Granny Smith apple crumble is a lovely end to an albeit very rich meal. It is topped with a moreish buttery flour crumble topping and there's also am appealing hint of nuttiness to it. The crumble comes with a scoop of salted caramel ice cream which goes so well with the tender, sweet apples and crunchy buttery topping.
And a surprise end? Not including a $60 bottle of wine, the price for the three courses of food was $57 per person!
So tell me Dear Reader, would you order a whole pig's head if you saw it on a menu? And do you enjoy nose to tail dining?
The Montpellier Public House
141 Belmore Road Randwick NSW 2031
Telephone 02 9399 9660