I miss corporate lunches. Years ago I managed to try most of the top restaurants in Sydney on someone else's bank account. Since we started our own business and I left the media/advertising industry it meant that I sadly had to say goodbye to the beloved Corporate lunch. That is until today. Dabbling my toe back into the media pond meant that I got a free lunch at Bécasse. A lovely perk I have to admit.
Bécasse was one of the newish gems that I had not yet tried and as a 2 hatted restaurant two years in a row, it definitely peaked my interest. Arriving at 12noon the cream, pistachio and latte shaded restaurant sparkles with quiet elegance. Its relatively empty as the business diners haven't yet converged.
As I sip my mineral water I have a look at the menu and there are two sides, one being the regular a la carte menu on the left and on the right, the Menu Prestige which changes daily as it is driven by fresh ingredients. I would have ordered from the Menu Prestige but I see one of my favourite foods ever on the regular a la carte menu: Oysters-natural and also with champagne sorbet. I'm immediately sold. We order the Oysters Natural and the Champagne Sorbet Oysters (both Pambula Rock) to share and I order the Roast Loin of Kurobuta Pork with crackling and potato puree, jus charcutiere. N opts for the Roast 240 day Angus grain fed Angus beef scotch fillet with carrots cooked in Montbazillac, black cabbage with bordelaise sauce (we have arranged to do a halfway plate swap) and A orders the Steamed Snapper and prawns with crushed potatoes, lettuce veloute, poached new season radish and lemon cream .
Shortly after, our appetiser arrives, a parmesan biscuit with cherry tomato, avocado mousse and basil. The parmesan rich biscuit is buttery and melts in the mouth with a satisfyingly soft squelch from the tomato and mousse.
Our warm sourdough arrives with a small rectangle of butter of a perfect temperature. Even though I am not a huge bread fan I do love fresh, warm sourdough so I dust it with pink salt and enjoy the crisp outer and soft chewy interior.
Soon after this our Amuse Bouche arrives, a two toned concoction with frothy gazpacho mousseline sitting atop a layer of cucumber jelly and finished with basil salt. The gazpacho mousseline is rich in capsicum and cream and very frothy but I am not so taken with the cucumber jelly so I leave most of this behind.
Our oysters arrive shortly after, a plate of 12 dozen naturals and half a dozen champagne sorbet. These Pambula rock are larger than a lot of Sydney Rock oysters in fact about as big as my favourite Pacific Oysters and are a combination of the two. They're briney and slurpingly delicious and I admit now that I could easily have two dozen more without hesitation. The now in-the-process-of-melting Champagne sorbet oysters are incredible, the slightly sweet, icy, fine-grained Champagne sorbet is a great compliment to the briney oysters.
The restaurant is filling quickly with business diners and after a brief respite our mains arrive. The Pork is a massive chunk of mostly fatty loin with a layer of crackling and a scoop of the buttery potato puree. Its an arresting looking dish and quite good although I can't bring myself to eat the fatty part. The crackling, usually one of my favourite parts if basted in a sweet sauce (like Coca Cola, honestly!) is salted so I leave this to N to tackle. The potato puree is gorgeously buttery and the pork combined with the sauteed cabbage and the puree is delicious. Again I lament the amount of fat as half of the dish is left behind.
_
Roast 240 day Angus grain fed Angus beef scotch fillet with carrots cooked in Montbazillac, black cabbage with Bordelaise sauce $45_
N and I do a plate swap and I try the Roast 240 day Angus grain fed Angus beef scotch fillet with carrots cooked in Montbazillac, black cabbage with bordelaise sauce and whilst its not the most adventurous dish, its beautifully cooked and delicious, the fillet meltingly tender. There are pieces of marrow on top which I don't like as much as they taste like lumps of pure fat (I've had marrow at Bilsons and loved it) but the overall effect with the bordelaise sauce (one of my favourite sauces with beef) is mouth wateringly good.
The fish, although not the most attractive looking cut (it reminds me of a lizard tail!) is I am told very delicious.
As N has to leave, he takes care of the bill and A and I choose and await our desserts. I've selected the Cone of Valrhona 'Caraibe' chocolate mousse with candied apple and vanilla ice cream and A orders the Strawberries and Cream with yogurt and white chocolate ice cream. Its a good 25 minute wait as the rest of the restaurant receive their mains and when my searching looks are noticed by a staff member she lets me know that the dessert is on its way. In fact what is on the way is a pre dessert dessert in the form of a coconut cream pannacotta with tiny coriander leaf, honeydew jelly and miniature melon balls. The Pannacotta is soft and voluptuous and absolutely delicious, a little more delicate and fallingly soft than the one that we tried at the Good Food and Wine fair by Verandah. The honeydew jelly is a real highlight which I didn't expect as I don't like jelly; clean, unusual and tartly sweet.
Cone of Valrhona 'Caraibe' chocolate mousse with candied apple and vanilla ice cream (usually licorice ice cream) $22
The chocolate cone arrives but by then I've forgotten all of the other components so I flag down another staff member to enlighten me. The chocolate cone is a densely dark and chocolately light sponge filled with a fruity apricot jam type filling (although I am told it is caramel, its definitely apricot jam-like in flavour and texture). The candied apple cubes are good when combined with the vanilla ice cream and they're topped with tiny balls of chocolate coated biscuit although the cubes are a little too sweet by themselves.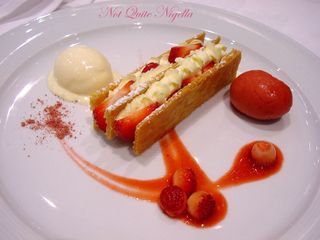 There are satisfied gestures from A when eating his strawberry dessert.
Our coffees arrive with the petit fours which comprise of three pieces per person. The Mandarin friand is warm and crispy on the outside and soft in the centre and redolent with rich egginess. The Raspberry jube cube makes you want to forget all of those supermarket packet jubes in favour of these raspberry heady beauties.The chocolate and mint macaron is actually rather hard, more like a crispy biscuit and unlike a typical macaron, and I confess I am a tad disappointed at this.
The click strikes 2.30pm and we're due back at work. That's the thing about corporate lunches - you know you pay the penance when you go back to find an ungoldly amount of emails awaiting that have amassed while you've been enjoying yourself!
Bécasse
204 Clarence St
Sydney 2000 NSW
Phone: (02) 9283 3440
www.becasse.com.au
Mon-Fri noon-2.30pm, Mon-Sat 6pm-10.30pm