Christmas in May? If you know me, you know that I'm a believer in Christmas at any time (why limit yourself to once a year?) and the chance to dine at Restaurant Atelier in Glebe and eat Pork is pretty much like a trifecta when you combine it with Christmas._ Restaurant Atelier is located in a brick cottage on busy Glebe Point Road and is run by the gorgeously personable couple Bernadette at the front of house and Darren Templeman as the chef who is protege of Bruno Loubet. Darren is the perfect choice to host the evening - as a Yorkshire boy certainly knows his way around a pig. _Thanks to the amazing Mel from Fooderati and Stewart from Whiteworks, a gaggle of us bloggers are dining alongside other food industry notables.
Bernadette
We start off with Pork Neck Rillette, Cornichon, Green Beans served in a Witlof leaf. The rillette is deliciously soft and melt in the mouth, subtly perfumed and flavoured with cognac and wine and perfectly paired with witlof. Wines are provided by the Piggs Peake winery - no coincidence that with a name like that they caught the attention of the Australian Pork people but as Mitch from Australian Pork explains, they found that they loved the wine beyond merely the name which was a serendipitous occurrence.
The pink elephant in the room is of course the Swine Flu which tonight's news report says is at a critical stage in Australia where we were warned that it was about to spreading very fast here with the number of reported patients at over 60. Of course what was clearly told to us from the very beginning (and to much relief) is that eating pork does not give you Swine Flu. In fact the current Swine Flu or H1N1 is passed from human to human rather than pig to human. Phew Bacon, ham and pork, come to mama!
Clockwise from left: Grilled pickled loin of pork with celeriac remoulade, Honey glazed pork hock with roasted apples and Pulled Pork Neck salad with Crystal Bay Prawns
The assiette plate features pork done in 3 distinctly different ways. The first I try is the loin which is pickled in a brine and then grilled and as a result it is very tender and easy to cut and well paired with the creamy celeriac remoulade. The deeply flavoured and unctuous honey glazed pork hock is perfection with a rich aroma courtesy of the cloves and marjoram and its caramelised sticky outer. It is deeply satisfying. The very slowly cooked pulled pork neck salad with Crystal Bay prawns has a distinct Asian feel and flavour and has William and Jennifer from Weight Watchers enraptured and we explain the process of slow cooking and pulling pork to them. Everyone is surprised that a cut of meat such as the neck that many wouldn't think to cook, can end up so beautifully done. Each course is matched to a wine. From left to right, the wines matched were: the loin with 2008 Piggs Peake Amanda Love Viognier, the hock with 2008 Piggs Peake Peartree Riesling and the pulled neck with 2009 Piggs Peake Sow's Ear Semillon.
_Chef Darren Templeman _
Darren at work
Before the mains come out Mel and I go into the kitchen to have a look at the inner workings. It's calm, efficient and extremely clean and organised. For a man who is making dinner for 45 people, all of which need to be served at about the same time, he's friendly and unflappable chatting easily. You'd think he was simply making fried eggs for his own dinner such is his friendly demeanour and composed manner.
Rack of pork ready to be sliced
Mel, having already partaken of the tasting session of tonight's dinner last week, explains that the pork is rolled and wrapped prior to cooking to further help keep the juices in the meat as well as helping in easy demarcation when it comes to carving. It is then seared til it's lightly golden on the outside and then pan roasted to perfection.
He also gives us a taste of the jus that goes with it. Mel also explains that the jus has celery added but no carrot added as the sweetness of the carrot would overwhelm the natural sweetness of the pork.
Carving of the pork
At the front of the restaurant and the thing that had all of us bloggers jumping up like paparazzi in a Brangelina moment is the carving of the pork.
Boned Shoulder of pork roasted with a Winter Herb Cure on Creamed Parsnip and Buttered Kale with Pot Roasted Murray Valley Moisture infused pork rack with broad beans, pomme cocotte and pine forest mushrooms
The presentation of this dish is gorgeous. The boned shoulder of pork is soft and moist and the buttered kale and creamy parsnip are delicious alongside it and has a delicately scented blend of juniper berries, cloves, thyme, cinnamon, fennel and bay leaf. The large piece of roasted pork rack is delicious. As it's moisture infused, which is a pre-brining process where it is infused with a solution of water and salts to ensure that even if it is overcooked (and of course it isn't here), it still remains moist. The meat is tender and juicy with a faint pink blush inside which is possible with a cut of meat this good. The pomme cocotte, like delicately small mashed potato balls and pine forest mushrooms are gorgeous alongside it and there's the afore mentioned jus which has been reduced down that brings it all together. The shoulder is paired with 2008 Piggs Peake Hogshead Chardonnay and the pork rack is matched with the 2008 Piggs Peake Wolfie Zinfandel.
Poached winter fruits with Christmas pudding ice cream
After a break, we try the dessert. It's a perfect deconstruction of a Christmas pudding. The sweet, poached winter fruits are delicious against the ice cream. And let me tell you about the ice cream. When they say it's Christmas Pudding they absolutely mean it. Not just spices, but the dark brown sugar, the taste of the soused fruit and texture is all there. It is matched with the Piggs Peake Little Pig Verdelho Fortified wine.
And the delights don't stop there. We're given goodie bags which contains a fantastic 1.2kg moisture infused pork rack as well as a hand sanitizer (hehe, a very timely point!). I can't wait to see what everyone comes up with and I already have evil plans for my little piggy.
Pea and Ham Ice Cream
Wile waiting for Mr NQN to pick me up (aren't husbands lovely?), Bernadette and I are chatting and she mentions Darren's Pea and Ham ice cream that they were going to serve as an hors d'oeuvre. I think my head must've swiveled like a cartoon double take. "Pea and ham_ ice cream_?" I ask. I'd heard of bacon and egg ice cream but only in legend and never on my palate and she nods smiling broadly. Darren grabs some from the freezer and rechurns it briefly in their machine  as it freezes quite hard. It's made using French petitpois and speck he also uses stabiliser to give it the proper creamy texture. Digging a spoon into it, Mel, Stewart, Mitch and I try this amazing ice cream. Yes! It's unashamedly pea and ham soup and at the same time it's absolutely an ice cream too. Like they say, it's Pea and Ham Ice Cream!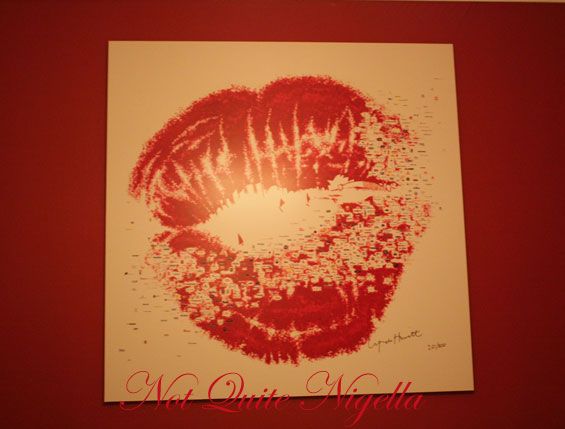 Big thanks to Mel, Stewart, Australian Pork and of course Restaurant Atelier for inviting us and for spreading the Christmas joy!
My fellow bloggers and pork lovers were: Melissa, Simon, Lili, Karen, Suze, Richard, Howard, Helen, Billy and Shez!
Restaurant Atelier
22 Glebe point Road, Glebe, NSW
Tel: +61(02) 9566 2112
www.restaurantatelier.com.au
Dinner: Tuesday - Saturday from 6pm