After a visit to see my friend Teena's new baby little Annabel Ines in the hospital, the late hour persistently signals urgent hunger from our stomachs. We're torn as to where to go. We always feel like sushi but where to go for good sushi for a sushi demolishing monster like my husband. He's ravenous and worried that it will require far too many plate-fuls of the stuff to even touch the sides. A solution for ravenous hunger? Ramen of course.
Condor Ramen on the left and Goshu Ramen on the right
Condor Ramen is a ramen place in the city that we've driven past many a time, always meaning to stop by and try their ramen. We've always postponed it due to parking hassles in the city but tonight it's quiet and it's lateish to be eating (9.15pm) and we find a park easily. Curiously something that we hadn't noticed was right next to Condor is another Ramen restaurant Goshu Ramen. Literally, right next door with only pot plants demarcating the boundaries. We look first at Goshu's menu, it reads like a typical ramen menu  with an English and Japanese version. Then we read Condor's menu which looks similar with the set menus being a little pricier. We eat at Condor because there is a Japanese waitress standing right next to us smiling politely and we feel that we cannot graciously back out and go next door should we feel like it. Awkward, yes.
](https://images.notquitenigella.com/images/ramen-condor-wynyard-sydney-cbd/a-condorramenmenu.jpg)_
We take a seat - it's not fancy you do see, with the floral patterned tablecloths covered with plastic. There are little Japanese touches like the lanterns that spell out R A M E N (well they would if all of them happened to be turned the right way) and hanging cloths. You're given a choice of three soup bases: Miso, Shio (salt) or Shoyu (soy sauce). The set meals range from $13-$22 and for an extra $4 you can get 4 salmon nigiri rolls. There's also spicy ramen called Jigoku and Korean ramen which you can order mild, extra hot or super hot. Service is typically sweet and polite Japanese casual style and during the night our water is refilled with a smile without us having to ask. We're not waiting long although given how hungry we are it feels like we are and we're served our big bowls of ramen.
Miso Karaage ramen $11.50
My ramen is topped with 4 large knobbly pieces of Karaage. The Karaage is not piping hot so it hasn't been cooked to order and has in all likelihood been cooked within the last half hour. I quite like the soup although of course the ramen itself isn't as good as Ryo's. Still I make good headway on this and finish half the bowl which is quite a lot for me considering how filling ramen is.
Shoyu Tan Tan Men Ramen $11.50
The ramen soup with this ramen is a thick, almost gelatinous soup with plenty of sesame seeds scattered throughout the soup (a veritable blanket of them really). It's topped with pork mince, vegetables, half an egg and sesame seeds and is very richly flavoured. So rich that the first half is bliss and I envy my husband but by the second half he is groaning, declaring it "too much". It's definitely for those who like a lot of body in their ramen soup.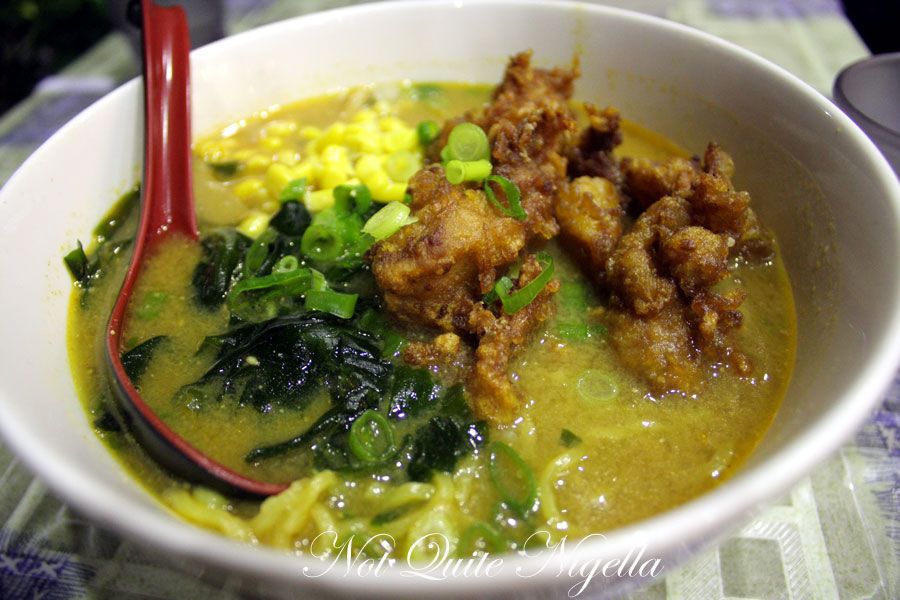 My husband does a good job on his ramen despite its richness and he one very satisfied diner, rubbing his full temporary buddha belly. We make plans to try their very close rival Goshu. For research purposes you do see.
Ramen Condor
5 York Street, Wynyard Sydney 2000
Tel: +61 (02) 9299 8686
Eftpos/Credit Card available for orders over $20
Open Sunday-Friday from 11:30am-10pm