I should start off with a warning about portions at Sushi Suma. Only visit here if you are starving, and even then only go if you've taken the precautionary measures and arranged for an emergency stomach compartment or a switch with your dessert tank. Servings here are legendarily huge and service, well it's an in and out, stuff-em-full sort of place. Four Supermodels could probably share a dinner box and I am including those annoying Supermodels that keep telling us "Oh yes I hardly ever diet! I eat as much as I want".
This evening we are supposed to meet Rose and Ronald at 6.30pm but we are 15 minutes late. Rose and Ronald have been kicked off their table downstairs in the restaurant and have been asked to wait upstairs in the bar area. We are given a copy of the menu and we order the items upstairs with the no nonsense man with the keypad. In order to expedite turnover, orders are taken upstairs and when the food and table are ready, diners are guided downstairs. Despite there being a bar and having a captive, waiting (and thirsty) audience, there is no bar service as the no nonsense man (we assume the owner) is busy corralling diners. Luckily we are waiting less than 10 minutes when we are shown downstairs. It's a curious layout, the dining area is small and the kitchen is comparatively huge - larger than the dining space. As we sit down, with the super tightly laid out tables, Rose comments about how loud it is.
This vermicelli noodle salad is lightly seasoned with a sweet, vinegary taste.
The complimentary agedashi tofu is a nice surprise as everyone receives one. It's delicious and one of the better ones I've had with a perfectly seasoned sauce (I often find the sauce isn't flavoursome enough) but this is just right.
We're given our Kaiso salad and the size gives us an indication of things to come. It's huge with a mound of shredded cabbage and thick and thin seaweed. The seaweed itself isn't highly seasoned or flavoured but the salad has a light dressing over it and a scattering of sesame seeds.
The items I went crazy for in Tokyo were Cream Croquettes. These are small croquettes filled with the creamiest potato. I can't really see or taste any crab meat but I do see a couple of corn kernels.
Other diner's plates are set down next to us and we are aghast at how big they are. The Katsu meal at the table next to us had 8 huge pieces of katsu and their Tempura had a large variety of food. We see why the sizes are legendary.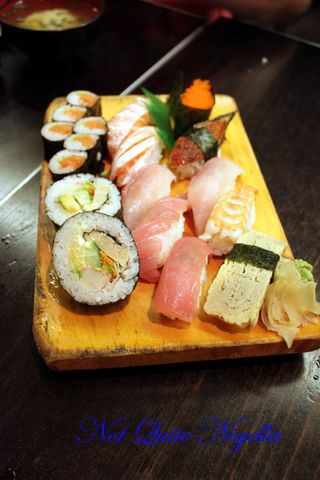 The sushi deluxe selection is interesting and plentiful with a lot of variety. Everything is very fresh and my favourite sushi is the salmon belly nigiri the salmon belly melting in the mouth.
A Sashimi deluxe boat has my husband's eyes lighting up with excitement. It's delicious and fresh although it is quite chilled (I prefer it slightly less chilled). He adores sashimi and sushi and I can recall when the first time he saw me eating sushi. He simply eyed me carefully while I ate it (I think watching to see if I would die). The second time I asked him if he wanted to try some and he agreed reluctantly and he then proceeded to wolf down the rest of my sushi. And as for the third time... well he hasn't stopped eating it and now leaves me in the dust as far as sushi eating is concerned.
The Una Ju or Eel box is a long lacquer box with an eel fillet on some lightly sauced rice. It's lovely and soft (although I'd have to admit that I favour Zenya's eel more but this place is closer). It is extremely filling especially with the rice.
During the dinner we'd received bits from the dinner box from the miso soup, the sashimi, the rice, the teriyaki chicken and we finally receive the huge plate of Chicken Katsu. We're impressed as it looks huge with 8 big pieces. Taking a piece of the deliciously crunchy katsu drenched and sitting in a pool of that mysteriously good Japanese brown sauce, I find extra space for these delicious morsels. The pieces are sizeable and full of chicken as katsu at other places can be thin and full of mostly batter. We just cannot fit it all in so we ask for it to be given to us take away.
And just when we think that we can't fit in another bite (this is the fullest I have felt for about 15 years), we're all given complimentary vanilla ice cream scoops with green tea syrup, cornflakes and sweetened red beans. I can't fit much else in so after trying a bit (it's delicious and refreshing) I pass this onto my husband who is grinning broadly, ready with outstretched hands.
The waitress approaches the table next to us holding their ice cream and asks if they can eat their ice cream upstairs as other people need their table. We take that indirect cue and ask for our bill. We exit with our takeaway box of goodies, my husband delighted at being fed sushi, sashimi and all other goodies for a tiny $24 a person.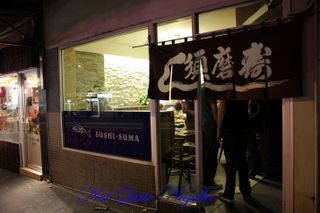 So tell me Dear Reader, do you eat until bursting if the food is good? Or can you stop as soon as you feel full?
And because today's theme is fun on a budget, we have a giveaway for all of you lovely Victorian readers out there. Escapade Events is giving away a double pass worth $60 to their launch party to be held at Tony Starr's Kitten Club on Little Collins Street, Melbourne on Thursday the 23rd of July, 2009 from 6.30-8.30pm. All guests receive a gift bag worth $130 as well as cocktails, canapes, cupcakes, Nailene demonstrations and door prizes. All you have to do is name another upcoming event hosted by Escapade Events and email it to: nqnescapadeevents@gmail.com. The competition closes at midnight on the 21st of July. Good luck!
Sushi Suma
421 Cleveland St, Surry Hills NSW 2010
Phone (02) 9698 8873