Today's post has been written by Not Quite Nigella's other half, Mr NQN.
The cursing was loud, I could almost hear it from work. The issue? My wife Lorraine (aka NQN) had been invited but was unable go to dinner at Tetsuya's for a launch of his new Singapore restaurant. Let me introduce myself, I'm Mr NQN. From time to time you've read stories about me. I often take the photos here when we eat out although I have have never had the need to write anything. Unfortunately (for her) on this occasion NQN was mortified to find that an invite to Tetsuya's had never arrived and she only found out when the PR's for YourSingapore.com followed up to see whether she could come. She had already committed to another event at the same time so I offered to take her place, of course a huge inconvenience to me ;)
Several years ago we celebrated Lorraine's birthday at Tetsuya's. However me being a fan of quantity over quality (something we debate often as NQN likes quality over quantity) the only way she could get me to go along was by paying for my meal ($150 a head at the time). It was many times what I considered normal to pay at a restaurant but I actually really enjoyed the meal and while at the time I wouldn't have paid that price, over the years and eating out at some rather fine places I think my taste buds have slowly changed and I am closer to accepting quality. But don't tell her that or we won't be able to hassle each other about it ;)
I'm not a very regular cook. In fact, I'm pretty much the opposite. It used to be that once every 2 years I'd cook dinner, though, well lets just say that my latest cooking effort is running a long way behind schedule although I'd like to count our time at Chef Saravia's Peruvian cooking class as one. One year on Valentines day I cooked for Lorraine and I thought I'd make it a bit challenging by making some dishes from her Tetsuya's book. I thought I'd be clever and only chose the ones that were extremely easy yet would score points ;) The first dish I made (it also made the biggest mess) was an avocado soup which as strange as it sounds was delicious! Tonight we start off with this dish though with some tweaks - it's an avocado soup with potato ice cream & mountain caviar. This dish is beautiful with a very smooth creamy texture. The potato ice cream (which isn't your typical ice cream) has a nice soft texture which goes perfectly with the avocado soup. This is topped with mountain caviar, the saltiness balancing the sweetness of the soup very nicely.
Next in our marathon with matching wines is a beautiful warm salad of kingfish with blackbean & orange. The kingfish is beautiful and nicely accompanied with a black bean and orange sauce.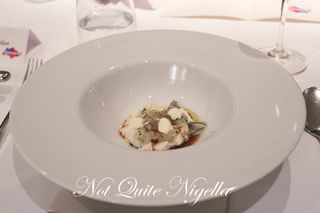 The New Zealand scampi with shellfish & tarragon sauce doesn't really gel for me. The flavours are enjoyable but perhaps it is the textures messing with my head. I bite into the transparent jelly where I find rather  hard bits which I didn't enjoy.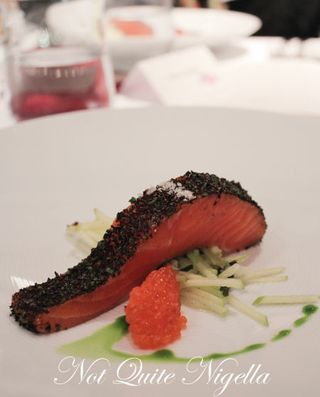 While planning the dinner I mentioned cooking earlier, I was looking at doing Tetsuya's signature dish the confit of petuna ocean trout with fennel salad. I took the easy way out and just made the oysters instead ;). Tonight we are having his confit of petuna ocean trout with konbu, celery & apple. The ocean trout is sensational and goes very nicely with the fine strips of apple and celery which it sits atop while the apple and celery bring a sweet freshness to the dish.
It is about this time that someone on our table does some calculations and announces that if we continue at this rate we will be finished at 1am! I'm not even slightly concerned, if they keep bringing me delicious dishes until 1am then I will be more than happy!
The next dish is cuttlefish with bean sprouts, ink and botarga. The cuttlefish is extremely tender and is perfectly accompanied by the ink, sprouts and botarga.
We're starting to get to the slightly more substantial dishes in the 11 courses and next up we have a grilled fillet of barramundi with braised wood ear & chestnut mushrooms. The fish is excellent though the standout for me is the sauce with the braised wood ear and chestnut mushrooms, creating a strong fresh mushroom flavour.
The twice cooked de-boned spatchcock with foie gras I'm sure would be an excellent dish on its own, however I enjoyed the barramundi and particularly the beef (read below) immensely so this dish didn't blow me away like the beef just by comparison. I think NQN calls this the Marcia/Jan Brady effect (when something perfectly good on its own is preceded by something spectacular rendering it comparatively lesser).
Strangely considering my normal love of sashimi and the fact that I prefer fish over beef, I find myself doing a rather good impersonation of NQN and nodding my approval of the grass fed Tasmanian Angus beef with swiss brown mushrooms & porcini. I instantly find myself drawing comparisons to another beef meal I've thoroughly enjoyed before... This one is my new best. I find it strange that I should enjoy this dish so much having grown up as a vegetarian (Hi mum!).
During the evening Tetsuya visited each table chatting and answering questions about his new restaurant Waku Ghin opening at Marina Bay Sands in Singapore. Waku means coming from the earth and Ghin means silver. He tells us that Waku Ghin won't be a duplicate of Tetsuya's his Sydney restaurant but more an evolution of his style. The experience is said to be more intimate with 4 private rooms where chefs will prepare dishes in front of guests and a main dining room. He also has a space devoted to his favourite ingredient Caviar - NQN was very excited about this!
The first of the desserts is listed as the cream cheese & fig ice cream with caramelised fig which I was really looking forward to (I'm a bit of a fig fiend), though there is a last minute change and we're advised that it has been changed to browned butter ice cream & pear sorbet with walnut. I need not have been so worried about missing out on the fig ice cream. The browned butter ice cream most definitely tastes like nutty browned butter and the saltiness is balanced perfectly with the sweetness of the pear sorbet, easily the standout of the deserts for me. I fondly remember the apple sorbet from our previous visit to Tetsuya's and this is another dish I will most definitely remember.
The cannellini beans with mascarpone & soy caramel is nice though I'm not wowed by this dish as the flavours are possibly a little subtle for my liking. I'm sure I'd be rather happy with this dish in any other restaurant though we're getting towards the end of the night in which the bar has been raised very high and it came on the back of a sensational dessert dish.
The finale to our 11 courses is the salted sable with lemon scented leatherwood honey. I think NQN would have loved this dish though unfortunately for her I am not carrying this home :P It's late so I quickly devour this and follow my fellow diners outside braving the cold.
I hope you've enjoyed my guest post, my food memory isn't quite as good as Lorraine's so I hope you'll forgive this minor interruption, back to normal programming tomorrow. The dinner I mentioned where I cooked some Tetsuya's dishes was actually when I proposed to Lorraine. I hid my nervousness really well with the cooking and caught her completely by surprise :D
I get to write a question today, so Dear Reader, what is the most memorable meal your significant other has cooked for you?
I dined as a guest of YourSingapore.com
_Lorraine with her friend @figandcherry. Photo courtesy of Simon Food Favourites
_
And where was Lorraine? She was speaking on a panel for Media 140 where she spoke with fellow tweeters and friends @figandcherry @gosstronomy @reemski and @bluesjunkie and was interviewed by @julie_posetti. Media 140 Food was organised by @iconic88 and @Bridget_cooks with delicious food by @Bridget_cooks, breads by @brasseriebread and meat by @urbanfoodmarket.
Tetsuya's
529 Kent St, Sydney NSW
Tel: +61 (02) 9267 2900
www.tetsuyas.com