What makes a great dining companion? For me, it's someone adventurous that shares and understands the need to order lots of things "for research purposes". One of these people is my friend Belinda. She is the person I travelled across America with last year and she eagerly participates in eating challenges that would defy or stop dead the more faint-hearted.
It was when we were discussing our Peking duck challenge and the banh mi challenge that she piped up that she would like to try a schnitzel challenge. Schnitzel is one of her favourite foods. It started with her stepmother who she told us made an excellent schnitzel. It spurred an obsession with it for Belinda so one rainy winter's day, we set out for other food enthusiast friends and made our way around Sydney trying schnitzels in every shape, size and taste.
For many Australians, schnitzels are often had at the pub. They're an adaption of the classic Vienna Schnitzel, the original schnitzel made with veal and served with a simple slice of lemon (or at times, a mushroom or tomato sauce). The hallmark of an Austrian schnitzel is the pocket of air between the thinly pounded meat and the crumb.
The key is the relationship between the crumb and the veal. The air pocket is created when steam gets caught between the meat and the crumb and it rises making the crumb dry, one of the prize hallmarks of a good schnitzel. The lightly pounded veal (they say 1/8 inch thick is ideal) is dipped in flour, eggs and breadcrumbs and then deep fried with the hot oil washing over the surface of the schnitzel creating waves that puff up the breading. For Australians eating them at the pub, it's often a chicken schnitzel (or "schnitty) that often morphs into a chicken Parmigiana (a parma or a parmi). These are much thicker than the Austrian or European specimens.
Our procedure was simple. We would order a Vienna (veal) schnitzel and the second schnitzel would be either a chicken schnitzel or another if we were swayed by another option. At each restaurant, as we sat down we would explain that we were doing a schnitzel tasting and that we were splitting two schnitzels giving them the chance to tell us to take our small order elsewhere if they wanted.
We kept our visits quick and at non peak times during the day and ordered plenty of drinks so that the tab would not be too low at each restaurant. What was surprising what how welcoming they all were and how interested they were in our challenge and only one restaurant seemed to grizzle about our small order (although they weren't busy, we bought lots of drinks, were in and out within 45 minutes and asked them beforehand).
To keep the day fun, we went in two cars which we have found not only practical during these challenges as parking is scarce in some areas but it makes for a fun time as we play musical chairs with occupants in the cars. We would score each schnitzel on the crumb crust and the meat as well as the overall experience that included sides, atmosphere and service.
East
Una's Darlinghurst
Ahh Una's. Ask anyone about schnitzel and fingers will invariably point to Una's. This stalwart of the Victoria Road scene has been open since 1960. The original Una was in fact Irish and she ran it as a simple restaurant but it was owner Annie, an Austrian woman, who transformed it in an Austrian and European restaurant. Una's is in the middle of serving breakfast at 10am when we arrive but when we asked them when the schnitzel is available from they answer that we can have it as early as 7:30am if we want! Service is very friendly and our waitress seems genuinely intrigued by our mad food caper.
As Una's is traditional, there are several schnitzels available but we go straight for the Vienna and the chicken schnitzel. Our waitress asks us if we would like to try the Jager (mushroom) and Gypsy (tomato) sauces on the side and we order those too.
Each schnitzel comes out on a plate with roesti potatoes to the side and a small plate of cabbage salad. Have I ever expressed to you Dear Reader how much I adore roesti? Here at Una's it's crispy potato perfection. The sauces are served on the side from gravy boats and there is also a small cabbage salad.
Louise remarked that she liked how well cooked the roesti was and that the meat was thin while Viggo, Nick, Mr NQN and I loved the Jager mushroom sauce and the sides. But out of the two schnitzels were all preferred the chicken as that was more tender.
Vienna Schnitzel average score: 14.41/20
Chicken Schnitzel average score: 16/20
Other average score (sides, atmosphere, service): 8.16/10
Overall score: 38.57/50
Twenty One, Double Bay
A couple of suburbs away is Double Bay. We notice that the rain doesn't seem to have dampened anyone's enthusiasm as we watch groups of people eating out or shopping. At Twenty One, there is just one table free and it's a little cramped. Nick quips that "real estate in Double Bay is expensive!". He looks admiringly upon a table of ten young spirited older gentlemen sitting at the table next to us. "That will be you Nick!" I tell him.
Service at Twenty One is excellent and deferential and we spot a half half schnitzel (one Wiener and one chicken) on the menu so we order that. It comes with two sides - one side is the creamed spinach and the other side is of your choosing from a list of about fifteen sides. We notice that schnitzel never takes very long to come out - it needs to be cooked fresh of course but because they are so thin they don't take very long to cook. I barely get into my apricot nectar (a blast from the past) before it arrives.
Half half schnitzel $29
Our schnitzel comes out with the veal and chicken ones still a very large size. Louise remarks that the schnitzels are tender and unlike at Una's we actually prefer the Wiener or veal schnitzel as it has a lot of flavour to it. The creamed spinach divides people - Louise and Belinda don't like it but Mr NQN and I like it and Viggo likes the nokedli pasta noodles.
Vienna Schnitzel average score: 16.25/20
Chicken Schnitzel average score: 14.8/20
Other average score (sides, atmosphere, service): 7.83/10
Overall score: 38.88/50
Schnitzel House, Double Bay
It's just a short walk to Schnitzel House on New South Head Road. When I rang beforehand to enquire about opening hours they had warned us not to come at 11am because the oil would just be heating up at we walk in at around 11:30am. There is a ten minute wait on the roesti which we happily wait for. One year ago, Schnitzel House was formerly an Una's.
It's time for beer enthusiast Viggo's first beer of the day. When we explain what we're doing when they find out where we have been they say, "I think we can top that!". As there is a delay on the roesti we busy ourselves with the flag collection - interestingly there are plenty of European flags but no Austrian flag.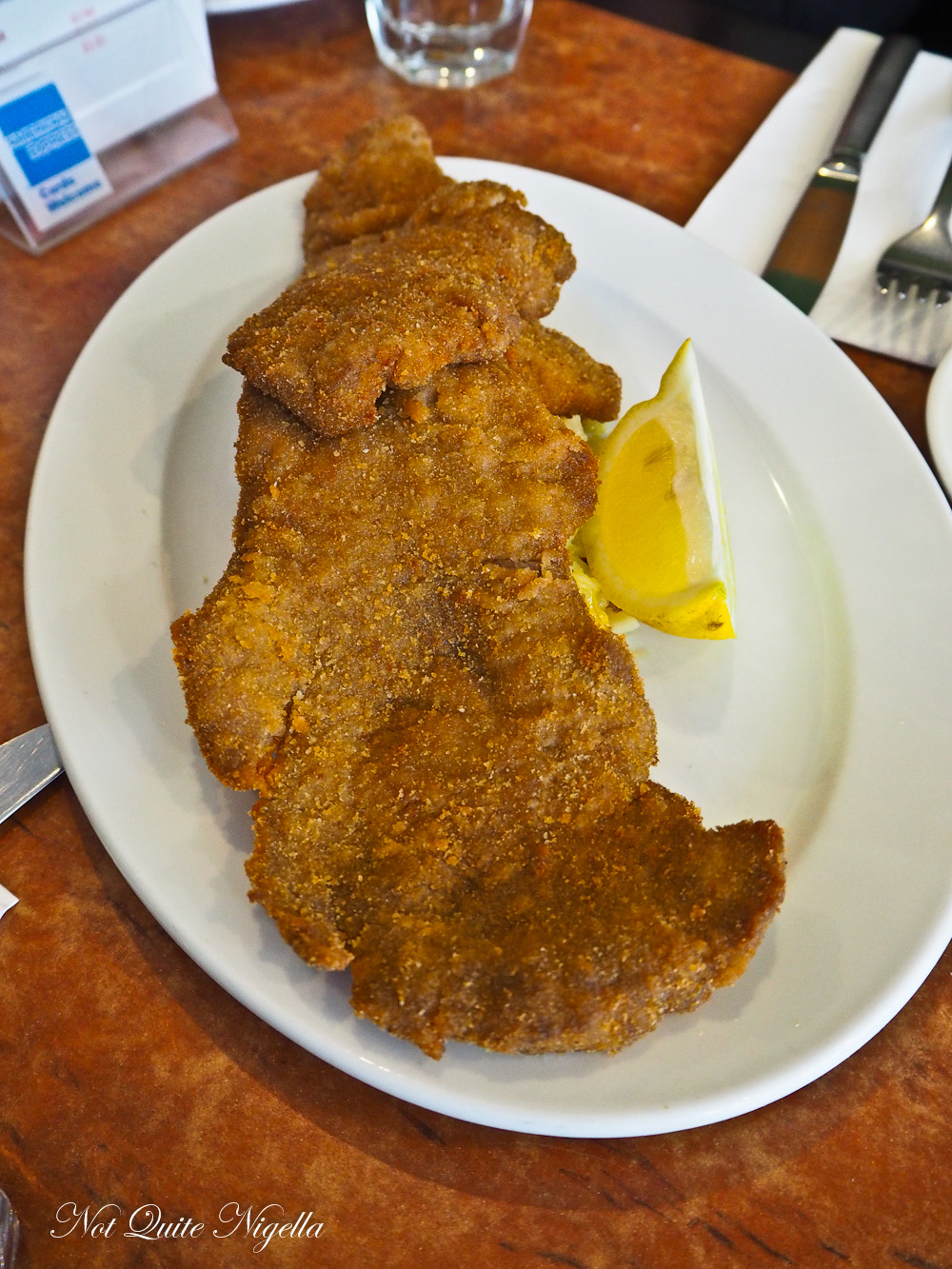 Vienna schnitzel $19.90
The schnitzels arrive with a small plate of cabbage salad with a liberal amount of paprika on top. We also ordered the two sauces on the side. Whilst the schnitzels are good, the roesti is a little undercooked right in the centre (perhaps in haste to get them out to us). Viggo finds the veal too thin and he doesn't like the oil flavour in the chicken schitzel. But it's the gypsy sauce that has us all smitten.
The tomato gypsy sauce is perfectly balanced - the chef apparently adds chilli in it to boost the flavour and Louise and I remark that we would buy it by the jar if we could. Nick like the jager mushroom sauce which actually tastes more like a beef gravy than mushrooms and this is a smooth sauce without any mushroom pieces.
Chicken schnitzel $19.90
Sauces extra
Vienna Schnitzel average score: 14.58/20
Chicken Schnitzel average score: 14.58/20
Other average score (sides, atmosphere, service): 7.41/10
Overall score: 36.57/50
Inner West
Goni's Schnitzeleria, Marrickville
It's a drive across the city where Belinda and Nick's navigating skills across the city trump the GPS in Louise and Viggo's car and they arrive in Marrickville ahead of us by 20 minutes. Nick takes us into his local Goni's Schnitzeleria. He has been there previously and warned us about the gargantuan sizes of the schnitzels there. Formerly located at the White Cockatoo, they have relocated to the Marrickville Road location and the restaurant has a food court cafeteria feel to it where you fetch your own plates and order and pay at the counter. Nick tells us that on Saturday nights, it will be packed with people eating.
The menu is interesting and is probably a good example of a schnitzel as a Australian pub or casual adaption rather than the Austrian schnitzel. They explain that they look at schnitzel in the same way that you would look at pizza - that is, everything and anything that you put on a pizza, they can put on a schnitzel. Case in point is their "Aussie" schnitzel with slices of tinned beetroot, ham, fried eggs and lots of cheese on top. The schnitzels are thicker here and can be ordered in either veal, chicken, pork or lamb.
Nick was not kidding when he warned us about the sizes. I put an iPhone in the picture for size comparison. They are actually four or five schnitzels stuck together either with crumbs or cheese. There is a small bowl of chips to the side which are entirely unnecessary as they're not great chips and there is so much food.
Mediterranean schnitzel $22
The schnitzels are the most polarising. The pork Mediterranean schnitzel is topped with garlic, basil, pine nuts, walnuts , bechamel sauce and parmesan and melted cheese but all I can see is cheese. Louise points out that the rest of the topping is like a pesto. Belinda gives them a resolute thumbs down scoring them 2 for every aspect saying "Bigger is not necessarily better," while enormous eaters Mr NQN and Nick give them the firm thumbs up. And I think that's where Goni's popularity lies. If you want an enormous schnitzel (or actually five stuck together) then this might be your kind of place. "It shows you that guys are preoccupied with size," Belinda quips. Nick laments, "melted cheeese made me fat a kid."
Parmiggiana schnitzel $22
Nick's comment is "great value, bad chips" while Mr NQN says, "quantity is amazing, enjoyed the change in flavour." Nick buys a takeaway container (of which they do a fast trade as nobody can finish anything) and drops home the extra to his mum like a good Greek son.
Chicken Parmiggiana Schnitzel average score: 11.5/20
Pork Mediterranean Schnitzel average score: 11.66/20
Other average score (sides, atmosphere, service): 6/10
Overall score: 29.16/50
Tommy's Beer Cafe, Glebe
It's a nearby change of scenery in Glebe where there are two reportedly great schnitzel places just down the road from each other. Viggo had visited Tommy's previously and thought that it was a worthy contender for best schnitzel. There's a great list of beers and Mr NQN and Viggo try one while Belinda orders the 73% Absinthe with the maximum allowance of Thujone.
"The last time I had Absinthe and schnitzel, I passed out," she says. They bring the sugar cube and light it and when it is finished Belinda stirs it in. We try tiny sips-it's like rocket fuel and thankfully Belinda's head doesn't end up in her schnitzel.
Hunter schnitzel $19.90
The Hunter schnitzel is a heart shaped crumbed chicken breast on a bed of creamy mashed potatoes with a herbed mushroom sauce and side salad. The chicken breast is remarkable juicy and tender and this scores highly with many particularly Viggo who likes the fact that it is a complete meal. Louise finds the mushroom sauce a little too much like cream of mushroom soup. Belinda calls it "mash heaven."
Swiss veal schnitzel $22.90
I actually prefer the Swiss veal schnitzel made of crumbed veal escalopes topped with melted cheese and smoked ham, French fries with a small pot of delicious gherkin aioli. Louise likes the realistic portion size of the meals here while Mr NQN likes the sides.
Vienna Schnitzel average score: 16.75/20
Chicken Schnitzel average score: 16.33/20
Other average score (sides, atmosphere, service): 8.58/10
Overall score: 41.66/50
La Boheme, Glebe NSW
Just a short walk away up the road is La Boheme. We thought that perhaps because La Boheme was the most upmarket of the restaurants on the list that they may have an issue with our schnitzel orders but they are welcoming and friendly and we bask in the warmth of the light and atmosphere. We order the schnitzel platter here which actually includes three types of schnitzel on the platter as well as a generous serve of side salads.
Schnitzel Platter for two $58.00
An enormous platter comes out and on it are chicken, pork, veal schnitzel with mushroom sauce, cranberry chutney, mashed potato, thyme roasted baby beetroot, Brussels sprouts and a salad. I particularly liked how each schnitzel is so different to each other and I must confess that my favourite schnitzel type is pork so I did like this platter a lot. Mr NQN and Nick in particular appreciated the side salads and Viggo and Nick thought that this was the best veal schnitzel of the night. The scores reflected the quality with everyone scoring it highly.
Vienna Schnitzel average score: 17.29/20
Chicken Schnitzel average score: 16.5/20
Pork Schnitzel average score: 17.16/20
Other average score (sides, atmosphere, service): 8.5/10
Overall score: 59.45/70 (additional schnitzel)
Concordia Club, Tempe
It's now 5pm and our next stop doesn't open until 5:30pm technically but we head over there anyway. Stepping into Concordia Club is like stepping into another time. Concordia (meaning "unity") is a community club and we sign in and take our ticket and choose a table.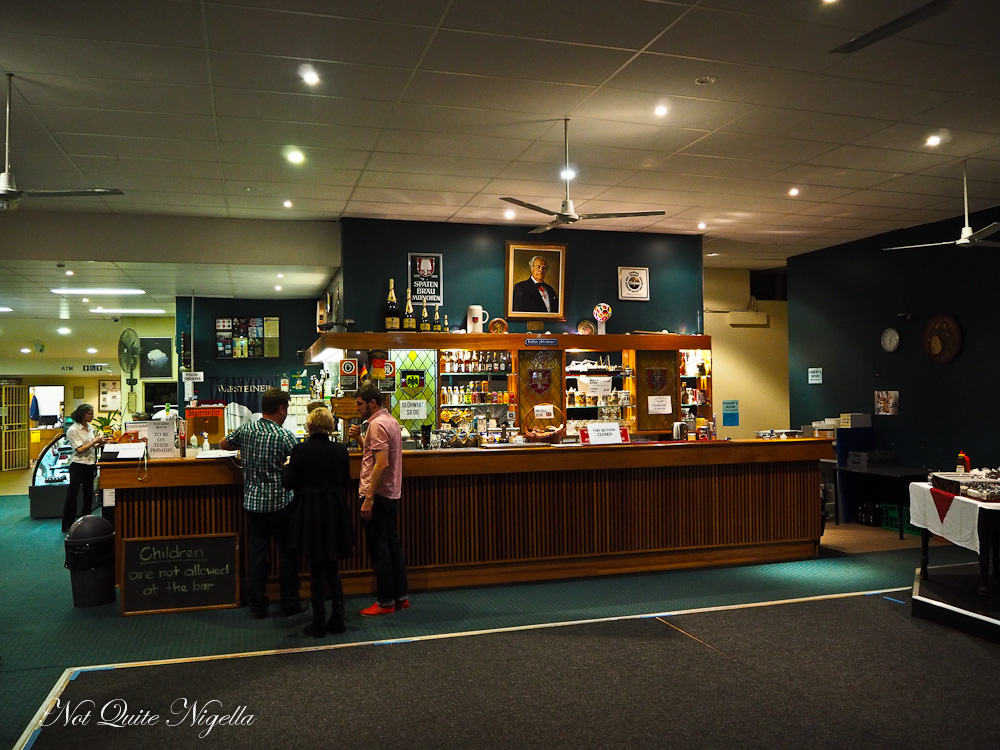 There's a small display of confectionery items, cakes and strudels including two of my favourite sweets: a Bienenstich cake and a cheese and cherry strudel. To get into the retro vibe Belinda orders a bottle of Mateus and we reminisce over childhood ads and food.
Chicken schnitzel $18
Both schnitzels come out with a side of cabbage with a lot of caraway seeds. Viggo finds the schnitzels a bit inconsistent with the thickness of the schnitzels and dislikes the sauces while I prefer both schnitzels with a bit of mustard to pep them up. We all like the thicker chips while Mr NQN finds the sides a bit lacking especially in comparison to La Boheme just before. Nick likes the old RSL club buzz.
Vienna Schnitzel $18 with mushroom sauce
Vienna Schnitzel average score: 13.66/20
Chicken Schnitzel average score: 14.08/20
Other average score (sides, atmosphere, service): 6.91/10
Overall score: 34.65/50
North
Austrian Schnitzelhaus, Neutral Bay
Nick has to leave as he had pre-warned us of a family situation so we all pile into Louise and Viggo's car and head North. We had originally intended to visit Kaiser Stub'n in Terrey Hills but it would have added two hours onto the journey. By now the effects of Belinda's Absinthe cocktail and Mateus are beginning to take effect and she and Mr NQN argue like siblings about the best route to take North.
"ERMAGHERD!! We're driving underwater!!" she screams as we approach the city before the sky reveals itself. She challenges the sanity of driving in a tunnel under Sydney harbour and tells us that this is why she never goes North. As the heavens open we make our way to our second last destination Austrian Schnitzelhaus. There are about a dozen schnitzels on the menu including a monthly schnitzel. It is also home to the schnitzel challenge where one has to eat one kilo of schnitzel, chips and a litre of beer in one hour.
Having reached our second last destination, we order chilli schnapps and a jam donut shot-the chilli butterscotch schnapps is deliciously divine.
Vienna Schnitzel $21.90
The special schnitzel scores just a tiny bit higher than the veal. The monthly schnitzel is the pear and cheese cheese which is stuffed with a sweet and savoury mix of pear, cranberries and blue cheese. And although we had asked before we sat down whether it was okay to have two schnitzels and some drinks the owner comes over and expresses her disbelief and displeasure. Nevertheless the waitresses remain absolutely lovely and talkative about our challenge and tell us their own favourite schnitzels.
Pear and blue cheese schnitzel $26
Vienna Schnitzel average score: 15.86/20
Special Schnitzel average score: 16/20
Other average score (sides, atmosphere, service): 7.2/10
Overall score: /50
East
Maggie's, Potts Point
Across the bridge we go again for our final destination. The rain pelts down on the car as we approach the familiar Coca Cola sign. We had originally planned to make the most of the night life in Kings Cross (schnitzels and strippers anyone?) but it is getting late and the rain and cold while good for eating schnitzels just makes us want to crawl under the covers.
Wiener (Veal) Schnitzel served with cabbage salad and rösti $20.90
A friend had suggested Maggie's as a contender and the German restaurant is busy this evening. The website suggests that it be almost churlish to not order schnitzel so we order two. One Vienna with just lemon and rosti and the chicken with mushroom sauce.
Hahnchen (Chicken) Schnitzel served with cabbage salad and rösti with Jaeger Sauce $21.90
The chicken comes with a blanket of mushroom sauce on top and Louise and Viggo are particularly smitten with it. Viggo declares this the best sauce and best chicken schnitzel while she likes the thin veal and the mushroom sauce. I also really liked the mushroom sauce and the roesti together but would have liked a bit more crispiness to the rosti. Mr NQN find the veal tough but contents himself with a warming bowl of soup.
Lemon sorbet $5.30
And because it is our last stop, we order dessert. The schnitzels have us craving something fresh and I go for the "Heidi Klum" a refreshing, smooth lemon sorbet.
Crepes $8.50
Louise chooses the crepes that comes either with maple syrup or lemon sugar. They bring out a maple syrup version and despite all we've eaten, we manage to polish off all of the crepes.
Vienna Schnitzel average score: 15.3/20
Chicken Schnitzel average score: 16.7/20
Other average score (sides, atmosphere, service): 8.2/10
Overall score: /50
What our eager eaters had to say:
Belinda:
If Ryan Gosling was edible he'd be a schnitzel. Hot, juicy and leaves you wanting more...Oh how I love schnitzel in all its crumby goodness. For me it's the ultimate in comfort food especially when it's paired with creamy mash. My favourite was the thick and juicy chicken schnitzel at Tommy's served with mash and salad for the ideal meal. I had a soft spot for the pear and blue cheese stuffed version at the Austrian Schnitzelhaus. Even though we travelled hours underwater via Wollongong to get to Neutral Bay. That's what happens when you're friends with someone who has DTD (Developmental Topographical Disorientation). It's a serious disorder people!!!
Lots of fun was had on this challenge and I was impressed by the friendly and accommodating service at all of the restaurants. Rest assured there's plenty of good schnitzel available to us Sydney folks. My least favourite was my local Goni's. The ambiance of a shopping centre food court and soggy schnitzel bogged down with swampy cheese was not a highlight for me. Bigger is not always better!
Lorraine
At first I thought that the weather was a bit of a curse since we've always been blessed with good weather for challenges but then I realised that the cold and rainy weather was a good thing for a schnitzel challenge as it made you want to stay indoors and eat schnitzel. As always the camaraderie, never ending supply of food and insanity of it all were my favourite parts.
I was surprised at how all of the schnitzels varied - I'm not as big a schnitzel lover as Belinda but I do love a well turned out schnitzel. I also discovered my favourite schnitzel is a pork schnitzel which apparently is more common in Germany than Austria.
I was amazed at how nice most of the people were about our challenge. Many of them were really interested in our challenge. I really liked the atmosphere at Tommy's and La Boheme as they felt like places that we could spend a lot of time at. The biggest surprise, nay shock, was the size of the Goni's schnitzel and had us puzzling about how they could turn a profit given the size of the beasts.
Louise
I think that you have to get two things right to have a good schnitzel.. the crumb and the meat. As long as the meat is fresh, even and not dry and the crumb crisp, small and not oily then you have found a perfect schnitzel. I've not been a big fan of mushroom sauce (for someone who loves mushrooms, go figure) on top of my schnitzel as I like the crumb crispy but two places had a yummy mushroom sauce that actually tasted of mushroom.
I was surprised at the speed that the schnitzels appeared from the kitchens. It was a fun day all up and I think my taste buds ended up with Stockholm syndrome, I did actually think about having a schnitzel sandwich for lunch two days later.
Mr NQN
Overall I enjoyed the schnitzels at all places we went. I found that the more traditional veal schnitzels were mostly a little tough for my liking though they had the crumbs sorted, their chicken schnitzels were nice when the meat wasn't too dry. On the other side the less traditional places piled on the cheese with some other flavours which I enjoyed also. For the right occasion and person they both have a place. However, I'm not in a great hurry to rush out and have another schnitzel.
Nick
True story. During filming Arnold Schwarzenegger was being punched on by my hero Sly Stallone and the only way to save himself was to cry out "Get off me, and let's go get a schnitzel!" They have been firm and buff friends ever since.
My recommendation was Goni's in Marrickville. Bountiful succulent juicy breasts with a multitude of flavourful toppings. Lots of action going on in a plate of schnitzel from this place. Reminds me of my favourite sport: ladies pillow fighting.
I have a soft spot for the old school places like Una's and the Concordia Club. The only thing missing as I nibbled on the traditional fare at these nostalgic establishments, was having my beer brought to me by a buxom lass named Heidi.
My number one schnitzel was from La Boheme. Eating this was like having my cheek stroked by Liesl while she sings Edelweiss to me. I could barely contain my lederhosen!
Viggo
For this challenge I tried to be a little more scientific than usual, so I carefully compared the consistency of the thickness, the amount of crumb, crunchiness and texture of the coating, of each schnitzel. I then examined the firmness and flavor of the meat, to arrive at a final score.
The schnitzel challenge was a great way to spend a Saturday - I was surprised at the range of different serving sizes and quality of each schnitzel, and I now know where to go for a decent one.
So tell me Dear Reader, which schnitzels appealed to you most? What food would you pick for your ideal food challenge?
All meals were paid for independently
Una's
340 Victoria St, Darlinghurst NSW 2010
Tel: +61 (02) 9360 6885
http://www.unas.com.au/
Mon - Sat: 7:30 am - 10:30 pm
Sun: 8:30 am - 10:30 pm
Twenty One
21 Knox St, Double Bay NSW 2028
Tel: +61 (02) 9327 2616
http://www.21espresso.com.au/ Open 7 days 8:30am-10pm
Schnitzel House Double Bay
372 New South Head Rd, Double Bay
Tel: +61 (02) 9327 7287 http://schnitzelhouse-doublebay.com.au
Sunday 10:00 am - 10:00 pm
Monday & Tuesday 5:00-10:00 pm
Wednesday to Saturday 11:00 am - 10:00 pm
Goni's Schnitzeleria
296 Marrickville Rd Marrickville
Tel: +61 (02) 9560 2574
http://thegonisschnitzelria.com.au/
Open Tuesday to Saturday 11:30am-9:30pm, Monday 11:30am-9pm, Tuesday 12pm-8pm
Tommy's Beer Cafe
123 Glebe Point Rd, Glebe NSW 2037
Tel: +61 (02) 9660 6870
http://tommysbeercafe.com.au/
Monday - Thursday: 4pm to 12am
Friday - Sunday: 12pm to 12am
La Boheme
199 Glebe Point Rd, Glebe NSW 2037
Tel: +61 (02) 9660 5639
http://laboheme.com.au/
Monday: Closed
Tuesday, Wednesday & Thursday: 5.00 pm – 11.00 pm
Friday: 5:00pm – Midnight
Saturday: 12.00 Noon – Midnight
Sunday: 12.00 Noon – 10.00 pm
Concordia Club
Mackay Park, 1 Richardson Crescent
Tel: +61 (02) 9554 7388
http://www.concordiaclub.org.au/
Friday to Saturday: 12pm - 2.30pm, 5.30pm - 8.30pm
Sunday: 12pm - 3pm, 5.30pm - 8.30pm
Austrian Schnitzelhaus
12 Waters Ln, Neutral Bay NSW 2089
Tel: +61 (02) 9909 0789
http://www.austrianschnitzelhaus.com.au/
Monday - Thursdays: 4pm -10pm
Friday - Sundays: 12pm -9.30pm
Maggie's
50 Macleay St Potts Point, NSW
Tel: +61 (02) 9331 2226
http://www.maggiespottspoint.com.au/
Open 7 days 8am-11pm