Every year, my husband's family and mine rent a house at Echo Point in the Blue Mountains. We always get the same house as it's huge, lovely and just right for the 10 of us. This year it seemed that some were out to ruin Christmas with last minute cancellations but despite this, and the many, many changes of plans we still had a fantastic Christmas, made even better because of the absence of Grinches! :)
Breakfast spread (not shown, muesli)
Mmm bacon....food of the gods!
We had a range of foods for breakfast including of course French Toast with bacon and blueberry jam. During the day copious amounts of Watermelon (from a sweet and juicy 11kg behemoth melon) were consumed, one night was a Pot Luck plate dinner with Hawaiian bean salad, noodles, cheeses and dips.
Crimson Rosellas in the backyard (amongst many other native birds)
Eumundi Organic Sausages
The highlight was the Christmas Day BBQ which featured a Coke Butt Chicken (a Coke version of the Beer Butt Chicken, click here for the recipe), Eumundi Sausages in 3 flavours (Pork & Ginger; Chicken & Leek and Beef, Tomato & Spinach); vegetarian sausages, tofu patties, coleslaw, freshly buttered corn, caramelised onions, asparagus, rolls, and of course for dessert, gleaming Maple Cheesecake (recipe to come) and sweet, juicy watermelon.
BBQ'd onions
Tofu and vegetarian sausage platter
Grilled corn on the cob
Cooked Eumundi's - yum!
Coke Butt Chicken
Grilled asparagus
The Eumundi sausages, which were a bit of a race around to buy as they weren't answering their phone so we couldn't find out their opening hours, were finally procured at the Fox Studios markets. The Pork & Ginger was a coarse grind sausage, heady in ginger. The Chicken and Leek were my favourite, a mild finely ground sausage and the beef, tomato were delicious with a fantastic flavour to them.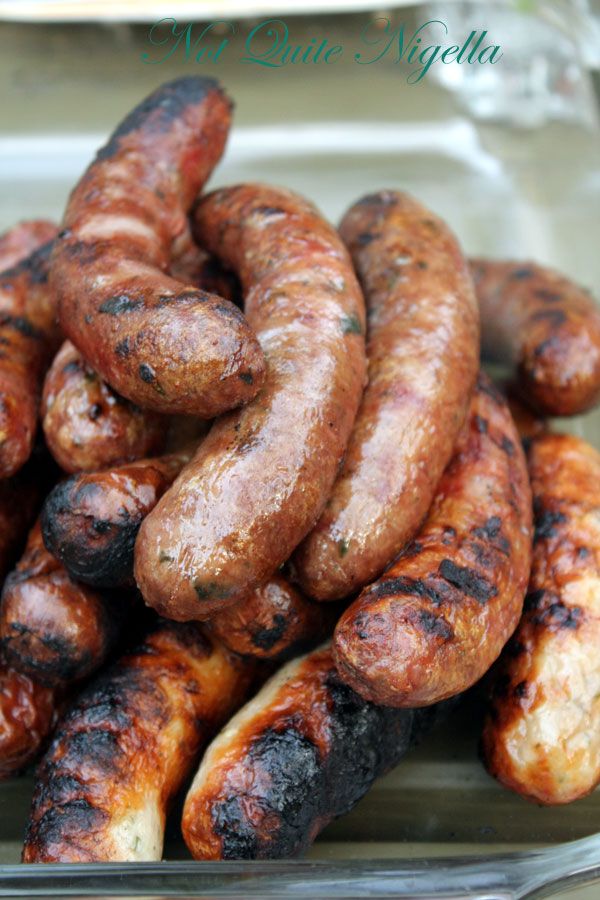 As for presents, this year I was thrilled to receive:
Nigella Christmas book
Grade A Spanish saffron
Excuse the wrinkly hands...
Chanel Kaleidoscope Nail Polish
Signed Ferran Adria "A Day at El Bulli" book
Icing tubes (yes seriously, I love the ones from the UK)
Box of assorted Lindor balls
Fairy flower cookie kit
A tin of Goose Fat
Cupcake apron
Cupcake oven mitt
Maldon Smoked and Regular salt
Monk Season 6 DVD
Dermalogica Skincare
Money
Le Petite Cafe Mocha mix
The Family Guy The Untold Story of Stewie Griffin DVD
Microwavable ice cream scoop
Eiffel tower umbrella
Wicked umbrella
Inside the Wicked Umbrella-so clever!
Shakalaka tapenade and Quinoa from the Oxfam fair Trade shop
A ceramic box filled with Dime bars and Reese's Peanut Butter cups
I hope you had a fabulous, fun filled Christmas too!
Love,
NQN
xxx
We shall call him Ernie (of Bert and Ernie)