If you pick up any form of media lately, aside from Britney's comeback and Madonna's botox, you'll also read about the credit crisis going around in the world nowadays. And one of the effects of this crisis is reportedly the increase in sales of SPAM, the much maligned canned, gelatinous spiced ham. It's famous for being loved in Hawaii and enjoys a reputation only marginally better than Heather Mills. According to the article Spam "seems to do well when hard times hit," said Dan Bartel, business agent for the union local. "We'll probably see Spam lines instead of soup lines." Velveeta, that sort of cheese, much like SPAM is sort of meat is also experiencing a surge with people still wanting to put food on the table in an approximation of what they bought when the budgets were more robust.
The following recipe was from an article in Time, where top chefs gave out their favourite SPAM recipes. I flicked through all of them and the one that caught my eye was of course SPAM sushi by Chef Kerry Simon of Simon in Los Angeles and Las Vegas. Along with SPAM it's also filled with cucumber, avocado and sesame seeds. The choice was obvious and instant although I also earmarked the Flyin' Hawaiian SPAM burger. There's also SPAMghetti Carbonara, Green eggs and SPAM and SPAM Pineapple fried rice.
I don't mind SPAM in fact, but the nutritional information panel puts me off somewhat but in the name of making a recession proof sushi I thought I'd give it a go. I like my SPAM cooked, slightly crispy on the outside much like the way I like my Devon sandwiches. I won't pretend to dislike it, there's something comforting about a Devon and tomato sauce sandwich and the same goes for SPAM. I've never tried it with rice though so I was intrigued. It's not what you'd call a very cheap meat here in Australia though, with a can costing me almost $5. But it was surprisingly good. The original sushi roll recipe called for SPAM to be cut into matchsticks but I prefer more SPAM in my sushi and would suggest a thickness of 1.5cms x 1cm (approximately I mean, you don't need a ruler). It also doesn't make much of a difference in taste whether the SPAM is cooked or not although it would if you wanted to venture out into a giant SPAM nigiri. Out of the two I preferred the Giant SPAM nigiri as did my husband.
In Austin Minnesota there is no SPAM snobbery with 13 restaurants with SPAM items on the menu and there is even a 16,500 foot large SPAM museum with the tagline "Sure Beats an Art Museum" where one can purchase a SPAM tie, sweatshirt and earrings (let's hope in a plastic rather than a fresh version) or try packaging the "sweet pork magic" into 12oz cans. There are also SPAM festivals, and locals have fond memories of SPAM brownies. And perhaps the SPAM has gone to my head but I'd be willing to try the SPAM brownies too, all in the name of research you do understand.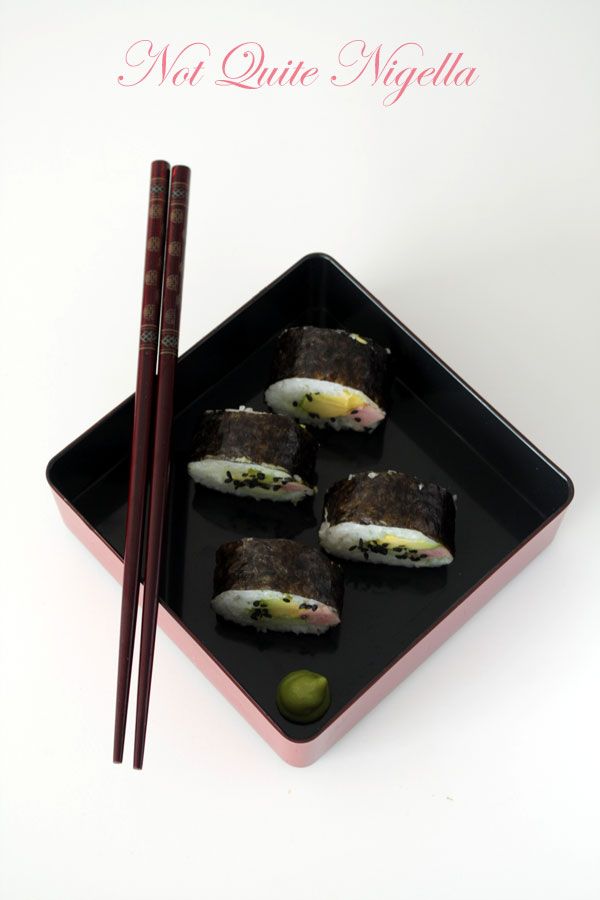 Spam sushi roll
3 cups Prepared sushi rice
1 can of SPAM, cut into1.5cms x 1cms strips
1 Avocado, peeled and cut in fine pieces
1 Cucumber, peeled, seeded and cut in fine strips
Step 1 - Place the nori on a bamboo mat, shiny side down. Dampen your fingers in water so that the rice does not stick to your hands. Spread rice evenly over nori. You probably want to extend your rice further on the seaweed than I have but I don't like a lot of rice in my sushi filling.
Step 2 - Lay Spam, avocado and cucumber lengthwise. Sprinkle with sesame seeds. To roll: slowly fold the end of the mat closest to you over the filling and tuck it in. Use medium pressure to create a compact tube. Remove the mat from around the roll, press in the loose ends and place it on a cutting board, seam side down. Using a wet, sharp knife, slice the roll in half then into 6 equal pieces. Serve with wasabi, soy sauce and pickled ginger.
Recipe courtesy of Chef Kerry Simon of Simon in Los Angeles and Las Vegas
Giant Nigiri SPAM Sushi
2 cups uncooked Japanese rice
4 tablespoons sushi seasoning
1/2 sheet of nori seaweed, cut into 1cm strips
Step 1 - Cook sushi rice as directed and when cool, add sushi rice seasoning.
Step 2 - Meanwhile, slice SPAM into slices, you should get about 8 slices from a tin. Fry in a frypan with a tiny amount of oil. Drain on absorbent paper.
Step 2 - When cool enough to handle, shape the rice into a rectangular shape roughly the size of the piece of SPAM. Using a spatula with a little oil on it helps and prevents the rice sticking to it.
Step 3 - Place a strip of seaweed on a plate and place piece of spam on top. Then add rice and  fasten ends of seaweed on top of the rice. Rest upside down until ready to plate (I found it easier as it can fall apart a little if you keep moving it from plate to plate). Serve with wasabi.