First of all, HAPPY AUSTRALIA DAY and HAPPY CHINESE NEW YEAR! :)
Sydney seems to be gripped in the middle of chocolate fever. And do you hear me complaining? Not a jot. Because all it means is that I get to try more of one of my favourite foods under the guise of "research". Boon chocolates is a place that Teena, her baby Annabel Ines and I decide to go along to one afternoon. I'd been wanting to visit for a while, not realising that I could have quite easily as they open until 10:30pm Thursday to Saturday.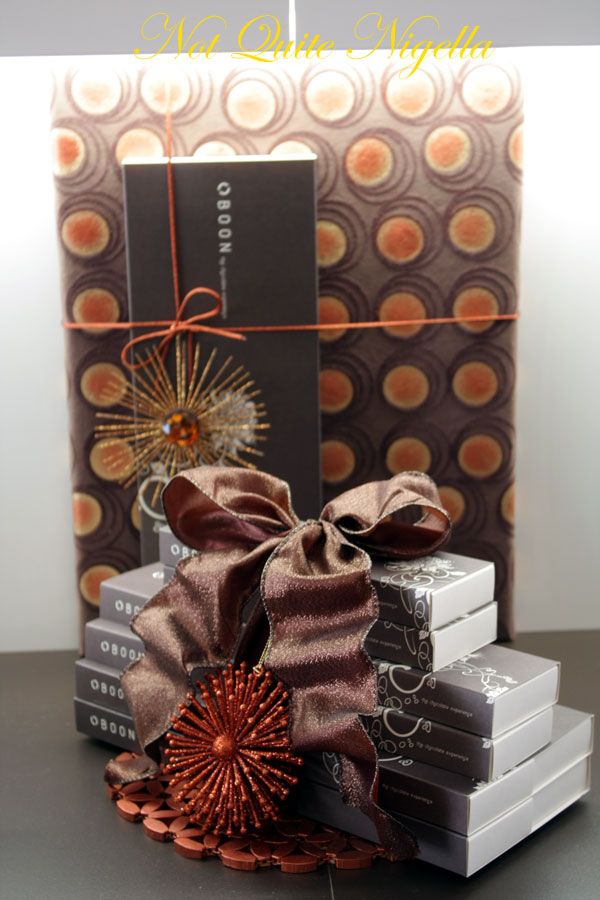 Housed where Oh! Calcutta used to stand, on Victoria Street in Darlinghurst, it is a chocolate shop full of deliciously chic looking chocolates and upstairs is a small Terrace Lounge where you can have drinks and a few little sweet morsels.
Little boxes in the shape of handbags-cute idea for bombonierre or kitchen tea gift for guests!
It's run by a brother and sister team Alex and Fanny Chan. Alex who is the face and voice of Boon (which is Dutch for bean) sits to the left hand side of the store tapping away at his laptop whilst Fanny is the chocolate maker in the kitchen, having studied in Sydney, France and Belgium under Belgium Boon Chocolate's Patrick Mertens. There's an emphasis on natural ingredients and simple flavours. They're also rather nice, because as we drop a glass in our haste to get little Annabel Ines home quickly, they take it quite graciously.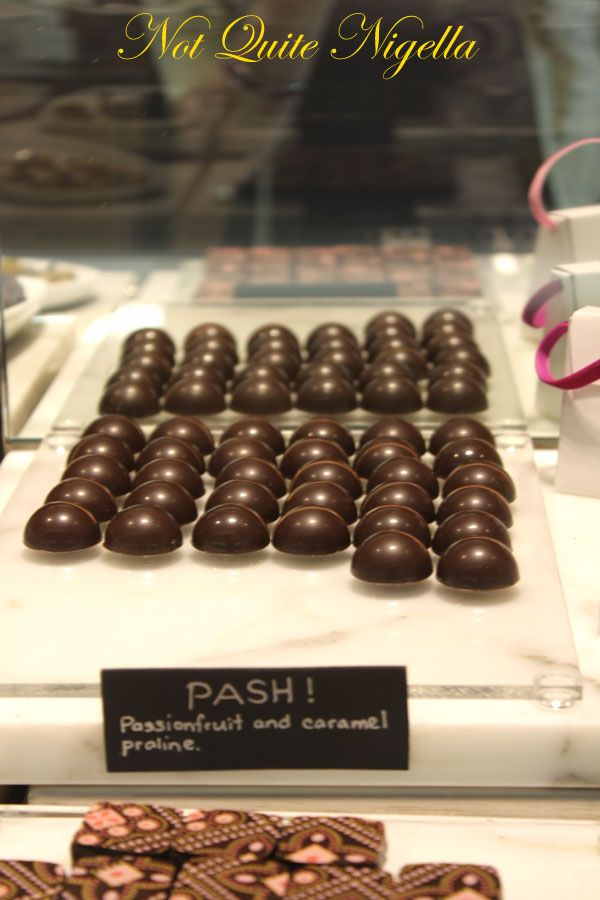 It's a sweltering hot 33C degrees, not ideal chocolate weather but a quick browse of the chocolates downstairs and we're convinced that we have to try some and we climb the stairs to the Terrace Lounge.
_Teaser plate Selection of chocolates $7.50 for 5 chocolates. Clockwise from top right: Mira, Janne, Pash!, Coconut and Nataly
_
The Mira, round red chocolate is filled with white chocolate ganache and mountain pepperberries and strawberries. It is a gorgeous jewel-like creation, bright and resplendent much like your favourite cocktail ring, sweet with berries.
The Janne, is a pretty rose infused white chocolate ganache, delicate as delicate can be with the lightest whisper of rose.
The Pash! is a passionfruit and caramel praline button, gorgeously conceived and well balanced.
The Shredded Coconut chocolate is a sweet soft ganache coated in the coconut. Teena is a big fan of coconut chocolates and she likes this one.
The Nataly is a peach and cardamon infused milk chocolate ganache which is strong in cardamon, whilst the peach is quite overwhelmed by the fragrant cadamom.
Papillon $7.50
The Papillon, a cherry Rooibos ice tea is quite good, especially strong with a Maraschino cherry flavour. The rooibos is infused overnight to extract the flavour for the Iced tea.
Coconut Frappe $7.50
The Coconut Frappe is absolutely delicious, the creamy coconut cream and white chocolate quenching our thirst with just the perfect amount of sweetness. I had originally ordered the Passionfruit one but they had run out but I am more than happy with this replacement.
After our little break, a bit of calm in the middle of busy Darlinghurst we exit, but with the intent to come back soon (and hopefully with less breakages).
Boon Chocolates
251 Victoria Street, Darlinghurst, NSW
Tel: +61(02) 9356 8876
http://www.boonchocolates.com.au/