Late one afternoon I remembered that I hadn't made a booking at the restaurant we were eating at that evening. I gave them a call just in case and asked if I could make a reservation. After taking down my details, the woman on the other end of the line said gaily, "Just a reminder, just be on time!"
"Ummm okay...." I said wanting to add "Mum?" at the end. As a result, I pestered Mr NQN to be on time as we were picking up my parents to drive to the latest outpost of Petaling Street in Kingsford. It was a restaurant I wanted to go to but the location in Chinatown can be difficult to find a park near so I figured that this would be better. Which means that it's even more baffling that we can't find a park as Kingsford is busy with crowds this Wednesday evening. And a little tip if you're driving, go at 7pm when Anzac Parade becomes a clearway and you don't have to snake up and down the alleyways and side streets as we did.
The menu is a large, double sided laminated one and it comes with two separate laminated menus with additional specials. The initial anxiety due to the sheer number of items on offer disippates once we see the chef's hats next to the items indicating recommended items. Petaling Street is the name of a famous eat street in Malaysia.
Michael Jackson $4.80 (left) Iced red bean drink $3.80 
There's a range of drinks and it's hard to choose although we decide to go for the Michael Jackson drink so called because it's a bit black and a bit white (I didn't make this up I promise). It's a slightly sweet soy bean drink with grass jelly cubes and is perfectly pleasant. The iced red bean drink is not sweetened enough and we ask for more sugar syrup in this and after that, it's very good indeed. Both drinks come with spoons to fish out the jelly and beans at the bottom.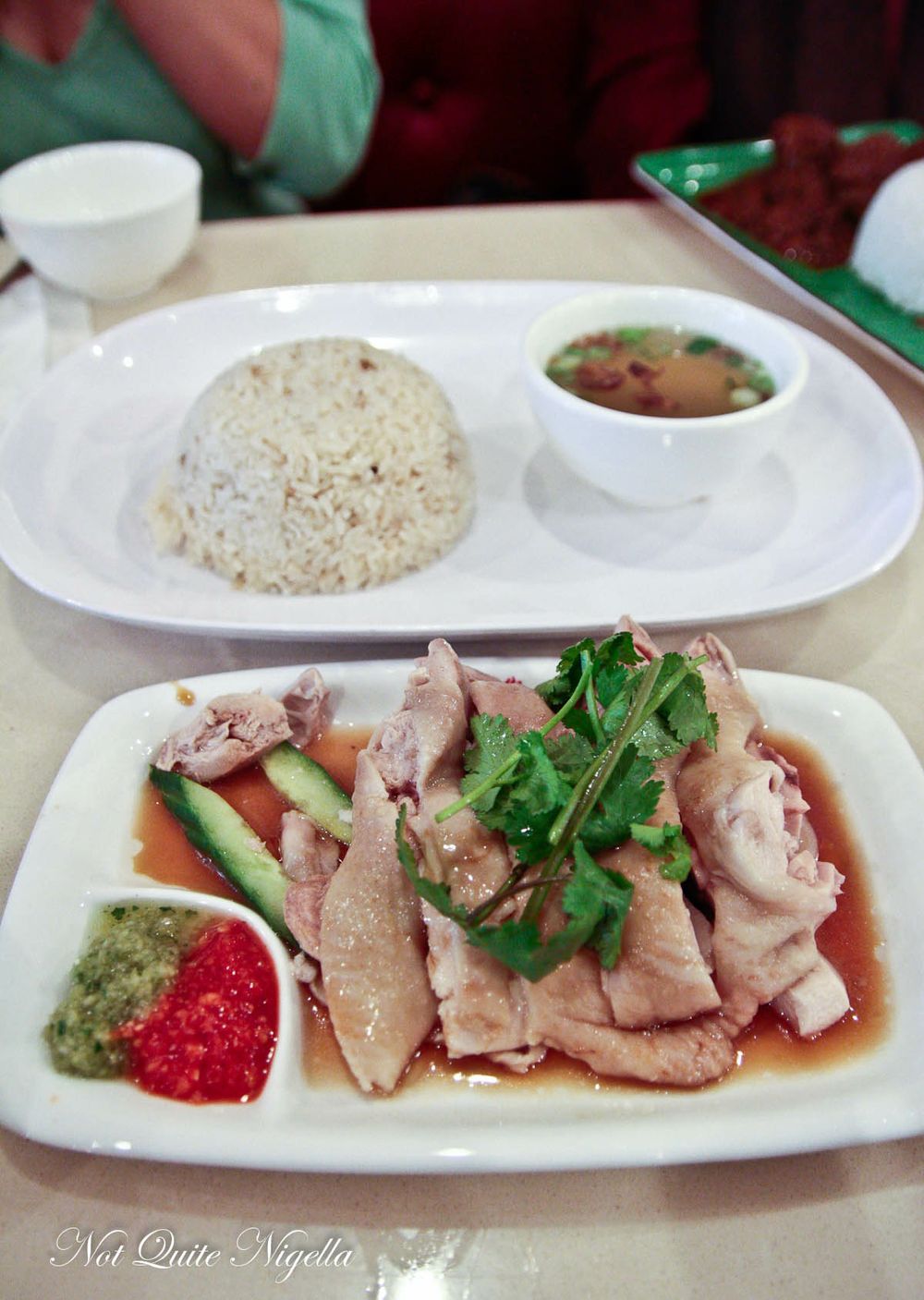 Hainanese Chicken Rice $10.80
Our food starts arriving very quickly and our waitress did warn us that we had ordered quite a bit of food-so much so that the couple next to us remark at how much we've ordered. The Hainanese chicken rice is tasty with soft, slippery pieces of skin on and bone in chicken with a chilli sauce and a ginger sauce. It comes with a small bowl of clear soup and a mound of delicious rice.
Curry beef rendang $10.80
All of the mains can be ordered on their own for around $17-$18 or with rice for less and we decided to get them with rice so that we could try more. The curry beef rendang is soft and falls apart easily. It's got lots of flavour but I do prefer my mother's which really sings with aromatics although I do like the fact that it is quite spicy.
Marmite Chicken Ribs with rice $11.80
My heart was stolen by the Marmite chicken ribs-they're not the actual small rib cage from a chicken but larger chicken spare rib which is about the size of a half a wing bone but with more meat and skin on it. These have a great combination of salty and sweet from the Marmite and I can't tell you how many there were to a serve except to say that I ate three-oops!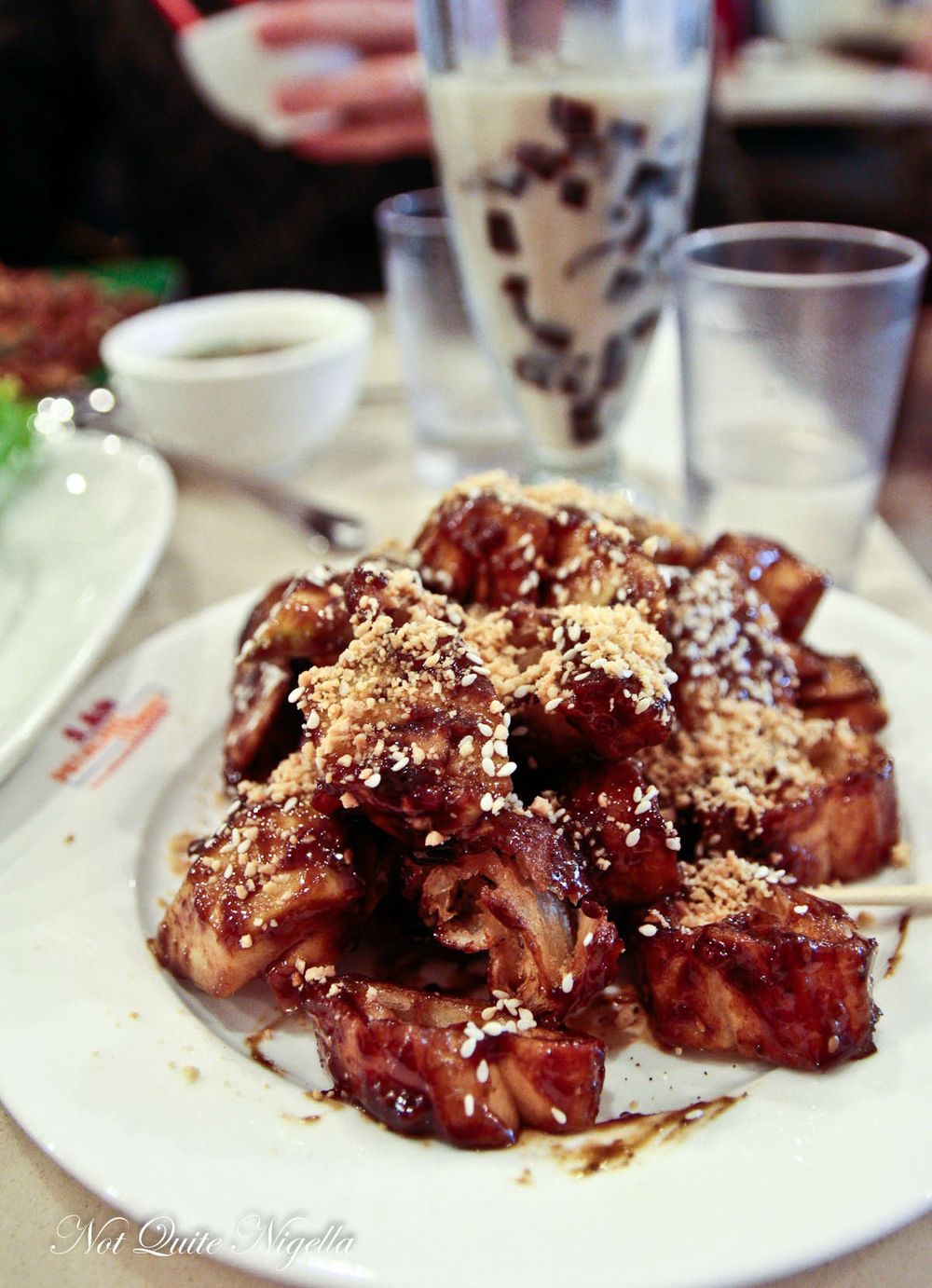 Penang Rojak $8.80
I usually love rojak, that salad tossed in a sweet and sour aromatic sauce and I think Mr NQN will enjoy it so I order this. It's a bit of a lucky dip as to which piece you get-there's pineapple, apple, cucumber, fried bread and this is all coated in a thick sauce. This version is very heavy of the belachan and ends up being just too fishy for me. The Penang version has a very thick, caramel type sauce and there's more fruit in it.
Penang Char Kway Teow $14.80
The Penang version is slightly more popular that the regular version here so we order it as it has the addition of duck eggs and cockle shells. It has a good amount of thinly sliced Lup Cheong sausage, prawns and pork in it although some of the noodles themselves don't have a great deal of flavour.
Soft Bone Assam Sauce Nyonya Style $20.80
This was my mother's favourite and I remember that she used to make a dish similar to this a lot when we were growing up. She tells me that the soft bones stopped becoming available at the butcher's which is why she no longer makes it. You are to eat the whole thing, bone and all which is very soft and easy to eat. The sauce is really full of flavour and you definitely want to have plenty of plain boiled rice handy for the sauce.
Pulut Hitam $5.80
Although I was really full by then, the desserts looked so tempting that we had to try some. The pulut hitam is black sticky rice with longans with a thick creamy layer of coconut cream on top. It's served hot and it's a filling and not too sweet dessert.
Roti Kaya $5.80
We were warned that the roti dishes would take about 10 minutes. It takes closer to twenty but as we're digesting we don't really mind at all. This is a large roti filled with kaya coconut jam. It's a bit unevenly filled although the bits with lots of kaya are really good particularly with the crispy but not greasy roti.
So tell me Dear Reader, do you always arrive on time for reservations?
Petaling Street
438-448 Anzac Parade, Kingsford
Tel: +61 (02) 9662 8880