Happy Monday to you Dear Reader! Today I am meeting Chocolate Pied Piper Myriam. The reason why I call her a Pied Piper is because she holds chocolate tours across Sydney (check out her upcoming 13 desserts of Christmas lunch!). This isn't a chocolate tour but after reading about her rave for the Kakawa Lemon Chocolates naming them the best lemon chocolates in the world I just had to visit Kakawa. After all, this is a woman who travels across the world to find the best chocolate and she somehow stays sylphlike and thin (arrgh French women! :P ). And you know I'm on a general life pursuit to find the best of everything so this peaked my interest and we made a date to meet up.
Wall of single origin chocolate
Kakawa is a little chocolate shop in the middle of busy William Street which has a slightly different appearance and philosophy to other chocolatiers. Started by the chocolatier Jin (former pastry chef of Flying Fish) and her partner David (former chef at Quay) just over a year ago it is quietly snapping up awards for their chocolates. The kitchen is open plan and if you walk in around 8.30am you might see them either making the ganache, if you pop in at 9am they may be tempering the chocolate or between 11am to noon you may see them busy enrobing the chocolate.
Chocolate CDs
The other thing that they emphasise is that their chocolate shelf life is a mere 10 days. Not only is this because they use items like fresh cream but they also do not believe that chocolate that sits on shelves for longer tastes as good. As a result each type of their rotating and sometimes changing 32 flavours is made by hand in batches as small as 20 pieces to ensure turnover and freshness. The chocolates take between half a day to two days from beginning to end. And chocolate is ideally stored at between 15 and 18 degrees Celsius says Jin.
And then there's the water ganache. Keen bakers will know that water is always thought to be the enemy of melted chocolate. But here, they create a water based ganache where they use water, usually flavoured with a herb in a tisane and slowly adding it in. This takes more time and this perhaps accounts for why they are the only chocolatier that does this water ganache. The result as seen in the sweet Thai basil truffle is a very strong and clear basil and mint flavour. These are particularly susceptible to the 10 day freshness rule and after 10 days a mold will develop.
Jin and David
"When people try our chocolates, they can identify the flavour" David says. They use a combination of chocolates from several chocolate producers: Amadei, Valrhona, Michel Cluizel, Callebaut Single Origin and Belcolade.
We do a little chocolate tasting of three single origin chocolates as they have a wall of single origin chocolates.  We try a Valrhona from Ecuador called Jivara at 40% cocoa, a Michel Cluizel Santo Domingo 67% and an Amedei Chuao which is my favourite chocolate as it is a dark chocolate without any bitterness to it at all, just a lovely smoothness. It is so prized and expensive that squares of it are sold alongside the truffles so that customers can try it in a smaller quantity and understand why it costs so much more than the others. Along with the single origin chocolates there are 120 different products from ice cream sandwiches, iced chocolates, rocky road, nougat, chocolate CDs, caramels etc as well as the glass display case of bonbons and moulded chocolates. Some items are developed because of customer demand such as the rocky road, nougat and marzipan.
The next chocolate we try is one of the three most popular chocolates. Sydney siders seem to have a complete love of salted caramel and this salted caramel bonbon lightly dusted in cocoa has a soft, oozing salted caramel centre. It's gorgeously liquid and runnier than a thick caramel without any grittiness or crystallisation. The salted caramel is so popular that they sell the filling by the jar (and a spoon perhaps! ;) ). Speaking of delicious goodies by the jar, we also try some of the chocolate and fruit preserve which is also sold by the jar. Today it's a raspberry preserve and the fruit is strong but there is also the presence of the rich Valrhona Manjari chocolate and the two together has the consistency similar to pate de fruit and jam.
But what about that lemon chocolate? The chocolate itself has a pretty floral pattern and the lemons are sourced from David's parent's place in the Hunter Valley. They're wild lemons and he tells us they're not pretty but they make up for their appearance with flavour. I pop the milk chocolate ganache and lemon chocolate into my mouth and await. A slow but sure burst of pure lemony sunshine erupts on my tongue and palate and the filling is soft and airy. It's utterly delicious and almost sherberty.
My shopping bag!
I buy some chocolates for Mr NQN and I to sample and because I want to see whether he can discern the flavours easily. The caramels are absolutely divine-true to flavour with the raspberry caramel being my favourite whereas Mr NQN loves the ginger caramels with tiny flecks of stem ginger. The texture for these caramels are soft and melt in the mouth and if you run these over your tongue several times savouring the pure raspberry flavour like I did they will soften and melt quickly.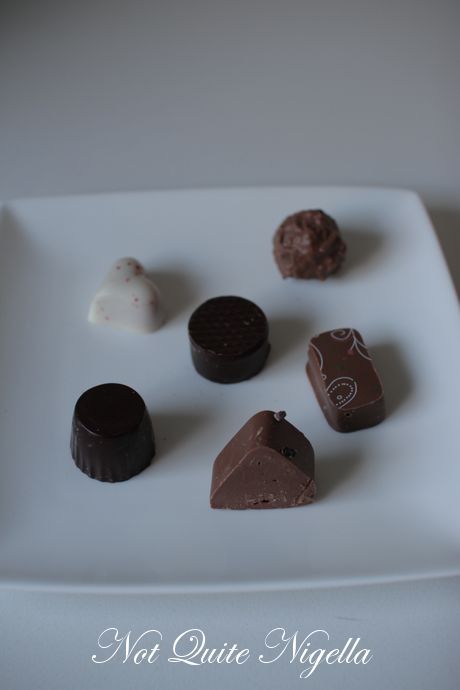 _Clockwise from top left: strawberry pox, lychee, banana caramel, lemon, peanut butter and apple and calvados caramel $1.80 each.
_
The strawberry enrobed in a thin layer of white chocolate is sweet and instantly recognisable but never too sweet and tastes of pure, fresh strawberry. The banana caramel is also very recognisable with the taste of freshly caramelised banana apparent within seconds (and Jin tells us that when a fruit is reliably consistent like citrus and banana, she always uses the fresh fruit). The Lychee is about the only one that isn't instantly recognisable, even when you know that that is the flavour. The Lemon, well that is divine (and I just had to have a second one). The peanut butter is a nutty confection and sophisticated so at first you think that it's more a nutty flavour than peanut butter. The apple and calvados takes a bit of time for the flavour to come through as it has a liquidy calvados burst and then a hint of apple.
So tell me Dear Reader, if you could eat one chocolate for the rest of your life, which one would it be?
Plus a little goodie mixed bag of bits and pieces for $4
Kakawa Chocolates
47 William Street, Darlinghurst, NSW
+61 (02) 9331 8818
Monday-Friday 08:30-18:30
Saturday 09:00-16:00
Closed Sunday and Public Holidays