When people ask me to find a place to meet, I am always happy to do so. For a food blogger, getting to choose a place means that we are going to eat at a place that a) we've never to before and b) might be new and exciting. So when meeting the lovely Bianca and Ainsley one morning, at 11:30am I thought where better to go but for Morning Tea at Harrogate teas, a shop which I happened to hear about from a lovely reader Maria who had stopped by there several months ago. Just a word of warning: don't drink your Earl Grey with milk like I did! But more on that later...
All teas are Fair Trade and have been even before Fair Trade became Fair Trade, and the scones are made each morning by Greg who owns the business with Marjorie. Our waitress takes our order but not without recommending that we get at least one scone each as they're made to Greg's mum's recipe. All of the other tables are reserved and it's quiet and tranquil in this Victorian style Tea Room setting. The jam is a chunky strawberry and china is Royal Albert and there's a tiered stand on the table. Things are just as they should be.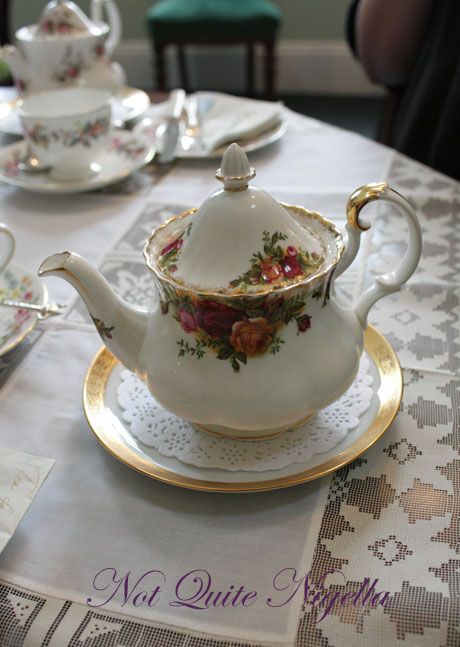 When choosing a tea I'm torn between trying my favourite, an Earl Grey, or trying another of their varieties but the waitress firmly suggests the Earl Grey. "When you taste it, you'll think you haven't tried better". Ainsley order the China Rose Petal Tea and Bianca the Vanilla tea. We order some scones, a salmon sandwich and a couple of sweet slices. The teas arrive first and they're all lovely aromatic blends but when I add sugar and milk to it a voice looms over my shoulder "You didn't put milk in your Earl Grey did you?". "Um yes, that's how I like it" and she feigns mock horror and grabs an empty tea cup and pours some in it. "Try smelling it now". I take a sniff and it's true, the aroma is more pronounced without the tea and it's a beautifully bergamoty blend but I have to insist that I like my Earl Grey with milk and sugar ;)
Salmon sandwich $15 with a pot of tea
The salmon sandwiches are made fresh and there is smoked salmon and well as cooked salmon with slices of cucumber. It's good although it tasted a touch watery perhaps from the seeds of the cucumber or the cooked salmon.
Scones
The scones are lovely and warm and light and I take some deliciously chunky strawberry jam from the strawberry bone china pot and thick cream. It is said to be clotted cream but appears more as a double cream to me.
Raspberry and Almond Slice
Butterscotch Burst Slice
We barely have enough time to try the slices while chatting . These aren't made on the premises but the raspberry and almond one is particularly good with a crumbly almond biscuit to it and raspberry jam. The Butterscotch Burst is a firmer slice with a thick layer of butterscotchey caramel between crumbly biscuity layers (and thankyou for Bianca and Ainsley for giving me the slices to take away with me as we didn't have time to finish them).
White Tea Canisters
Special Rare China White Leaf Tea
We walk downstairs to the tea shop and a have a quick look around. I take some photos outside and Marjorie comes out and says "Now did you have milk in your Earl Grey?". I say "Nope not me" and then of course I fess up. She shows us some of their White Tea which is the most premium type of tea at $200 a kilo and this particular blend from the Fujian prvince can only be picked for a short time of the year (early Spring) and in certain weather conditions earning it the name "Special Rare China White Leaf Tea". It also has a relatively low caffeine content (1-2% ) but the hightest antioxidant content as the slender, rolled silver leaves are unoxidosed and steamed.
So tell me Dear Reader, what is your favourite tea flavour?
Harrogate Teas and Tea Room
3 Union Street, Pyrmont 2000
Tel: +61 (02) 9571 6111
http://www.harrogateteasnsw.com.au/