After our delicious journey back in time at the Oceanic Cafe where we emerged to the sights and sounds of 2009, Queen Viv could sense my excitement and suggested that we follow up our meal at Oceanic with a visit to New York restaurant in Kings Cross at a later date. A similar concept to the Oceanic Cafe, New York restaurant is a restaurant serving traditional Australian/English meals at very reasonable prices to a loyal community. I was more than happy to, the only problem was that they were closed over Christmas until January 19th (I only found out the opening date as the owner happened to answer the phone while he was there). I rang up on the 19th to book a table for 4 the Saturday after only to be told by the friendly owner Paul "Oh darling, we  don't take reservations" and then he asked my name and I answered "Lorraine" and he said "OK Lorraine, I look forward to meeting you!". Wow, friendly folk indeed!
We're supposed to meet Queen Viv and Miss America at 7pm this Saturday night but we are late-by half an hour (arrgh since when did Kings Cross become a 1hour parking only zone?). Queen Viv calls us to ask where we are-the maitre'd is enquiring about our lateness. Of course we don't realise why. It's because the New York restaurant closes at 8pm! On Kellet Street in Kings Cross, it's located between two brothels.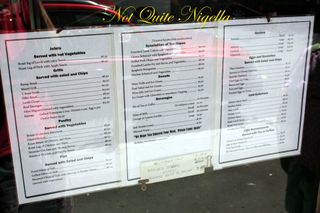 Rushing in, we order quickly. I go straight to the Chef's specialties where I order the crumbed lamb cutlets, my husband orders the chicken schnitzel and Queen Viv and Miss America both order the beef sausages. There is a note which makes us grin: "Minimum order $3.50". For good measure we also get a glass of orange cordial for 70c and an entree bowl of soup for 80c. Items are divided into old fashioned sections such as "Cold Collations" and there's even an oyster section with the cheapest item being Light Gold Toast for 40c.
We look around. There are groups of mostly men, of various ages although mostly senior citizens. One is so enamoured of his chop that he picks up the whole thing (about the size of a plate) and eats it with his hands. There's also younger men, including two fashionable young men and one dashingly handsome guy. A real mix that has us intrigued. As it's busy some of the men share a table and exchange greetings.
We scarcely have time to observe our fellow diners as everything arrives quickly. We ask Jeff the maitre'd if it is ok to take photos-he is intimidating looking with his tattoos but he smiles broadly and spreads his hands out and says "Of course, no problems at all" and tells us that we are free to take any photos we like and that fellow diners won't mind at all. In fact it's most hospitable reaction we've had. He tells us that the New York restaurant has been around for about 50 years, and at this location for 17 years.
](https://images.notquitenigella.com/images/new-york-restaurant-diner-kings-cross/a-newyork_cordial.jpg)
My two golden brown lamb cutlets are deliciously fresh and meaty. They're freshly cooked and perfectly so with the crumbing bereft of grease, just a delicious crunch. It comes with gravy, mash and peas (all very well cooked, the mash probably Deb so I'd definitely recommend asking for chips instead of mash).
The Chicken schnitzel with sauce, peas, beans and mash is nice, crispy edged and thick.
We also share a plate of thick chips which we of course, put into the two waiting, buttered slices of bread with tomato sauce and salt to make a Chip Butty.
](https://images.notquitenigella.com/images/new-york-restaurant-diner-kings-cross/a-newyork_chip_butty.jpg)
DIY Chip butty
Queen Viv and Miss America's beef sausages comes with salad and chips. Queen Viv orders a side of onions and tomatoes to go alongside. The sausages are split in half horizontally and as a result are crispy on the split side which I particularly like.
Jeff asks us if we would like dessert and apparently we have time so we happily order desserts.
Queen Viv and Miss America order the wine trifle with ice cream, which is a thick square of custard, sponge with some raspberry jam and a drizzle of wine syrup on top.
I order the dessert special of the day, creamed rice with stewed prunes which is satisfying in the way that only rice pudding can be.
My husband orders the fruit salad with ice cream which he seems happy with but I am too stuffed to try.
A man wanders in taken by the painting on one wall. He smiles and says to Jo the cashier that he had one exactly like it and they both chat about the painting easily despite not knowing each other.
We come back at a later time to meet Paul and talk to him and the cook Johnny about their time at the New York. Paul and Johnny are part owners of the New York with Johnny being with the New York since the beginning and Paul becoming part owner about 10 years ago. Prior to that George Tsangaris was in Paul's role and in a serendipitous twist George walks in while we are there so we get to meet him too. When we tell him why we are here he seems chuffed and pats my cheek. What a sweetie.
The fascinating history of the New York and what it means to its clientele was documented by Therese Sweeney in a council grant sponsored exhibition called Conversations at the Diner which was shown at Kings Cross Library in March 2007 (it is now archived and available for viewing at the Sydney of City library). Paul gives me the interviews with the other diners to read  while he gets ready for the lunchtime service. Therese runs the Memory Bank, a cultural heritage and education program and worked 1 night a week for a year at the New York so that she could get a true feel of the place and its patrons.
NSW Governor Marie Bashir with "Animal"
Described as "very plain but very cosmopolitan", the NY has been patronised by Alcoholics Anonymous members, bikers and gangsters in the past but now there appears to be mostly single men who love a meal cooked just like their mum made it. Currently amongst these diners are a stockman and Charity biker Randall "Animal" Nelson who has received an Order of Australia medal, an ex Police officer, a former dance teacher who goes under the name of Hollywood Hal, an opera singer and quite a few construction workers. The only thing that isn't tolerated are drunks who are promptly ejected. There's the feeling that for these people they always feel better if they socialise at least once during the day. Indeed when the New York is closed on Sunday or closed for Christmas, it seems to be greatly missed. To them it's appeal is that it is "not yuppie, clean and has good service" and like family or friends they remember that you don't like butter on your bread and the kind of drink that you like. And everyone is treated with respect.
It is this non judgmental attitude that meant a great deal to people like Sylvia Juggins who many years ago, was a single mother with 3 children, 1 of whom has a development problem. While she felt like she was judged negatively in Double Bay, she found acceptance here and in Kings Cross.  For people without immediate family in Sydney, a sense of community exists and a family of sorts and a chance to socialise occurs at the tables of the New York.
Some recall memories of George who always looked after people and if he found that he didn't see a customer for a few days he'd go looking for them to see if they were ok and if they were sick he'd bring them food.
Chicken Maryland with 2 pineapple fritters (taken when bananas were very expensive, the banana replaced by an extra slice of pineapple). Photo by Therese Sweeney/Copyright 2007
The chef John Kakaris was born in Greece and when he emigrated here, he learnt English from the customers. The NY used to be open 7 days but now that time marches on it is open 6 days a week. Specials and desserts change every day and I watch as Paul slips in the specials for the day in each of the 5 menus. I chuckle as the New York only needs 5 menus-after all they have such a loyal clientele who probably know the menu backwards and order their favourites they don't need any more than 5.
](https://images.notquitenigella.com/images/new-york-restaurant-diner-kings-cross/a-30830022.jpg)
Paul. Photo by Therese Sweeney/Copyright 2007
Paul, the maitre'd and the front of house man looks after the dining room, staff, payment and customers and makes trips to Flemington Markets twice a week to source produce. He became part owner of the New York after facing retrenchment after working at State Rail for 22 years whilst having a mortgage that needed to be paid off. And in all of these years, he says that the menu doesn't change, only the prices have to change slightly as the rising cost of rents and petrol take a toll.
The first location was under the Coca Cola sign and due to money being tight they've always rented. As for the name New York? There was a man from a little Island in Greece who tried to get to America without documentation and he was deported. He tried again and again he was deported so they decided to call this the New York instead.
New York Restaurant
18 Kellet Street, Kings Cross, NSW
Tel: +61 (02) 9357 2772
Lunch: 11:30-2:30pm
Dinner: 4-8pm
Closed Sundays