Dear Reader, allow me to share some temporary joy with you for this week in my short lived career as a driver on her P's or provisional license, I made a small graduation. Alas no, I haven't graduated to my full license, that's over a year away if I pass the test, but I've moved...to the right lane! Alas, Mr NQN can't help but play the driving instructor and tell me to get in this lane and that and it was driving back home from Surry Hills one day that we stopped at the light and were discussing the lane that I should be in.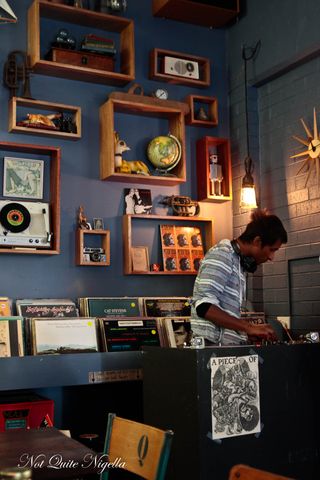 "I know I know, but I don't want to get stuck behind the right turn...hang on. Look at that! There's a little cafe there, tucked away in that side street!" I said pointing towards a sign that said Suzie Q. We made a mental note to come back for weekend brunch one day and a date was made a few weeks later with friends Louise and Viggo for Sunday brunch. Suzie Q, as expected has a bit of a music theme to it and there's a DJ spinning vinyl in the back corner and we're back to the 90's with a bit of Björk (there are also records for sale).
There's a genuinely friendly greeting when we walk in. There's none of this too cool for school Surry Hills vibe that can plague some establishments and we sit down at the booths against the wall. The wooden chairs have "S" and "Q" stamped on them. The hollowed out guitar holds knick knacks and and spanning an entire wall is black and white poster of Woodstock by Elliot Landy.
The menus come in record covers-we receive the covers for the Gothic soundtrack and the Rolling Stones and all of the dishes are named after songs which makes things surprisingly difficult to choose. Everything is prepared in the tiny open kitchen and our dithering is well tolerated by the staff. We finally decide after some recommendations and Mr NQN and Viggo order coffee. Viggo orders a Single Origin short black with a side of milk while Mr NQN has a long black from Duke's Coffee Roasters. Both are excellent, so excellent that Viggo places an order for another coffee to go before we leave so that he can have it on the way home.
Masala Chai $4
The Tea Craft masala chai comes in a two cup tea pot and is made with steeping the milk in the fragrant tea leaves. It's milky and aromatic with hints of cinnamon, cardamom and clove and just how you want a masala chai to be.
Henry Lee $17
Oh Henry Lee, how much did I like thee? Very much indeed with a toasted roll generously filled with thick leg ham, melted manchego, beetroot relish and a light horseradish cream. Alongside this is  little tub of creamy coleslaw and crinkle cut potato chips. You're supposed to stuff the potato chips and slaw into the sandwich and gosh darnit if this ain't a delicious sandwich! Ahem...sorry all of these musical references have me thinking I'm Elvis.
Jennifer's Veil $16
Jennifer's Veil is an omelette made with free range eggs and served with Tasmanian smoked salmon, feta and rocket The eggs were fluffy and light and it came with a good amount of smoked salmon and a piece of toasted bread. There was supposed to be salsa verde on it but it was dressed with just olive oil and we only noticed this after we had finished.
Eggs and sausages in a Cadillac with Susan Mitchelson $15
This was a popular dish, the group of four in black on the table next to us ordered this all around for their table. It starts with a round of arepa bread which is a Venezuelan and Colombian gluten free flat bread made of cornmeal. This is topped with melted cheese, split chorizos and topped with two runny yolked fried eggs and salsa. It was really good although I would have loved a rich tomato concasse or something because it was sometimes a little dry.
Pamela May $16
The Pamela May was ordered as an extra dish because we couldn't decide between the Henry Lee, the egg dish above and this and with Louise's encouragement and Mr NQN's never ending stomach, not a scrap went to waste. This salad was made up of baby spinach, rocket, mint, poached chicken, grated celeriac, walnuts, feta and beetroot with a red wine vinaigrette. It was substantial enough with the amount of poached chicken and additions but not a heavy dish that would leave you wanting a nap afterwards.
Brownies $4 each
It's at this point that Louise reveals to us her ability to taste preservatives and additives and she takes a bite of brownie and is pleased to report back that it's a home made brownie. The top is crackly and the inside fudgey and filled with whole hazelnuts.
The bill comes in a copy of The Plays of J.M. Barrie.
So tell me Dear Reader, when you eat out do you ever all order the same thing or do you like to mix it up? And are you a back seat driver?
Suzie Q
1/18 Hutchinson Street, Surry Hills, Sydney, NSW 2010
Tel: +61 (02) 9332 2739
Trading hours: 7 – 4 Mon – Fri, 8 – 4 Sat – Sun
http://suzieqcoffee.com.au/