Mr NQN's younger brother Manu was sitting in the back of our car when he commented, not unkindly, "Oh you have a new song!" I turned to him questioningly. It was a song on the radio but his point was not lost on me.
"Are you saying that I have really boring and repetitive music taste?" I asked him while Mr NQN grinned like a monkey and nodded.
"Ummm no..." Manu said, "I just..."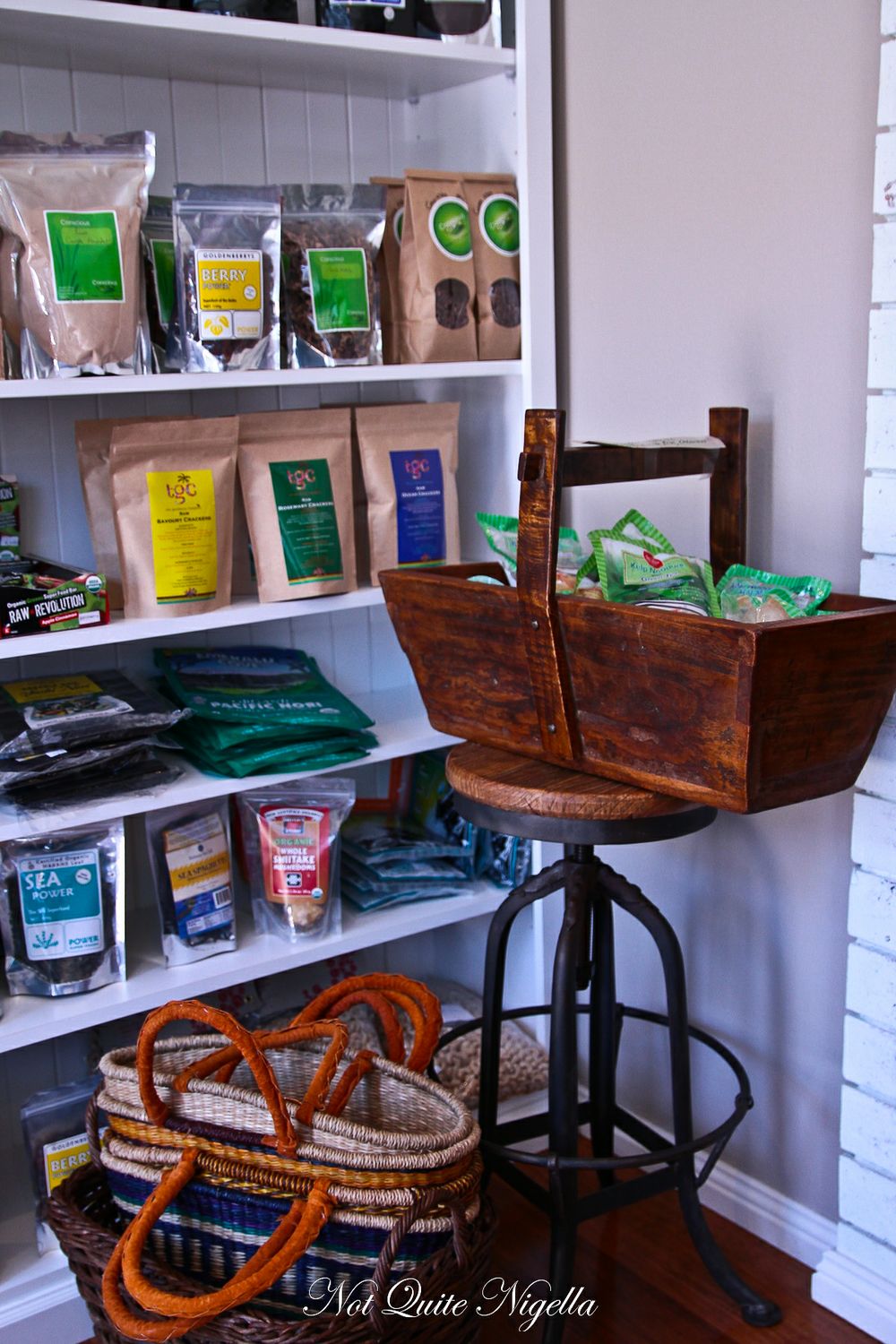 "80's music on repeat!"  Mr NQN interjected saving his younger brother from having to explain. But I know, I have some sort of OCD of music listening and sometimes a new song will creep into my playlist but for the most part, I'm not changing my music taste. However, I can occasionally change my food taste. For example, a few years ago, if you'd have asked me if I were interested in raw or vegan food, I'd have said no. But lately, I've been trying a bit more of it spurred on by the small increase in cafes that serve it. I didn't grow up eating it, I was much the opposite, most Chinese food is cooked and sometimes pork or prawns still slips under the Chinese definition of "vegetarian."
One day I was walking past Earth To Table in Bondi Junction when I noticed the distinct tree on the logo. It caught my eye as it was if my Mother in Law Tuulikki has drawn it. I poked my head in, it was busy enough and snapped a picture of the sign on my phone and vowed to come back at a later stage with at least one Elliott in tow. Whilst I'm not likely to turn raw vegan (I love butter, seafood and meat too much), I like to have the occasional meal or day eating this way.
There is a large share table in the front room facing a counter of colourful cakes and there are smaller tables further in and a outdoor area in the back. The cakes are apparently the first thing that people try. Julie Mitsios has been making raw vegan cakes through her Conscious Choice business for about six years now. All of the food is dairy, wheat and sugar free and some of the items available for sale might have you scratching your head and wondering what on earth they are.
Give me Rejuvenation $4
It was terribly hot and the best thing I could think to drink was a cool fresh Thai coconut water. This is cool, sweet and refreshing.
Give me power $7.50
I tried some of Manu's green drink-admittedly, I'm not a huge green smoothie lover and this one has a mix of greens and seasonal fruit and I can taste banana in this one so it's actually quite nice. Oh, and it's fun to order this in a funny voice too ;)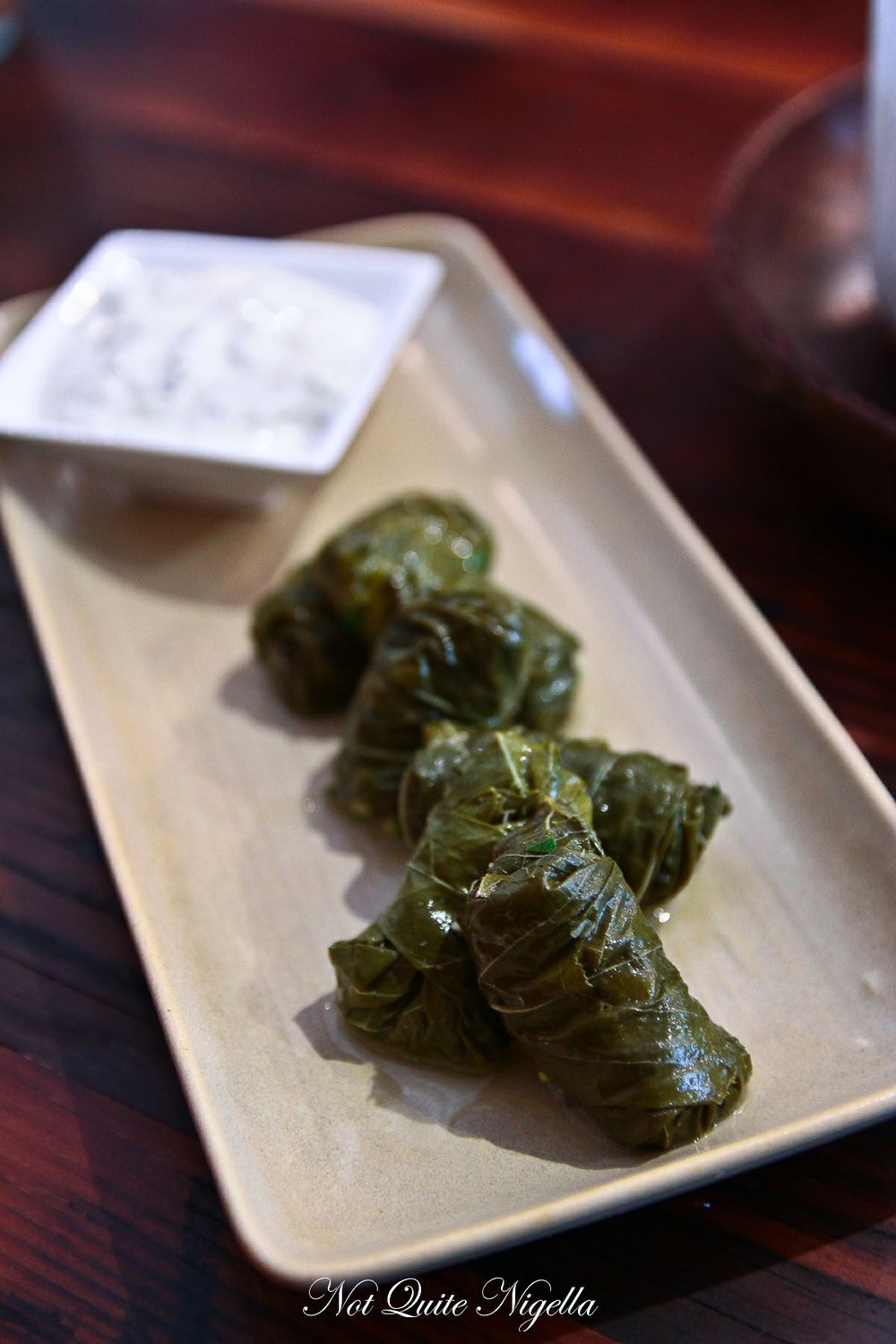 Dolmas with tzatziki $7
The special of the day was dolmades with tzatziki, one of my favourite items to snack on. But because it is raw, there is no rice used, instead, they use zucchini and fresh dill, parsley, lemon juice and olive oil. The tiny little dolmas are delicious and the filling mimics rice well but the additional herbs made this a lighter and more appealing option than the rice version. The actual vine leaves are from Julie's parent's garden and are fresh and not brine packed. Oh and the tzatziki? It's a dead ringer for the real yogurt dairy dip. In fact, we started wondering whether it was actually yogurt that they used. Julie's Greek father, a chef helped to develop the flavours for the tzatziki.
Pasta $15.95
The pasta here isn't wheat pasta but zucchini strips served with thinly sliced raw asparagus, fresh, sweet baby green peas and a cashew nut based creamy sauce with porcini and truffle oil. The sauce is very creamy and the porcini and truffle adds that mushroomy flavour and it's a surprisingly rich and filling dish.
Garlic Bread $7.95
Mr NQN noticed the garlic bread and wondered how they could do one if it all of the food was raw. Served with a herby chimichurri sauce it is made out of the pulp from the almond milk and it takes 24 hours to prepare. Served slightly warm and dipped in the chimichurri it's another favourite along with the dolmas.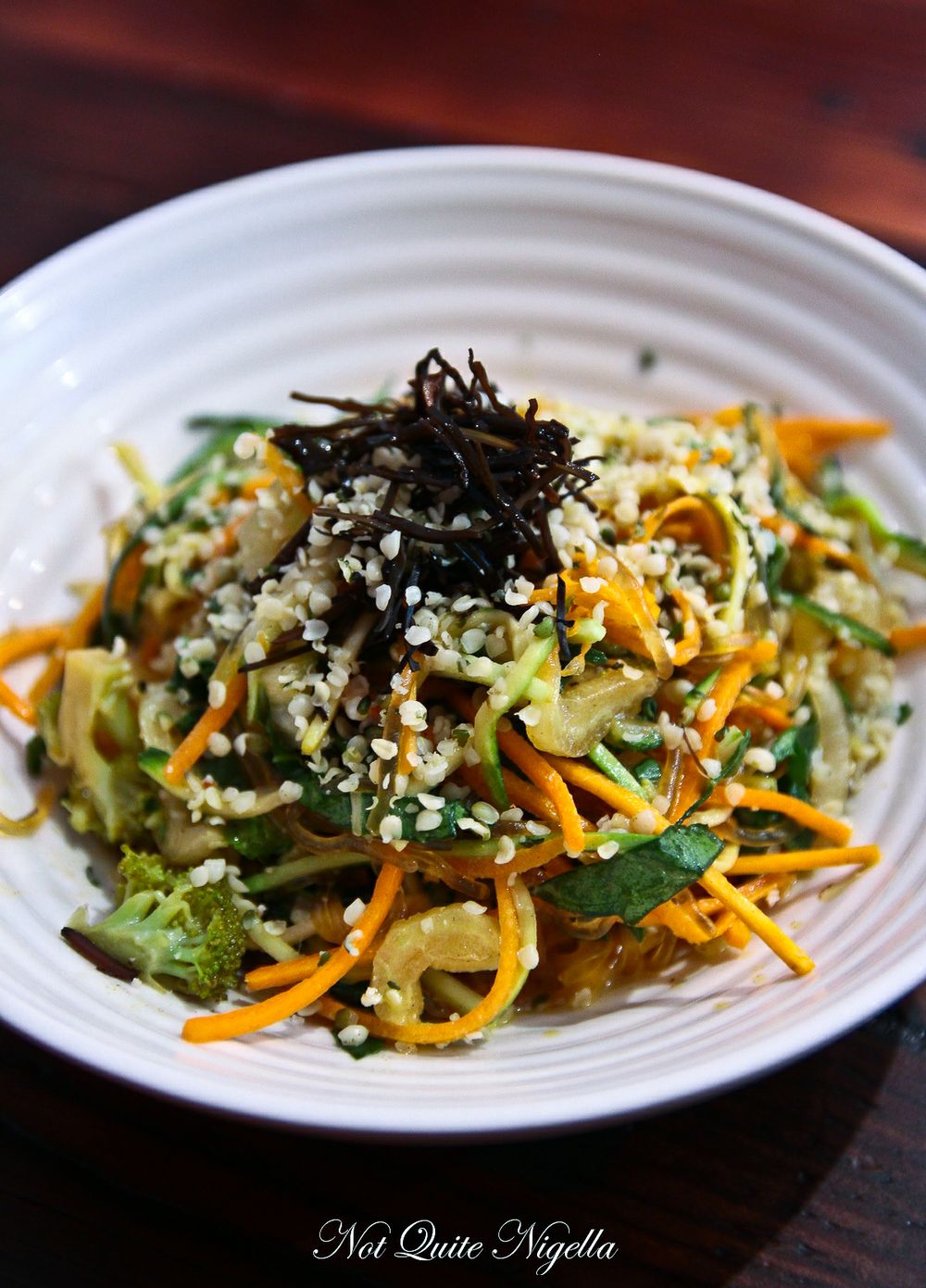 Stir No Fry $14.50
I don't think we were quite as taken with the stir no fry as the other dishes. There were thinly sliced vegetables marinated in a teriyaki sauce and served with clear glassy, kelp noodles.
When the friendly waitress suggested that we have a peek at the dessert cabinet to help us choose we moved to the front communal table. There's a range of cakes and like the savoury menu, there are nut free versions available (although Julie advises those allergic to nuts that it is best not to eat here as so many nuts are used). We take her advice and choose the chai cheesecake, a lemon meringue (the most popular) and the chocolate hazelnut bomb.
Chocolate Hazelnut Bomb $9.50 plus ice cream $4
Served with a rich chocolate ice cream made with a cashew nut and coconut base, the chocolate hazelnut bomb is eerily just like a regular chocolate truffle cake. Set with coconut oil instead of butter, it even looks like a regular chocolate truffle cake with chocolate cake layers.
Lemon Meringue Pie $9.50 plus ice cream $4
The lemon meringue pie is made using Irish moss and young coconut in both the filling and the topping. The base is a coconut base and it's tart and it too really resembles a lemon meringue pie.
Chai cheesecake $8.50 plus ice cream $4
Everyone's favourite was the chai cheesecake which we're told isn't ordered as much because it doesn't look as fancy as the others. The texture is silky smooth and the spices of the chai are aromatic. And the cinnamon ice cream? Divine, better than many dairy based cinnamon ice creams.
Julie Mitsios
The cost for drinks, a meal and a dessert are just over $30 a person. The hungry boys are sated and there wasn't a peep out of vegan Manu about not being able to find anything on a menu!
So tell me Dear Reader, have your tastes changed much over the last few years? And do you know or are you a raw, vegan eater? Do you think that there are health benefits to eating foods raw?
Earth To Table
85 Bronte Rd Bondi Junction, NSW, 2022
Tel : +61 (02) ) 9029 1755
Wed - Sun: 9:00 am - 6:00 pm