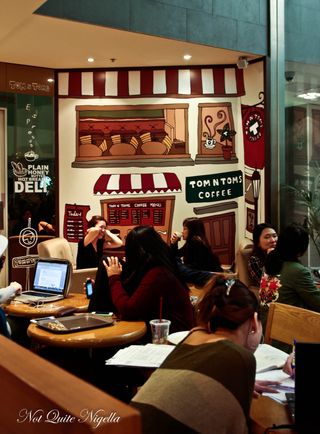 It all started with a piece of toast. It wasn't an ordinary piece of toast. It was a picture of two pieces of toast smothered in butter, honey and whipped cream that had Florizal and I driving into the city one busy Friday night. In Asia, bread tends to be on the sweet and buttery side and no more is that demonstrated that in this dish. Tom N Toms Coffee on Bathurst Street is a South Korean chain with branches in America, Bangkok and Singapore and its only Australian location is packed this evening. The decor reminds us of Starbucks and Gloria Jeans in appearance.
Orders are made at the front and the merchandising is a bit all over the place. It takes a few minutes to decide what to order as there is a back menu and then the photos and then other offerings on the other side. The honey butter toast is a no brainer as that was what we had come to try but then there's a dilemma as we spy the chocolate butter toast and garlic toast. Then there are several types of pretzels and Florizal remembers being able to order a sauce but we can't see any until we get to the front counter. Then I spy a baked sweet potato latte and I order that. We take our buzzer disc and sit down. For customers, there is free wifi for orders over $5.
A few minutes later our order is ready and Florizal collects the first half. The baked sweet potato latte is a milky latte without any coffee, just the milk as per the name and it smells distinctly like sweet potato. It comes already sweetened with a small layer of milk foam on top. It's absolutely delicious in the same way that pumpkin pie is fantastic.  I'd have one every day if I could given the chilly weather.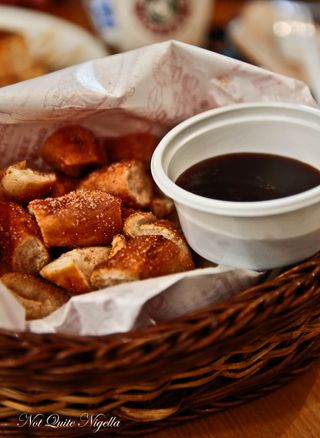 The cinnamon sugar pretzel doesn't fare quite as well and was nothing like what we expected. What we were expecting was what was in the picture but it arrives in a basket with the pretzel snipped up into little pieces. We're not enamoured by the caramel sauce at all which has an odd flavour to it and after a piece of pretzel we leave the rest behind.
I must admit that I have a weakness for whipped cream and this excites me to no end. It's two thick lightly toasted buttered pieces of toast drizzled with a caramel honey and a fat squirt of whipped cream and a generous sprinkling of cinnamon. I don't know if anyone can ever finish a serve of this as it is gigantic, I think it's best tackled with a hungry friend or bear but it's buttery, sweet and comforting. Just like a hug on a cold night.
So tell me Dear Reader, do you think you could finish a dessert like that by yourself? And are you a fan of sweet potato and pumpkin in desserts?
Tom N Toms
Ground floor, 97-99 Bathurst St, Sydney, NSW 2000
Open 7 days 8am-10pm