*This restaurant is now closed***
Mondays are my day in. The weekends are always hectic and whilst I still work on Monday I rarely venture out of the house as that requires a kerfuffle that I just can't muster. But when the email arrived in my inbox to ask if I would be interested in more than a dining experience at the two month old restaurant Concrete Blonde and that involved me visiting the farms from which they buy the produce, picking produce and then taking it back to the restaurant well that was something worth breaking my "no outings on Monday" policy.
First things first though. Why the name Concrete Blonde? Well, according to the owner Peter Polovin the restaurant was originally a gymnasium that was built in floor to ceiling concrete. They have kept the concrete floors but changed to insulated ceilings to keep the noise down. So that's the concrete explained but why the blonde? Well there is a blonde facing the bathroom and it's a catchy name as people remember the band although the restaurant has nothing to do with the band.
I arrive at Concrete Blonde's Kings Cross location slightly breathless and seven minutes late for our little road trip to visit two farms that supply them with their produce. The first farm is Grima's farm who supply Hong Kong born chef Patrick Dang with vegetables, in particular the baby vegetables that he loves to use and the second farm is the Darling Mills farm that supply him with herbs and lettuces. Dang is softly spoken and accompanied by chef de partie Mark and apprentice Angie.
In the car on the way to the farm Patrick talks about his influences and how he trained under Pierre Gagnaire and travelled extensively before settling back in Australia where he earned his Finance degree at UTS. His theory is that food should stir the brain and soul and that's where originality comes into play. To him the best way to cook is to tell a story whether it be a memory of when he visited Italy and saw a beautiful pasta made by an Italian grandmother or the time that you ate at a three star Michelin restaurant. He adds that "I want to understand what makes a good artichoke...I have a commitment to myself to understand where it (produce) is coming from." And of the chefs in Australia that he admires he cites The Royal Mail's Dan Hunter, Attica's Ben Shewry and Vue de Monde's Shannon Bennett. And it seems a part of him is still longing for Hong Kong's dining scene.
We arrive at the Grima's farm in Horsley Park. Patrick is on a mission: artichokes, and the field is full of them in several varieties. The Grima's farm is a third generation farm run by two brothers Sam and Danny Grima. The brothers are also at Flemington markets every Monday, Wednesday and Friday. There is a total of about 34 acres of land on three different locations and the first farm where the packing and storage shed is located has plenty of cavalo nero and artichokes. Sam tells us how he farms in rotation and how they change the crops so that the subsequent crops aren't from the same family. For example a cauliflower wouldn't be grown after a broccoli and they would instead plant from a different family.
Sam and Angie hand over a radish flower to taste. "Can you use these?" Sam asks and Patrick nods while chewing on it. He then shows us the baby fennel or finger fennel which isn't just regular fennel that they harvest early. This won't grow as large as a regular fennel and the flavour is more subtle. They grow a range of vegetables here including corn, baby, golden and target beetroot, zucchini, capsicum, eggplant as well as purple and white varieties of heirloom carrot and they're investigating growing red carrots. Patrick is also after prickly pear to use. He tells us that at the onset of each season he likes to visit the farms to see what they have that he can use and what new items he can make use of.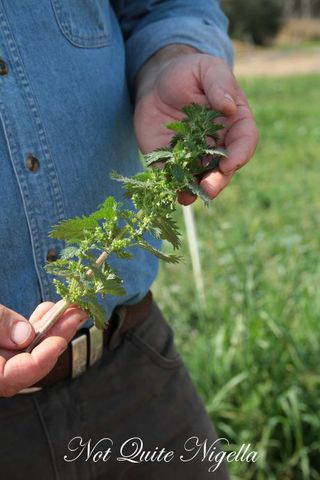 Sam is excited to show us all of the things he is growing including stinging nettles which actually do sting Angie on the arm and result in little bumps that resemble bites. We make our way to the next farm just opposite this farm where more produce is grown. There are experimental varieties here as well as the more unusual vegetables that you tend to see only on restaurant plates like black and watermelon radishes, white baby turnips, golden beetroots which are very hard to grow and are susceptible to humidity and a sudden change of weather.
And do you know why sometimes rhubarb is green in colour? It's not a seasonal thing which is what I had heard. Red rhubarb is taken from the crown of the rhubarb whereas green rhubarb is taken from the seed. Sam tells us that for the first two or three years rhubarb grown is green in colour and it is only in its third or fourth year that it turns a bright red. However not all rhubarb does turn red and sadly nobody wants to buy green rhubarb. It is a crop that takes up a lot of investment and ties up the land as the plant has to be growing for four years in the hope of it turning red.
Beetroot is a vegetable that has experienced a sudden resurgence lately. And it is ironically a vegetable that thirty years ago nobody wanted to buy and Sam remembers his father throwing them out in a "hole in the back" of the farm. It has taken 10-15 years of promoting beetroot as well as other vegetables and talking to restaurateurs to keep them abreast of what is happening on the farm. And did you know that witlof is simply the root of the chicory plant? Neither did I!
Before we leave we can't forget the artichokes that will make their way onto a dish into my tummy tonight. We take a peek into the storage room at the vegetables that are destined for Flemington Markets. Patrick buys his vegetables via Vince, a distributor that works with the Grima family. We watch workers wash off the radishes and turnips and see the gleaming perfect looking turnips all packed up.
But no dawdling. For this time we're off north to Berrilee near Berwora Waters to the Darling Mills farm. Way back many years ago there was the Darling Mills restaurant in Glebe where I enjoyed a great meal. It was run by Steve's sister who is a chef and Steve has always run the farm (originally in Castle Hills near the Darling Mills creek) that supplied to the restaurant. Now they have a list of the who's who of 42 restaurants as their clients and they supply edible flowers, salad leaves, herbs and micro herbs.
Formerly a horse stud where stable buildings still remain here they have three different ways of growing in order to supply to the restaurant trade all year round. There are the hydroponics tables, greenhouses and two paddocks and each item is grown depending on whichever method suits it. Steve tells us that short root systems and small leaves suit hydroponics well and therefore items like lettuce work well in hydroponics.
We walk past the edible flowers that grow beneath the hydroponic lettuces and I recall buying these from Pyrmont markets and despite the impressive grounds Darling Mills doesn't have a farm gate. We make our way through the greenhouses where a dazzling array of herbs are found including bull's blood and a red vein sorrel which Patrick says that he likes using as it has a green apple peel flavour which goes well with seafood or veal and will also feature on tonight's plate. Steve also shows us where he intends to implement the bioponics that combined aquaculture and hydroponics using fish and their waste products instead of using fertiliser.
We lastly take a smell of the pineapple sage which has a beautiful aroma and actually reminds me a bit of lavender as well as a divine rose scented geranium. Angie and Mark pick herbs before we realise that time is running out and there is a big drive back to the city. Patrick speaks to Steve about a producer's dinner showcasing their suppliers and soon after we are off.
It's a tiring day and it's hard to imagine the long hours that farmers do. We make it back to Concrete Blonde which is closed for the day but we have full reign of the open kitchen that looks out onto the restaurant. Patrick sets up the sous vide machine to soft poach the eggs at 70C while Angie prepares the artichokes peeling back many leaves and stripping back the stem with a turning knife to get to the white core. They place it in a mixture of extra virgin olive oil, bay leaf, champagne vinaigrette and herbs , vacuum seal and cook this.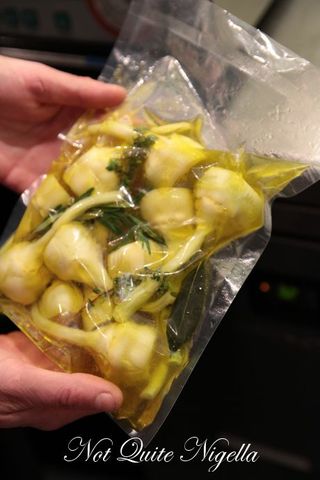 I take a look at the menu and the gnocchi sounds interesting and Patrick explains that they do the gnocchi in an unusual fashion. If gnocchi is heavy and gluggy it's usually because there is too much moisture in the potatoes. Here they use potato powder and toasted potatoes. They fry a few pieces up in some butter and it has a lovely crispy outer and light and fluffy inside. Who knew potato powder could ever be good?
And it's a good thing that it's plating up time before too long. I'm getting a variation on the usual dish and that is one with prawns replacing the jamon. And on the menu they mention the Grima's farm in the title of the dish.
I break the egg yolk and it disperses a creamy, rich sauce all over the tangy, tender artichokes, well cooked prawns and the manchego foam which imparts a strong, salty flavour along with the crunchy olive flavoured crumbs. I enjoy the contrast of the creamy and crunchy and had to refrain from asking for a piece of bread to mop up the creamy juices.
A new nights later Alison from delicious. magazine and I have found ourselves at Concrete Blonde for dinner. We had just finished seeing Alan Ball and Wil Anderson at the Opera House and wanted a more late night venue for dinner considering we had only a vague idea of what time we would finish. There's a light rain falling and we make our way up to the entrance. At night the space glows with lights and sleek echo of the open kitchen and it is crowded with people (the venue pics were taken on the Monday afternoon when it was closed). There is a fireplace where the flames appear to float and a wall of furry tiles and the restaurant was designed by Dreamtime Australia who create some very striking and glamorous interiors including the beautiful Victor Churchill store.
I get up to stroke them and the waiter sees and tells me that they're actual hides from Texas that have been dyed a silvery wolf grey and made into tiles. We take a seat near the glass fronted wine room and the hardest decision is actually choosing what to order as there are elements in everything that sound interesting and unusual. The menu reflects Patrick's travel overseas with influences from Japan (there is also an izakaya menu) to America to Europe.
_ _ I always feel compelled to order a cocktail or dish if it has the establishment's name in it. Alison likes the sound of the  fresh kumquat muddled with a dash of sugar, shaken with Belvedere Intense and pineapple juice which is served straight and in two layers topped with a head of lychee foam and popping candy. It has a surprising sour aspect to it and I would have thought it would be sweeter with the pineapple juice and lychee foam but the kumquat rules the flavours here. The popping candy was a little sparse as we figured that much of it got popped or activated in the liquid -I didn't get any in my few sips while Alison got a little.
_ _This cocktail was for me as it has everything that I love: raspberries, rose and violet and sparkling wine with a fresh strawberry and is mixed with Belvedere Vodka and it is delightfully drinkable.
The menu which features a sewer grate on one side is full of tantalising sounding things and we're taking ages deciding and Alison points out the KFQ aka Kentucky Fried Quail. And despite the menu saying that the accompaniments were watermelon relish, ancho chilli, cilantro (i.e. coriander) and ranchero dressing the flavouring of the sauce is really quite like a spiced Indian raita yogurt sauce. We can't really figure out where it comes from and there is no mention of yogurt but it's a strong spiced Indian raita flavour for both of us with coriander seed and cumin. The quail itself has a crunchy outer and a tender, juicy interior cooked just right. I could eat portions and portions of this.
_ _The fat sea scallops from Hokkaido in Japan were partly split in half and draped over a petite mound of sushi rice. Underneath it lay some foie gras, grapefruit and truffle and on top there was a teriyaki lacquer and some grill marks. It's a sophisticated indulgent sushi and my first sushi rice had more of a grapefruit kick whereas my second was more balanced.
I was tossing up whether to order this or not as I adore crab cakes and we didn't but they must have read my mind because this came out from the kitchen much to our delight. There are four small crab cakes with a dark golden crust filled with strands of kamchatka or Alaskan king crab meat flavoured with the richness of sea urchin and a lift from yuzu from Northern NSW and a mentaiko foam on top, mentaiko being a teeny tiny pink fish roe used in rice onigiri. This was another favourite entree for us. Kamchatka is the eastern peninsular of Russia, neighbouring the Alaskan water with crabs that measure about a metre long. And during the cold war these enormous extremely adaptable crabs were brought from their original habitat to the north west of the Soviet Union as a new source of food.
The wagyu beef tataki comes out thinly sliced with a pink centre with a topping of onion escabeche cubes which is like pickled onion and little pieces of crispy garlic and squiggles of parmesan mousse and a drizzle of lemon oil. I think I would have preferred this without the lemon oil though.
The kingfish was beautifully plated as a semi circle of coffee cured kingfish which was unusual but lent an interesting aspect to the kingfish, a cranberry crisp and pickled mild mustard seeds and a burnt scallion vinaigrette in the centre which you dipped the kingfish pieces into. It was a clean dish with a unique take on kingfish which I enjoyed.
When they say jumbo they do mean jumbo. These prawns are from the Clarence River and the waiter tells us that the prawns come to them 12 hours after they are caught. They're enormous grilled specimens marinated in fragrant lemongrass and come with a carrot, cucumber, pomelo and peanut salad. lemongrass marinade . And to bring it all together is the spicy and sweet "nam prik" dipping sauce which comes out as a small golf ball with lime wedges to the side. I do love simple grilled seafood and adding the nam prik to it gives it a satisfying chilli buzz.
The duck is cooked to order so we were warned that it would take about 45 minutes which was fine with us. There were two legs as well as several slices of duck fillet that were served with cubes of watermelon, apricot jam and split and braised witlof to counter the sweetness. The cubes of watermelon were compressed with tangerine oil, sugar syrup and sea salt. This dish was quite a counter to the summeryness of the prawns and the duck goes well with the sweet flavours. And duck and watermelon? Well it really works.
The grilled broccolini is a generous served of broccolini with quinoa and hazelnut crumbs that actually taste sweet like the top of a biscuitty crumble.
I do love fries with sauce and there were two sauces here: a "red" aioli which was creamy and a tangy pickly "green" ketchup which provided a nice mix of creaminess  and tangyness. I do wish the chips were crispier though. Patrick says "Working in Mexico, I found lots of interesting ingredients such as fresh tomatillo and jalapeno. When I was working in America & Europe, I see the big French Fries culture. One of the interesting way to enjoy fries is the condiment of rich mayonnaise in Belgium. That's how the inspiration of red aioli of chipotle (smoked jalapeno in adobo) and green ketchup of tomatillo came from."
The Fleur de lis is a tart,  bitter and lemony blend of jaboulet muscat, lillet blanc and creme de peche over ice with Plymouth gin and peach bitters. A little too bitter for me but just a hint of peach in the third beat after a first taste of lemon and then bitters. Alison likes it and says that she could imagine "drinking it on a summer's day at the country club, wearing my tennis whites"  and she swings her glass for emphasis.
Not petit fours but called mignardises these have changed slightly from what was on the menu. Starting at the front there is a violet macaron which in one bite can transport you to a grandmother's drawing room such is the potent floral burst of violet. Then are some peanut butter cookies which are lovely, crumbly and buttery. After that is a gorgeous tangy passionfruit gelee and lastly are two dark chocolate balls filled with hazelnut cream which lightly explode to much satisfaction.
A pretty dessert using 70% Valrhona chocolate this was a bar of firm chocolate ganache set with agar agar. Spiked on top were crunchy pistachio shards and to the sides were slices of orange confit, orange gel and Sicilian pistachios set within a small pool of olive oil jam which bizarre as it sounds tastes like a very slippery and thick olive oil! And Patrick explains the idea behind this dessert "This is a very Spanish inspiration. When I was travelling in Spain, I saw a tapas of chocolate spread on wood fire bread and drizzled with olive oil. This leads me to this dessert. Together with the familiar ingredients of Spain such as orange and pistachio, the idea came around. The dark chocolate is enhanced by the tart orange puree and the segments confiture, nutty arbequina olive oil jam, which along side with the tender braised pistachio and crispy pistachio."
And not surprisingly, I did find myself gaining a new appreciation of the items that were set in front of me on the plate too knowing where they had originally come from.
So tell me Dear Reader, are you interested to know where your food comes from? And what is the most memorable restaurant name you have come across?
Concrete Blonde
33 Bayswater Rd, Kings Cross, NSW
Tel: +61 (02) 9380 8307
*This restaurant is now closed***