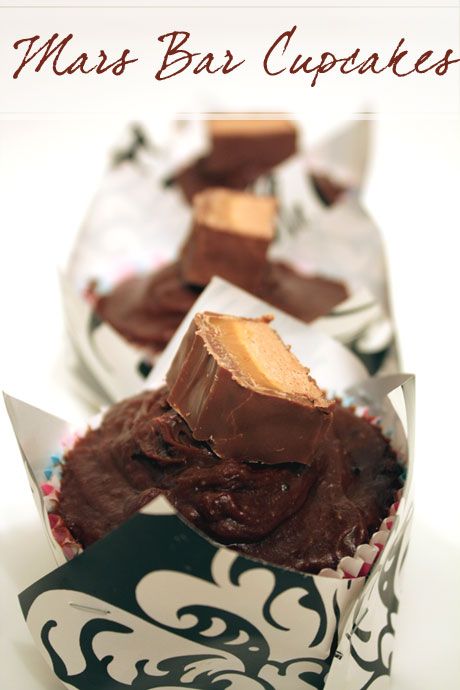 I admit I am not over the moon in love with Mars Bars. They always seem too cloyingly sweet for me. Unless of course I am low on blood sugar at 4pm on a workday afternoon and am craving sugar. Then they're just about right to my slightly skewed sense of proportion. This cupcake is an homage to that super sweet and sugar chocolatey confection that I usually shun except for during my witching hour when only sweets will do.
The cake itself is a caramel mud cake topped with a chocolate icing. It's sweet yes and inside and on top is a piece of Mars Bar to make it even sweeter. Please forgive the photos if you will, they were made last minute for a work fundraiser for the bushfires and due to the late hour, they lighting wasn't as good as I wanted. And I broke my rule of not eating Mars Bars past 4pm and had one of those at 8pm at night. It was delicious, and not just for a 4pm sugar rush.
Mars Bar flavoured cupcakes
An original recipe by Not Quite Nigella
Makes 9 cupcakes
For cupcakes
100g white chocolate chips
100g muscovado sugar (or dark brown sugar)
2 teaspoons vanilla extract
1 eggs at room temperature
2 teaspoons baking powder
1 Mars Bars chopped into 9 pieces
For icing
90g/3oz milk or dark Chocolate
120g Butter/4ozs, softened
To decorate
1 large Mars Bar cut into slices
Step 1 - Preheat oven to 160C/320F. Line muffin tray with cupcakes liners. In a small saucepan place butter, chocolate, sugar, water, golden syrup and vanilla and stir to melt, about 5 minutes on medium heat. Cool for 15 minutes. Beat in egg ensuring that it is thoroughly incorporated.
Step 2 - Sift flour and baking powder and stir into wet mixture until it is incorporated and there are no lumps. Pour into a jug and using the jug pour into the cupcake pan, about 2/3-3/4 of the way up. Place a piece of Mars Bar in each cupcake so that it sits in the centre. Bake for 20-25 minutes until a skewer comes out clean.
Step 3 - For Icing: Melt chocolate in a microwave according to instructions (I do it on 30% or 50% power in 60 second bursts). Put icing sugar in food processor to get rid of any lumps or sieve in a bowl. If using a food processor beat with butter and then cooled chocolate. If doing it by hand, whisk with butter in with the sieved icing sugar and then add chocolate and beat by hand using a large whisk.