I remember the first time I tried baking at Mr NQN's. He lived alone in a bachelor pad in Sydney's beachside  suburb of Manly. He was so messy that I thought that he might have had some secret puppies that ran around tearing things to bits when I wasn't there. His kitchen was full of empty yogurt containers and empty pizza boxes and he never threw anything out and had a rather fetching collection of piles of junk mail.
He had a box of forks and knives gleaned from his ex flat mate. Amongst these was one of those rotary beaters with a worn wooden handle. One day I got the urge to bake something, if only to test out if his oven worked beyond its use as a pizza box storage device, and I figured that I could try and bake cupcakes in the absence of a baking tin. I bought some waxed paper from the corner shop, beat the batter by hand, spooned it into the waxed paper "cases" that lined a set of cups and baked them. They came out not too badly all things considered and I proceeded to make buttercream and spread them on top. Two hours later I presented a cupcake to him.
He took  a bite.
"Yeah they're not bad. But you know I don't like cake" he said simply.
Yes that's right, Mr NQN doesn't really like cakes. Out of every single person in the world to marry, I married someone that doesn't like eating the thing that I love baking the most in the world. As far as food matching goes, I married the wrong man :)
But that brings me back to these cupcakes. I first saw these on Faith's gorgeous site, An Edible Mosaic. She is a lovely blogging friend of mine all the way from the USA. I just adore her recipes and this one is ingenious and perfect for Valentine's Day coming up on Monday. They are also the perfect cupcakes should you be low in utensils and baking tools, yet still want to give your loved one a little gift on Valentines Day. There's no buttercream or ganache necessary, just the careful lopping off of a cupcake top and the cutting out of a heart followed by a spread of jam and a dusting of icing sugar. Did I also mention how deliciously soft they were?
So Mr NQN and I are still here 11 years later and still having loads of fun. Of course I'm also still tearing my hair out at his messiness and I still torture him when I call him at work and ask him to repeat after me "Goodbye sweet muffin!" (to which he responds with a stiff "Bye" click).  I still cannot wait until the moment he steps through the doorway though and like I won't give up on getting him to clean, I am also determined to make him love cake too!
So tell me Dear Reader, do you celebrate Valentines Day and if so, what will you do this year?
Linzer Heart Cupcakes
Adapted from An Edible Mosiac
(Yield: 12-14 cupcakes)
2 tsp pure vanilla extract
About 1 1/2 c jam (whatever kind you like, I used raspberry)
About 1/2 cup powdered sugar
You will also need a small heart cutter
Step 1 - Preheat oven to 180C/350F and line a cupcake baking pan with paper liners. Use a handheld electric mixer to beat sugar and oil together in a large bowl, then cream in eggs until light and fluffy; beat in milk and vanilla. In a separate bowl, mix together flour, baking powder, and salt. Gradually beat dry ingredients into wet until just combined, making sure not to over-mix.
Step 2 - Fill each cupcake well with batter to just under the top of the paper liner (I usually only fill cupcake liners 3/4 full, but for this recipe I like to fill the wells a little more than usual to make sure that I get a nice upper rim that I can cut off). Bake 22-24 minutes, or until light golden around the edges and a toothpick inserted into the cupcake comes out clean or with just slightly moist with a crumb or two. Cool for 5-10 minutes in the cupcake baking pan and then remove to a wire rack to finish cooling completely.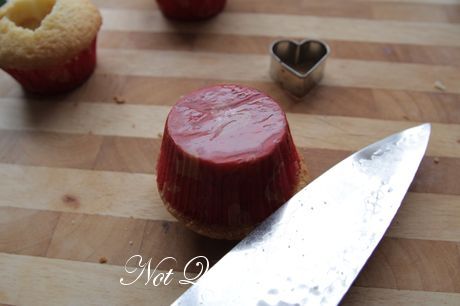 Cutting off the tops
Cutting out a heart
Spreading with jam
Step 3 - When the cupcakes are cool, cut the tops off with a serrated bread knife (this is easiest to do by turning the cupcake upside down on the countertop, and then gently running the knife between the cupcake top and the top of the paper liner). Use a small heart-shaped cookie cutter (or whatever shape you like) to stamp out a heart from the cupcake tops-I found it easier to do this with the top down as a couple of them broke a little when I cut out the heart. Pour a little powdered sugar into a small sieve and lightly dust the cupcake tops with a sprinkle of powdered sugar. Spread a spoonful of jam on the top of each cupcake, then put the tops on and spoon a little jam into the heart-shaped cut out.