When I was little, I loved playing tea parties. I loved playing hostess and feeding people sweet (albeit imaginary) morsels. For me, it was never a matter of wanting to play mother. In fact I never wanted to have a baby doll and pram. There is one photograph of me pushing a pram with a confused expression on my face that reads "Is _this _how I'm supposed to do it?". I was more fixated on the idea of feeding people via a tea party-call me food obsessed from a young age. The only time I enjoyed playing in the dirt was when I was crafting myself a chocolate mud pie out of water and dirt (until I found a fat caterpillar and dropped my "pie" and ran screaming back into the house - that was my last chocolate mud pie).
I was inspired to play with fondant more after my Planet Cake cupcake decorating class and there was one cupcake that a few readers commented on liking and that was the teapot topped cupcake. I had always thought that it was difficult to make a teapot but after Anna Maria showed us the easy steps I had almost instantly, and let's be honest unwittingly, crafted myself a teapot that actually looked like a teapot!
I didn't go out and buy a whole lot of new equipment though and my sole new purchase extended to buy a fat 1kg sausage of pre coloured red fondant icing. I love the combination of red and white and I also used some new cooking chocolate that Lindt sent me. Since I didn't have any new equipment I decided to let my inner MacGyver come out and improvised fashioning a tea party set using every day cooking items. Of course the tea party would not be complete without chocolate cake and a macaron and I decided that the cupcake would of course have to be a chocolate mud cake in memory of my chocolate mud "cakes" which also lent itself to my MacGyver theme as it didn't require any heavy equipment, just a whisk and a saucepan.
I  know we could make grass using a special piping tip but persisting with the MacGyver theme, I decided to make it by using dessicated coconut with green food colouring. It saved having to make buttercream and tinting it as that was just too much bother completely. So with a trusty ziplock bag, voila we had instant grass! My decorations on top met with varied success. I was happy with the way the plate with the cake slice and macaron turned out but less happy with the cup and saucer. However, these were wolfed down without a second thought and everyone that tried them knew what they were so I feel like that was half the battle won. And it satisfied my inner MacGyver.
So tell me Dear Reader, what was you favourite game to play as a child?
Garden Tea Party Cupcakes
Chocolate Mud Cupcakes
For the cupcake
Makes 12-16 cupcakes
165g butter (doesn't matter if it's at room temp or not in this recipe)

120g dark eating chocolate broken up into pieces

1 1/3 cups light brown sugar

2/3 cup water

2 tablespoons instant coffee powder

1 cup plain flour

1/4 cup cornflour

1/2 teaspoon baking powder

2 tablespoons cocoa powder

1 egg
Decorations
Coloured fondant

1 cup dessicated coconut

green food colouring

chocolate ganache* (see recipe here)
You will also need a chopstick, a small rolling pin, a small round cutter, small paring knife, toothpicks, a plain 1cm icing tip and picket fence cupcake liners.
Buyer's tip: You can buy these picket fence cupcake liners at PinkFrosting.com.au.
Step 1 - Preheat oven to 150c fan forced or 170c non fan forced.
Melting the butter, chocolate, water and coffee
Step 2 - Place butter, chocolate, sugar, the water and coffee in small saucepan over low heat until melted and combined. Cool for 15 minutes.
Step 3 - Using a whisk, add flour, cocoa and then egg (at this stage it will look like liquidey dark chocolate ganache). Spoon into patty tins.
Step 4 - Bake for 20-25 minutes until a skewer inserted inside comes out clean. Cool in tin.
To decorate: In a ziplock bag, place coconut and a few drops of green food colouring and shake until coconut is coloured green. With a small palette knife, smooth some ganache over the top of a cupcake and then sprinkle some coconut over the top. Then snap a few toothpicks in half and secure the teapot into the top of the cupcake with the cupcake. The plate should be fine and it shouldn't need securing with toothpicks but the teapot and cups will. Carefully slide into the picket fence cupcake sleeves. And don't forget to warm guests about the toothpicks!
Completed teapot on the left. Ball on the right for the teapot body and a small sausage for the handle.
Affixing the teapot arm.
Stamping the indent on top.
Affixing the spout
Creating the teapot
The teapot really is based on a ball. Warm the fondant well in your hands so that it has a glossy texture. This will help the teapot arm and spout to affix well too. Roll yourself a perfectly round ball of fondant. Roll a small, thin sausage of fondant and curve it around a little and fix it to the side of the ball to make the arm. Then fashion yourself a spout-you can see by my spouts I had some trouble - I thought of an elephant's trunk. Affix this too, if you fondant is warm it should stick without a problem, otherwise you can use a small amount of water. Using the top of a plain nozzle, place an indent in the top of the teapot and then roll a tiny ball and affix this to the top.
Creating the plate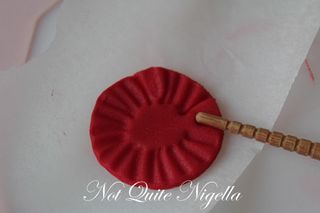 Making the plate ridges
Roll the fondant out in a thin layer using a small rolling pin. Then using the end of a rounded point chopstick (not a takeaway one, they are square) press gently around the whole circle to make a ripple effect.
Creating the macaron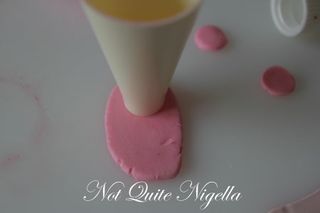 Stamping out the macaron layers
Roll two colours of fondant out, not too thinly (I used pink and white) and using the top of a plain nozzle, cut out small circles. Sandwich these together with two of the same colour on the outside and a contrasting colour on the inside. Affix these with water.
Sandwiching the macaron layers together
Creating the cake slice
Layers of chocolate cake
Slicing off pieces of "cake"
Roll out two small amounts of chocolate fondant and small amount of white fondant. Place the white between the two layers of the chocolate fondant. Then using a sharp, small paring knife, cut out triangles to resemble pieces of cake. Roll a small red ball of fondant adn shape into a strawberry type of shape (it doesn't have to be exactly like one) and then using a toothpick prick the "strawberry" all over. Or you could do a red ball and call it a cherry. Your choice.
Creating the cup and saucer
This was probably the part I had the most trouble with. I rolled out a small circle and then made a small ball and placed it on the large end of a chopstick and moved it around to give it a cavity. I then stuck it to the saucer and affixed a small handle. But you could do better I'm sure!