I currently have  few mums. I have my actual mother and then I have Queen Viv who always tells me off for not keeping a tidier house much like a mum does, M who is mum-like and my adopted mum Barbara from Barbara Bakes. Barbara is an excellent mum as she is always encouraging and never nags me to clean my house (although that may be because she has never seen it).
I tried to convince Queen Viv that I am actually a very tidy person and that it was a constant battle with Mr NQN's love of messiness. She was suspicious until she saw my fridge. My fridge is perfectly ordered and stacked.. It's like a little microcosm of my ideal world. Looking at a fully stocked and neat fridge makes me happy and it is one area where Mr NQN will not intrude and throw his dirty socks or pile up his sailing or bike equipment. Unless of course he is going to get a drink out of the fridge which means that he will of course drink straight from the bottle. I've given up holding out a glass for him. And remind me to tell you about his "pants bombs" one day...
But I digress, back to mum Barbara (and she lets me call her mum, not mom). At Christmas, she sent me these gorgeous Blue Baroque cupcake wrappers and a sweet note. I received them just after I arrived back from Austria and so they had an even deeper meaning as I had visited gorgeous Schonbrunn Palace where I had fallen in love with their blue and white porcelain room. It was where Maria Theresia played cards and there are 213 blue ink images set into the framework in an imitation of porcelain. I wanted to stake up a tent and live there. Would the excuse that I had indeed time travelled and was actually Maria Theresia work? Sadly not and that confrontation with the palace staff remained a fantasy.
So when I saw these cupcake wrappers I knew they were destined for a Baroque Cupcake and they would of course sit on this fabulous cake stand that my friend The Second Wife and her fiancee Gravy Beard gave me as a gift. When I saw theirs I cooed in possibly an over the top fashion such was my adoration of it so they went out and found me another antique one (although I promise you I was not hinting, merely admiring!). The flavour would have to be apricot inside and I would make use of the famous Staud's apricot jam from Austria which is the renowned jam maker's most popular flavour. Of course like all things imperial it would have to be a bit over the top so I brushed the tops of the cupcakes with the apricot jam but I also scooped out the inside and filled it with the jam. The cake has a delicate, soft crumb and you get an overload of pieces of apricots and jam in each bite.
You'll have to excuse the slightly odd baroque swirls. I should have perhaps bought a stencil but this was a late night inspiration job and internet shopping hasn't progressed so far as to land me a purchased item within the hour.
So tell me Dear Reader, if you could be anyone in a past life, who would it be?
Baroque Cupcakes (Apricot filled Cupcakes)
An Original Recipe by Not Quite Nigella
Makes 8
1/2 cup caster or superfine sugar
1/2 teaspoon of baking powder
90g butter at room temperature
1/2 cup milk plus 1 squeeze of lemon juice into the milk to curdle it
6-7 dried apricots chopped finely (I prefer Turkish apricots)
a few drops of apricot essence
To decorate
70grams/ 2.5 ozs Apricot Jam
a little cornflour or icing sugar to dust
Gold and silver lustre dust
Buyer's Tip: Sugar flowers, icing pens, sprinkles and lustre dust are available from specialty cake decorating stores. Prepared fondant is sold in supermarkets under the brand "Orchid" and is called White Icing.
Step 1 - Preheat oven to 150c fan forced or 170c non fan forced.
Step 2 - Add all ingredients into a mixing bowl and mix on low speed until combined and then a higher speed until batter becomes pale. Spoon into patty tins.
Step 3 - Bake for 20-25 minutes. Cool in tin.
Step 4 - Sift a coating of icing sugar or cornflour over a clean flat surface. Grab a section of fondant and knead until it becomes pliable. Roll it out and dust a rolling pin with icing sugar or cornflour and roll fondant out to about 1/2 cm thick. Use a round cutter to cut out round.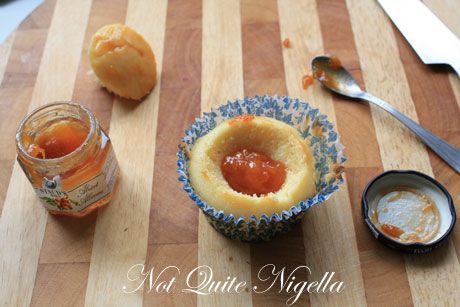 Step 5 - To adhere the fondant onto the cupcake top, brush with a little warmed apricot jam and then place fondant rounds on top.
Step 6 - Take blue writing pen and draw baroque style patterns. Dot some icing under a sugar flower and affix to the top and sprinkle metallic cachous and lustre dust if desired.