Breakfast buffet spread
Starting off the day early at 6am, I am reassured that my early rise is worth it for 2 reasons: A buffet breakfast waiting for us downstairs at the Crowne Plaza Queenstown as well as a tour of Milford Sound. It's early, and since my stomach is still on Sydney time, it thinks it's 4am. And considering food doesn't touch my stomach until about 10 or 11am it's a shock. But my eyes and brain takes over at the sight of the food. I love hotel bacon, it seems to always be reliably good and I always find room for some creamy scrambled eggs. What has me in raptures (aside from the Kiwifruit juice, like a delicious Kiwi flavoured nectar) are the cherries. Otago (the region in which Queenstown lies) is said to produce some of the world's best cherries, along with Pinot Noir. Biting into a sweet, meaty cherry I succumb to pleasure and my stomach kicks in. Yes it approves of these cherries at 4am.
Milford Sound was one of those places that everyone, and I mean _everyone _recommended that we see. A much lauded and visited site (over half a million visitors a year), Rudyard Kipling called it the "Eighth Wonder of the World". The fjord is a vast area of mountains shaped over the many years by glaciers and the best way to see its spectacular beauty was by a cruise. When we first contemplated doing it, we had intended to drive there as we had rented a car but the early hour start (we'd have to leave at 6.30am) and my husband's tiredness convinced us otherwise so we booked with Mitre Peak cruises. Our guide Jessie is a friendly  and professional guide and the coach picks us up at 6.30am outside the hotel. It's still dark and remains so until after 7.15am. Yes we are very glad we didn't drive. One thing that we are told is that the main hazard driving in New Zealand is the spectacular view and that people get in accidents when they take their eyes off the road and gaze at the view. We're booked to fly back with the Scenic Plane company provided weather permits. After all, Milford Sound is also known as the wettest inhabited place in New Zealand.
The scenery along the way
_Little waterfalls on cliff faces
_
The coach drives through little townships and makes it way to Te Anau, the seaside town on the way to Milford Sound. We learn all about NZ from Jessie on the way. Things such as they have as many sheep as Australia has people (20 million) but New Zealand only has 4 million people which makes it 5 sheep per person. The North Island is more populated with 3 million of the population while the South island has 1 million. And for some unknown reason NZ is devoid of all poisonous creatures. There are no snakes or poisonous spiders or anything likely to kill you while Australia, well let's just say we have plenty. How they managed it I have no idea. He tells us all about Maori legends, some Maori words and the importance of Maori culture to New Zealanders and the Waitangi treaty that established a relationship between the Maoris and European settlers. We have to admit it's much more enjoyable to travel like this in the comfort of a coach with some great commentary than the drive yourself to Milford Sound, especially given the very winding roads and time spent driving.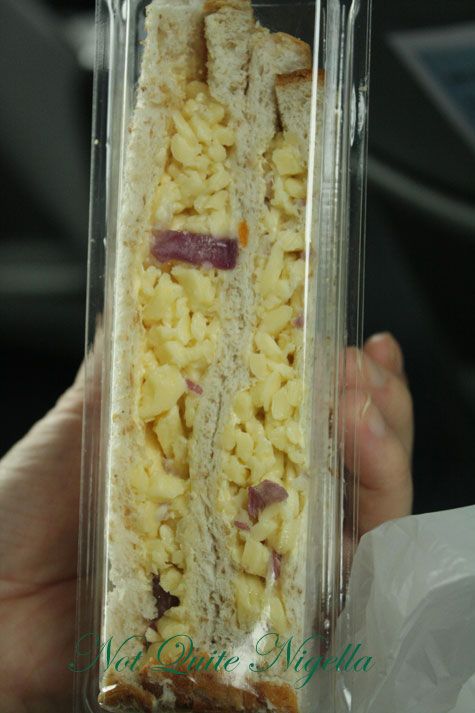 Cheese and onion sandwich
Afghan cookie
Ginger slice
Past spectacular vistas, at Te Anau we pick up some things for lunch, a cheese and onion sandwich (which tastes a little like pizza), an Afghan biscuit that I bought more for the name but it actually turns out to be a delicious chocolate biscuit with oatmeal interspersed throughout it with a cupcake like quality via the smear of icing on top. My husband gets a ginger slice which is deliciously gingery.
Mirror Lakes
We make our way towards Milford sound, through tunnels dug through mountains, past red algae covered rocks (only 1 of 2 types of algae that can live outside water) and stop by Mirror lakes, which if you gaze into them with polarised sunglasses (a tip from our guide), a whole underwater world opens up. Milford Sound is the wettest place on earth raining 200 days a year with an annual rainfall of 7 metres, yes it's wet and it's wet today with rain falling from the sky constantly.
Seal colony-can you spot the seals?
Enormous waterfalls
'
Boat getting right close to the base of the waterfall
4.5 hours later we get to Milford Sound and board the boat. The cruise meanders down Milford Sound showing us spectacular sheer cliff faces and sights and two of the highlights for me, the seal colony including a baby seal showing off to its watchful mum at the front and the amazing waterfalls. As it's raining, the falls are gushing down. The cliffs are as high as 1200 metres (almost 4,000feet) so there's a long way down for the water to travel. Yesterday when there was no rain, it was said to be barely a trickle. Today the rain is constant and the boat goes right up to the edge of the waterfall. The effect is amazing, like being in a special effects movie when a huge gush of water is raining  right on top of you with a thunderous noise above you.
We make it back and we enquire whether we can fly but as we suspect it's bad news and the flights have been canceled due to the weather. We understand as we'd  been warned about this before.  We go back to the coach and help ourselves to the snacks provided and watch the movie The World's Fastest Indian with Anthony Hopkins who plays New Zealander Burt Munro (albeit with a Welsh accent and not a Kiwi one) who breaks the land speed title for motorcycles under-1000cc. And so ended our cruise to the stunningly beautiful Eighth Wonder of the World. And big thanks to Mitre Peak Cruises who provided our travel for the day.
We stop off briefly at Te Anau and most people buy ice creams from the Deep South ice cream section. We order Kiwifruit yogurt and Hokey Pokey which remind me of Clotted Cream ice creams I'd had in the UK.
Another fabulous place in downtown Queenstown was the Vesta cafe where we stopped off for a bit of shopping (some gorgeous embossed suede cushions) as well as a grilled cheese toastie, said to be the best in the land. Vesta is in Queenstown's oldest house and features vintage 1800s wallpapers, peeled back so that you can see the layers. It's a design store, clothing shop and cafe.
Things to buy, loved these little guys
Fabulous lamp
The peeling wallpaper and lovely things to buy
_Cheese toastie $2.50NZD _
I was curious, after all isn't a cheese toastie the same everywhere? Apparently not - either there is some magic they have woven or perhaps it's the cheese in it but the toastie is worth a detour in itself.
Glasshouse facing the beach where you can sit and eat. Love the stump table, it's so Twin Peaks!
Bambi!
Crowne Plaza Queenstown
93 Beach Street
Queenstown Town Centre, Otago, New Zealand
+64 3 442 7800
[http://www.ichotelsgroup.com/h/d/cp/660/en/hd/zqnbs
](http://www.ichotelsgroup.com/h/d/cp/660/en/hd/zqnbs)NQN and Mr NQN stayed as guests of the Crowne Plaza Queenstown[
](http://www.ichotelsgroup.com/h/d/cp/660/en/hd/zqnbs)
Mitre Peak Cruises
MItre Peak cruises does daily coach-cruise-fly or coach-cruise-coach trips to MIlford Sound. They can pick you up from your hotel in Queenstown or Te Anau and lunch can be ordered and some snacks are provided.
NQN and Mr NQN traveled to Milford Sound courtesy of Mitre Peak Cruises[
](http://www.ichotelsgroup.com/h/d/cp/660/en/hd/zqnbs)
Vesta Cafe
Williams Cottage, Marine Parade,Queenstown, New Zealand
Tel: +64 (03)442-5687
Open Monday-Saturday 10am-5pm