A normal person's first reaction to a lodge such as Matakauri Lodge in Queenstown, New Zealand is usually that of unbridled bliss and happiness. Truthfully this was my first reaction. But then my second one came swiftly. It was the urge to work. And by the urge to work I mean the urge to work and then in turn earn Bill Gates or Oprah type of money so that I could live here permanently and I could take my friends and family along on trips with me.
Matakauri Lodge is the last lodge of our luxury NZ lodge tour with Relais & Chateaux and what a tour it has been! Bordering on the edge of Lake Wakatipu and owned by New York Hedge fund multi billionaire Julian Robertson it is one of three luxury lodges that he owns. The other lodge, Kauri Cliffs recently hosted a dinner with Heston Blumenthal, Thomas Keller and Neil Perry which understandably sold out in record time.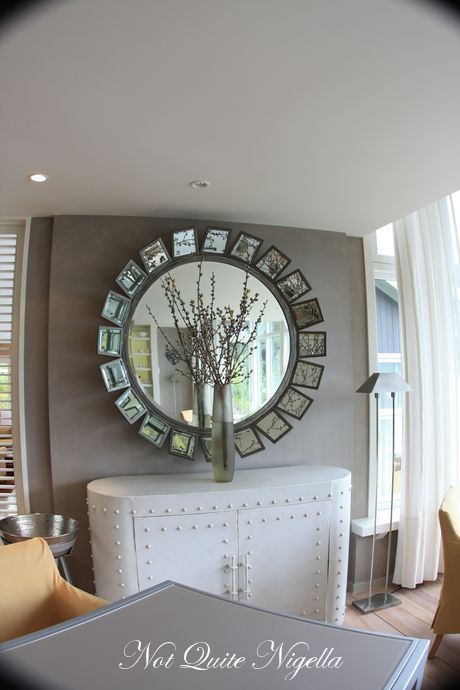 We've just arrived at Matakauri and barely have enough time to breeze through the doors when we are hit with the view. Yep see that mountain? It's a stunner and part of the aptly named "Remarkables" and the whole of Matakauri lodge is followed by this beauteous mountain view. We walk through the common areas and check out the library which is where guests can dine privately if they choose to.
The library
The common rooms are breathtaking with a warm colour scheme designed by the incredible luxury lodge interior decorator Virginia Fisher. The warm oranges and reds give it a warmth and the floor to ceiling windows contrast against that just to keep your mouth gaping.
The outdoor area on the way to the rooms
The lounge area in the room
Private patio
I'm shown to my suite and the colour scheme follows through. Again the view. There's a steamer far off in the distance that has been shipping people back and forth for about a century now but no-one is going to see me do my happy dance from that distance.
See this painting in the lounge room above the fireplace? Guess what's behind it?
A television!
Yep the TV! And before you ask, yes you can angle it so that you can watch the tv from the bed. I was busy playing with the fireplace switch (one button) and the heated floor tiles. There are complimentary soft drinks and snacks including luscious crackly topped brownie squares, oatmeal cookies and chocolate chip cookies and their own milk and dark chocolate among lots of snacky crunchy things.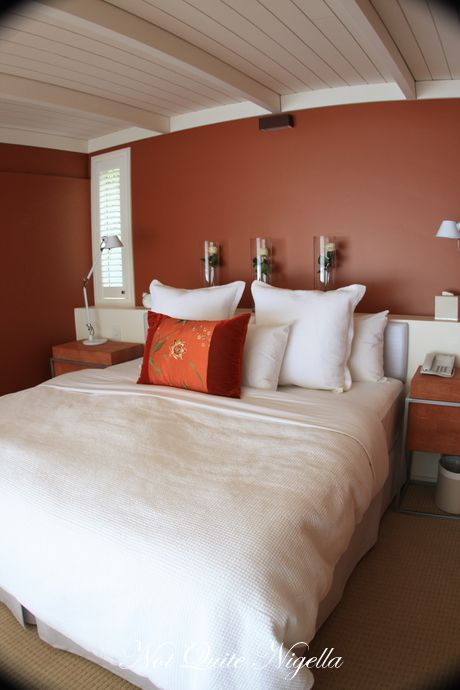 The bedroom is to the left and up three stairs and has louvered windows for privacy from any stray birds that might fly past or perch or if you want to sleep, otherwise you can keep it open. It's a king sized bed luxuriously apparelled.
But if you know me I'm all about the bathroom. I find where I will be spending most of my time in the bathtub thankyouverymuch. I wonder if they can serve me breakfast and I can conduct business from there-you know, for when I make Bill Gates sort of money and move in. There is a separate two head shower with a monsoon and a regular shower head and a free standing bath with a Nordic looking stool for you to sit on while you're applying cream or waiting for the bath to fill (why can't every place have a place to sit in the bathroom?) and a range of toiletries. And if you look up there are skylights so that if you get tired of looking at the mountains you can look at the sky or the stars in the evening.
Bu no time to dawdle, I'm off to have a facial. My therapist Susan greets me and I climb the rocks tiles to the spa and bypass the gym (nice idea, no thanks!) and make my way into the treatment room. They use Babor products here and I lie on the bed which reclines and has us lie in a comfortable position so that my back doesn't end up hurting afterwards. I get under the hand knitted soft white knitted wool blankets and start compiling a to do list once I get back to the room.
She sprays a mist over me that reminds me of marshmallows (I wonder if there's a smell that I don't relate to food) and I drift off to a hazy neverworld where to do lists are banished and dreams of living here abound. She uses a lot of massage in this 50 minute facial which is wonderful so I don't feel like I haven't missed out on a massage and she also uses hot stones on my face which is the first time I've had them used on my face as well as finishing off with cold stones! The price for this facial is $170NZD.
Time enough after the facial for a cup of tea and a square of brownie, a chocolate chip cookie and an oatmeal cookie. Oh and that view...
Canapes
As we're having drinks we snacks on little canapes including a smoked salmon roulade, a frightfully good spoonful of beef fillet with a celeriac remolade (so moreish) and another crunchy canape with a cherry tomato on top.
Bread with butter and olive oil
The two types of bread, a walnut and hazelnut and a plain white sourdough with the pointy ends are freshly baked and I particularly like the slightly sweet walnut and hazelnut roll with the whipped butter. The dukkah is strong in cumin and has large, even chunks of nuts and the olive oil is quite bitter on the tongue.
Sweet corn soup
The sweet corn soup is piping hot and we mean hot. It's a divine little cup of soup so we can't help but repeatedly take to it with the teaspoon provided to get at it all. Despite being plied with food this entire trip, travelling makes you hungry!
Pan seared John Dory, eggplant and capsicum galette, tomato and balsamic vierge
The pan seared John Dory smells quite strongly of fish when it comes out. We all can't help but notice this and I realise that this sounds strange as it is a fish but usually fish doesn't have that strong an aroma. The flavour isn't fishy however and it's a delicately cooked white fish with that distinct moist John Dory texture. It is paired with shreds of eggplant and roasted capsicum, not quite the galette as I had expected and the sauce vierge is a tangy and savoury mix of balsamic vinegar and olive oil, lemon and herbs. Again they use that bitter olive oil so the overall dish has a touch of bitterness.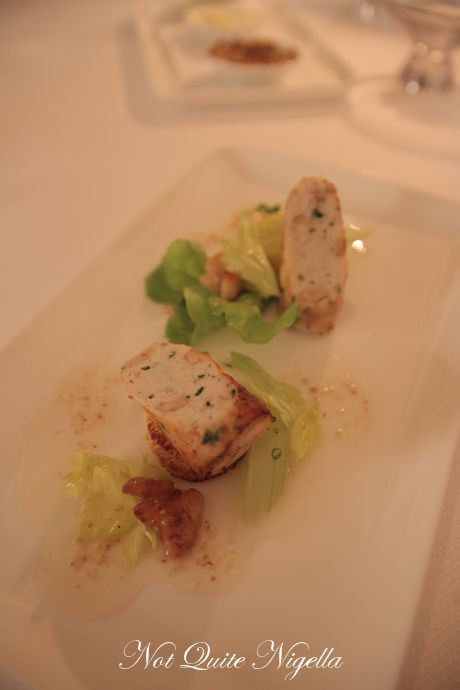 Chicken boudin with walnuts, celery, salad greens, brioche croutons, walnut dressing
"Since when has celery tasted so good? asks Natasha echoing my thoughts. The boudin or sausage is  stuffed with finely minced chicken, herbs and walnuts and is paired with braised celery on toasted brioche rounds and pieces of lightly candied walnut. A few salad leaves and a drizzle of walnut oil dressing and somehow celery seems tasty again!
Seared scallops, carrot and courgette noodles, saffron bisque
The fat seared Atlantic scallops are cooked only with the lightest sear on top and lightly pink in the centre. It is served with thin carrot and courgette or zucchini noodles, asparagus spears and a delectably rich saffron bisque. When we get to the bottom and there's a pool of saffron bisque I realise that there is no soup  spoon so I do what anyone else would and tip the rim of the plate to my mouth and take in the rest. Saffron bisque should never be wasted! ;) The saffron is a local saffron from Central Otago in Cromwell called "heart of the desert".
Roasted rack of Merino lamb, braised red cabbage, polenta with parmesan, roast parsnips, thyme jus
Our last savoury course is the Merino lamb. Merino lamb is more expensive than regular lamb at about $48 a kilo. It is soft and rich and comes on the bone with perfectly matched accompaniments such as a sweet fragrant braised red cabbage, a square of parmesan polenta, little thin roast parsnip pieces and a light thyme jus that has just the right amount of thyme. And there wasn't a skerrick left on any plate apart from the bone which we nibbled on.
Selection of NZ Cheese
New Zealand cheeses are of course wonderful. There is a selection of four cheeses: Over the Moon creamy blue, Kaimai mature cheddar, Te Mata Pakipaki, Neudorf with crackers, fruit and preserves. I particularly like the Te Mata pakipaki sheep's milk camembert although they're all good really. They come with my favourite 180 degrees walnut oat crackers as well as water crackers that I remember bringing back to Australia last time. Each cheese comes with an accompaniment of sliced apple, medjool date, small grapes sliced in half.
Chocolate fondant with strawberry and Szechuan coulis and strawberry sorbet
And now for our sweet desserts! We have a chocolate fondant with a nice crunchy crust but not quite as molten an inside as we would have liked. It is served on top of a small streak of strawberry and Szechuan pepper coulis that has just the lightest but present hint of Szechuan pepper in it. Alongside this is a strawberry sorbet, sweet and pure like strawberries.
Berry sorbet, grape sorbet, fig and pistachio ice cream and lime sorbet
Now the ice creams were what I craved as they're a bit lighter than a chocolate fondant. The berry sorbet was incredibly creamy even though it didn't have any dairy in it and the grape sorbet was a really interesting revelation. red grapes were used in this and it tastes like pure frozen grapes with a slightly creamy texture. The fig and pistachio ice cream was the only dairy laced one on the plate and it had a lovely balance of both and the lime sorbet was lovely and refreshing although stacked against the other more unusual ones it didn't quite get a look in. We make plans to come to breakfast in our bathrobes the next morning seeing as we've got run of the house here.
I retire to my room with my box of petit fours (they would have been the final Monty Python wafer) and run a bath and soak in it staring out into the sky and counting the sparkly stars.
Yep only two of us in robes!
The next morning I grudgingly wake up (the three hour backwards time difference is a killer) and get dressed in my robe. I walk into the main house and when I see the gentleman on reception look at me like I'm perhaps a lunatic but perhaps a rich lunatic and he greets me with a wary "good morning..." I then realise that I'm the only one that has turned up in a bathrobe! Heather goes back to her room to get hers so I feel less odd.
The plates-we called this the Donna Hay shelves
Banana, berry and oat shake
The shake is delicious with just the right amount of sweetness and a nice texture that isn't too thick or too runny.
The continental breakfast selection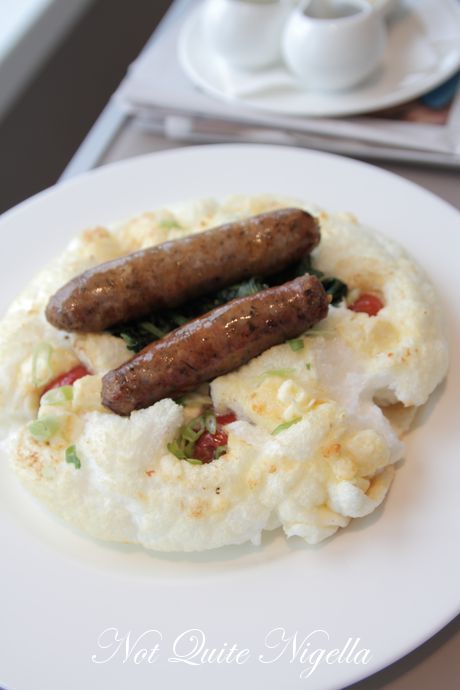 Fluffy egg white omelette with Merino lamb sausages
They weren't kidding when they said fluffy egg white omelette. This is fluffy beaten egg whites baked in a pan with small cubes of feta cheese, spring onion and whole cherry tomatoes. The merino lamb sausages were divine but I didn't much like the omelette mainly picking out the feta and tomato as the egg portion tasted like an unsweet pavlova.
French toast with passionfruit syrup and maple syrup
And yes I did have a separate order of French toast with passionfruit syrup and maple syrup (which I promise I shared, don't look at me like that!). The French toast is light and spongey and I like it with the maple syrup.
Once upon a time there was a sheep...
And of course no trip could finish without some quirkyness and some drama. As we checked in there was word going around that our Qantas plane from Sydney that we are to take back home that tried to land in Queenstown had to abort the landing due to low visibility. We look outside and the winds are whipping and the whole of the airport is enveloped in a thick, white mist. Of course some of us who don't have to go into work on Monday are happy. Being stranded in Queenstown means another night at Matakauri Lodge which means a great deal of happiness. We listen carefully as Jetstar and AirNZ cancel flights but ours remained pending. So what do you do when you're stuck at an airport that could probably be lapped in about 10 minutes? You have a story read to you!
Our driver Jonathan had told us about the late Shrek the sheep, a merino lamb that was found in a cave after having missed six shearing seasons. He had an enormous 25 kilos of fleece on him and he was shorn for charity. Well as can happen here, he became somewhat of a celebrity in New Zealand and even got to meet the Prime Minister and now he has his own book out. I'm not making this up! Of course I had to buy three copies, one for me, one for Queen Viv's birthday and one for Teena's baby girl Annabel whose father Philippe is from NZ!
Sweet potato soup with gremolata
The plane ends up leaving later that evening after we spend hours at the airport our plans for an extra night at Matakauri foiled ;) . We settle into our business class seats and peruse the menu. We start with a sweet potato soup which is creamy and delicious. The garlic bread, although not bad however reminds us of Pizza Hut garlic bread which is not something we really expected for business class.
Fragrant lamb moussaka with steamed greens
The lamb moussaka was comfortingly good and since when is a blanket of blistered melted cheese not a good thing? The vegetables were a tad soft though.
Chocolate hazelnut ice cream
We had two courses for dessert, a little pot of chocolate hazelnut ice cream with ribbons of chocolate hazelnut throughout it and little brownie bits.
Selection of cheeses
And then a cheese selection with a square of quince paste, grapes and a couple of medjool dates. The crackers were soft which was a shame and I prefer my brie runnier as this was refrigerated until served.
Oh and how did that story end? Oh yes, we all lived happily ever after...
So tell me Dear Reader, where would you live if you had Bill Gates or Oprah money?
NQN travelled to and explored NZ as a guest or Relais & Chateau and Qantas
Matakauri Lodge
569 Glenorchy Road, Queenstown, New Zealand
Tel: +64 (3) 441 1008
http://www.matakauri.co.nz/