"A what?" my husband asks. "A Bed Bar," I answer, as if it were commonplace. One of the more delightful aspects to the Crowne Plaza Queenstown was this little touch of comfort, where it is perfectly acceptable to curl up on a couch and nurse a drink before supping.
The Bed Bar
Dining at threesixty degrees comes at the end of a very long sightseeing day. We're happy to collapse in a chair, in the chic restaurant of our hotel and relax with some delicious New Zealand produce The view ahead of us is a 180degree view of Lake Wakatipu much to our delight. Service is friendly and polite and we explain that we would like one 5 course degustation $95(NZD)and one a la carte meal with as much NZ produce as possible and this is smoothly handled. Ah this is why we heart good hotels.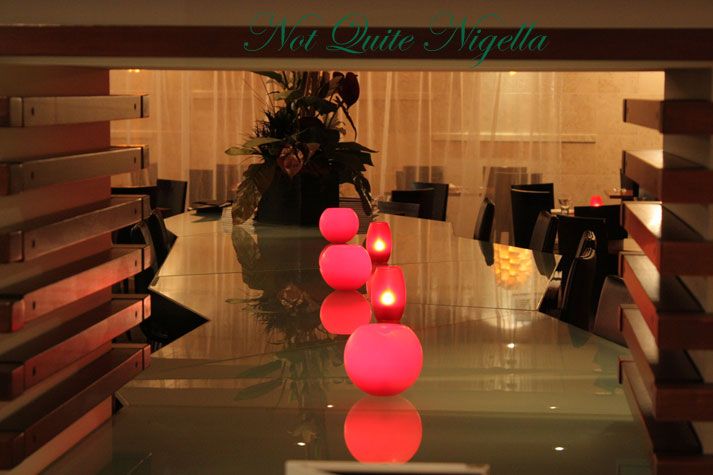 Group table
Olssens 2007 Reisling from Central Otago
We start with a bottle of Otago wine, the Olssens reisling. Otago is known for it's Pinot Noir's, especially given the climate but as we don't favour reds we go for the reisling which the waiter says is the next big wine to come out of the area as they're having spectacular successes with the vintages for these. It's crisp and ever so slightly sweet.
Amuse Bouche: Goat's cheese and pear terrine in a rye wafer
We start off with an amuse bouche: The goat's cheese and pear terrine in a rye wafer (much like thin Finncrisp). The goat's cheese is creamy and delicious and goes well with the soft lightly stewed and sweetened pear.
Bread and dips $12NZD
Our selection of dips and breads arrive. In our large stack of bread there are two types of bread, a dark European style bread and a sun fried tomato bread, both lightly toasted. The three drips are: Hommous, carrot and orange dip and a sun dried tomato and goat's cheese dip. They're all good but special mention must be made of the carrot and orange dip flavoured with fennel seeds, it's gorgeous and I make mental plans to try and recreate this myself.
_Pork and Duck confit risotto with prawns, mirin and hoisin sauce $18 NZD
_
The aroma of this risotto was irresistible. I admit I am not a big risotto eater as they have that habit of undercooking risotto so that it bites back which I dislike immensely but this is perfectly cooked. But the aroma, yes the aroma to this is divine and complex from the mirin and hoisin sauce, not that you'd recognise either in the sauce. The pork and duck confit are soft and fall apart against the not too soft risotto.
_Vension Carpaccio: degustation course 1
_
The Venison, said to be a specialty in the region (indeed we drove past a lot of deer grazing) is perfection. Thinly sliced and raw, it's paired perfectly with cracked black pepper which is very present but judiciously applied so that it is strong but never overpowering. It comes with thin strings of pear and a leaf salad and we savour every bite.
_Crispy skinned salmon with thai fish ravioli on an orange and ginger reduction.  Degustation course 2.
_
Our waiter explains to us that the thai fish inside the ravioli is hoki and the sauce is a green curry type of sauce heady with lemongrass and ginger. The salmon is well cooked, never dry but just perfectly done. I have a strong dislike for overcooked salmon and often find it done this way but this is ideal. The ravioli packs a little flavour punch against the dreamy creamy textured salmon and the orange and ginger reduction is spare but savoured.
Honey glazed pork belly with watercress and pear puree and shiitake mushrooms. Degustation course 3.
The fourth degustation course is another aromatic number. The waiter points out that it goes particularly well with the wine and we agree. The pork belly is soft with a delicate crispy rind. At first taste the pear and watercress by itself isn't much but when combined with the other elements of pork and shiitake mushroom it sings in the mouth.
_Beef with watermelon and feta salad $42NZD
_
I'll be honest I'm not one for watermelon and feta salad. The flavour doesn't do much for me nor does the texture so at first I'm happy just to eat the beef (perfectly cooked, medium rare) but I spear a bit of feta and watermelon and try it with the beef and again I'm enthusiastically gulping this down with my fork swinging in the air with this unexpected taste sensation. I'd never had thought to put the three together (or indeed just putting the watermelon and feta together) but the sweet watermelon and creamy Danish style feta goes so well with the tender beef.
Pinecone smoked rack of lamb with lebanese eggplant pickle and coriander raita. _Degustation course 4.
_
Two dainty pieces of lamb are lightly smoked with the bones removed and paired with an interesting eggplant pickle, strong in the way that Indian pickles are and flavoured strongly with spices, in particular cardamom seeds. It's a dainty, perfect end to the savouries.
Basil pannacotta with a kikorangi wafer and caramelised cherry tomatoes. Degustation course 5.
The desserts arrive and we're optimistic, having had every dish a winner we're anticipating a lot. However the one item that sounded like it could either be a disaster or success is the basil pannacotta with caramelised cherry tomatoes. The Kikorangi is a famous New Zealand Blue cheese and tonight they've used it in the wafer. I try some of the basil pannacotta first. It's creamy and sweet and unmistakebly basil-ey. I then pair a spoonful of it with the caramelised cherry tomato (literally a whole cherry tomato with a thin toffee coating) and the Kikorangi water and it's reminiscent of a salad but absolutely revelatory different. I wonder why I have never seen something like this before, it's brilliantly unusual.
_Cheese plate $18
_
The cheese plate comes out, with a selection of three NZ cheese from Blue River Cheese of Otago who specialise in sheeps' cheeses. There is a Sheep's feta (stunning, less salty and very creamy and distinct from other fetas), a blue which is creamy and moderately strong and an aged cheddar which is a bit too aged for my particular taste. The sheep's feta is delicious with the quince paste.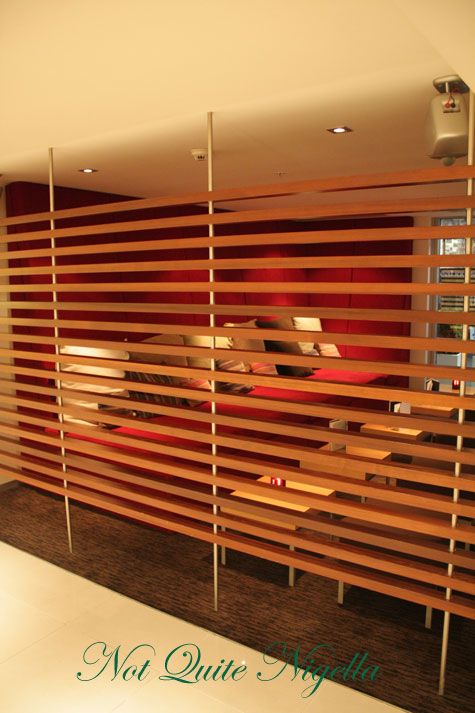 We sit back, grinning happily. My husband is delighted as he is full (something that rarely happens at high end restaurants) and I'm happy because I've enjoyed every course.
And for an alternative view, the next day we take a ride on the Gondola and see the beauty of Queenstown from a staggering height.
Paraglider seeking a better view
Crowne Plaza Queenstown
93 Beach Street
Queenstown Town Centre, Otago, New Zealand
+64 3 442 7800
[http://www.ichotelsgroup.com/h/d/cp/660/en/hd/zqnbs
](http://www.ichotelsgroup.com/h/d/cp/660/en/hd/zqnbs)NQN and Mr NQN stayed and ate as guests of the Crowne Plaza Queenstown