One of my long held fantasies is to stay overnight in a department store with friends. We would raid the food and chocolate counters, try on makeup without getting pressure sold and try on dresses and shoes all night. I've held this fantasy since childhood. But what about a little twist? Instead of staying in a department store, how about staying in the house _of a department store _owner?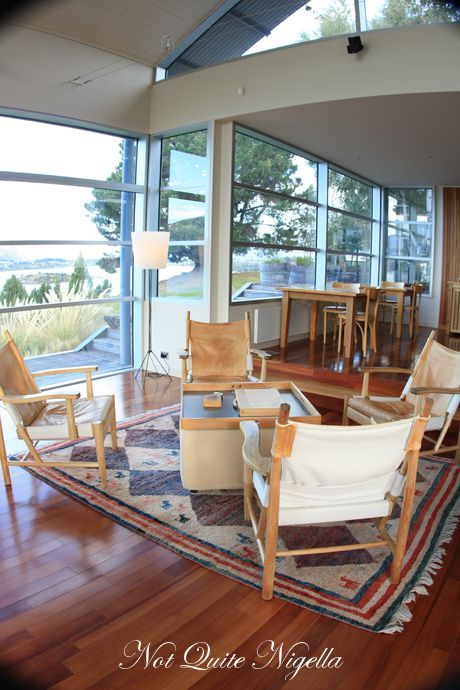 Whare Kea (pronounced far-eh-kee-ah) Lodge is named after the world's only alpine parrot, the cheeky Kea and is owned by the Myer family (of the Australian Department store). Whare Kea was originally built as their holiday home as the Myers are keen heli skiers and they would bring friends along to stay who in turn encouraged them to open their doors to the public. The 70 acre location couldn't be more spectacular. On the edge of Lake Wanaka near a glacier there's nothing between your balcony door and the grass which leads to the lake edge.
The main lobby resembles someone's living room-well if that someone was a department store mogul (it certainly doesn't look like my living room!). It's the corner of the lodge facing the lake and there are floor to ceiling windows and very high ceilings. After our trip travelling from Mollies in Auckland we are offered refreshments of tea and coffee and a cheese platter and something a bit more substantial as we've missed lunch. They bring us a cheese platter with a Talbot Forest Vintage Cheddar and brie from Geraldine, and a Fiddler's Hill Goat's cheese from Puhoi Valley. Splendid!
As we're still a bit peckish we get another plate this time with gorgeous quartered fresh figs which are lusciously good, serrano jam, Clevedon Buffalo ricotta with manuka honey drizzled on top.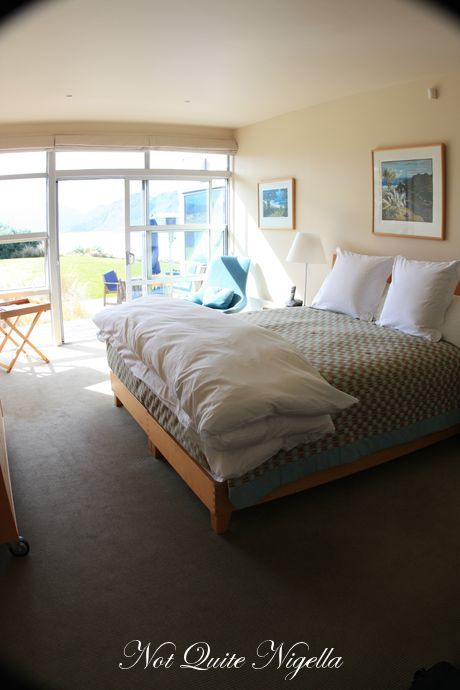 Come along with me and see what a department store mogul's bedroom looks like!
The rooms are decorated with pale woods, greens and blues, much like the outlook through the balcony and are spacious. The bathroom is large with a spa bath and separate shower-in fact two shower heads, one monsoon and one  massage head should you wish to shower together, in a sea blue green. There are Aesop products provided. There is also an outdoor wooden deck with chairs and tables and the whole room is centered upon the view which you could happily while away the hours looking at while sitting in one of the Zen chairs.
The remote location means that the wireless does drop in and out on occasion and if TV is important there isn't one in the room nor a fridge. Whenever I settle into a hotel I must have a cup of Earl Grey tea and craving one and needing milk, I tried to call the office but the phone didn't work so I crept up to the kitchen door with the porthole too high for me to peer in but luckily the chefs are a friendly bunch and furnished me with some milk. And you know my thing is slippers especially when it is cold and there were none although there are robes.
What's that noise we hear? It's the beating from afar getting closer. Before we know it a helicopter appears in the distance and lands in our "backyard" on the lawn. Well that doesn't happen every day so I must take a photo of this! We're going up for a very special ride in the helicopter to Whare Kea's own mountaintop chalet. For an extra fee during Summer (around $5,000, ok please pass my a gold bar from my safe) guests can overnight up at their ski chalet perched atop the Buchanan mountain range and ski their way down. They have their dinner cooked and served in the chalet and stay overnight. We're just going up to have some champagne today. This is my first time in a helicopter and I'm excited.
We get into the helicopter and I'm sitting in the front seat (not the pilot seat obviously ;) ) and we put on our headphones where we can talk to each other. The helicopter rises into the air, the blades beating a rhythm and we ascend. It's like an IMAX film but real as we cross mountainous terrain and soar above an island which has a lake on top of it and an island on the lake.
Alex our helicopter pilot points out the various mountains including Mount Aspiring and Mount Cook. These are summits where keen heli skiers travel up to and take the long, swervy ride back down and then are picked up by helicopter and brought back up again. We face the glacier and after a twenty minute ride we arrive at the mountain top.
The Chalet
The living room of the chalet
The ladder leading up to the beds
The chalet is built up on top of the ground on stilts and took two years to construct with little to no environmental damage which was a consideration. It's luxurious as far as mountain top chalets go. At 5,700 feet or 1,750 metres a hot shower and plumbing facilities are usually non existent. When one books this chalet they also get a host and a mountaineering guide to keep everyone safe and the host also serves us the meals from the kitchen in the main living room.
The weather is a big factor when you're doing something like this and they only take people up if there is a 48 hour window for clear weather. It is also one of their most popular activities with one in three enquiries being about the mountaintop chalet. And there is a webcam so that you friends and family back home can watch you live on the balcony sipping champagne!
James Stapley
But you know why we're here right? The food! All Relais & Chateaux properties must have world class rooms but they must also have top notch restaurants attached to them so the idea is that guests don't have to venture out for a good meal if they don't want to. Other Relais chefs include the renowned Thomas Keller from Per Se and French Laundry, Heston Blumenthal from The Fat Duck and our very own Tetsuya Wakuda. Here at Whare Kea, effervescent and friendly chef James Stapley is a young British born chef from Kent who has trained under Jacques Rolancy and David Chambers. His emphasis is on simple, local food presented beautifully and Carole from Whare Kea Lodge tells us that the tomatoes that feature in the first course come from his garden as do the porcini mushrooms.
Canapes: bluff oysters
We're having pre dinner drinks at the bar and alongside our drinks are a range of canapes including fresh Bluff Oysters-my very favourite oysters. I remember pursuing these the last time I was in Queenstown and I was simply smitten by them and their strong zincy flavour. These are served with a shallot and red wine vinaigrette and I relish in three of these as some of my dining companions can't eat them. I'm happy to take up the slack! ;)
_Smoked seaweed roulade _
James comes out and brings out this dish housed in a tall round box. It's a smoked seaweed roulade and in a bit of theatre he opens the top slowly to reveal a cloud of smoke and that distinct smoky aroma. It's creamy from the cream cheese but distinctly smoky with a seaweed flavour too and it's easy to pop a few into your mouth before appreciating the effort that goes into making these.
Dunedin clams
The Dunedin clams which are also from the South Island are deliciously briney and slip down the throat easily.
Home Grown Heirloom Tomato salad, Halloumi stuffed pumpkin blossoms and Harissa
I do love a good heirloom tomato salad and this one comes with a single deep fried and delicately crispy pumpkin blossom (a change from zucchini blossom) which is stuffed with a single slice of stretchy, squeaky halloumi cheese. The harissa, a spicy hot African paste is strong in garlic and other flavours and almost gives it a bitter end.
Steamed West Coast Crayfish salad, Mango, Avocado, Chilli & Lime Dressing, creme fraiche
Now well you know me. We visited Kaikoura to eat crayfish last time (oh and to see the view!) and I am excited about the crayfish dish. The crayfish is exquisitely cooked and so tender and is simply paired with mango and avocado cubes and a chilli and lime dressing and a bit of creme fraiche to give it a touch of creaminess. This is simply done but just with wonderful ingredients and perfectly cooked crayfish.
Olive Oil Poached groper "In Crosta", fresh corn, black turtle beans and yellow zucchini, verjus
The groper comes with a light lacy breaded crust and sweet fresh corn, artfully scattered black turtle and soy beans and a ribbon of yellow zucchini and a sprinkling of verjus which gives it that distinct tartness. Truthfully I prefer lemon to verjus (I know, Maggie Beer might strike me down for that!) for tartness with fish but the fish is again expertly cooked.
Wild Fiordland venison, Celeriac puree and wild mushroom tortelllini, brussels leaves and porcini emulsion
I think everyone's favourite fish was the stunning venison, a lean mean that still remains succulent in James's hands. It is paired with celeriac puree, deep fried celeriac tendrils, a rich wild mushroom tortellini, three brussel sprout leaves and a porcini mushroom emulsion -the porcinis which comes from the grounds here!
Two Paddocks-the winery owned by NZ actor Sam Neill
Rose jelly with fresh raspberries, elderflower cream vanilla and biegnets
Our last course is pretty as a picture, the Amisfeld rose jelly looks as glossy as a glass paperweight. It holds fresh raspberries bound and suspended inside the beautifully wobbly jelly and a swift motion of the spoon releases them. They are partnered with a shredded mint leaf topped elderflower vanilla cream and powdered sugar dusted beignets which spurs a round of begging to see if there are any left in the kitchen (sadly not).
I run a bath (it takes a while so do run it early as the water has to come from their private well) and fall asleep to the sound of ....silence!
Bedside chocolate truffles
The next morning, I feel so comfortable as we are the only guests here so I come out to get my cup of tea from the continental buffet in my bathrobe.
Akaroa smoked salmon and scrambled eggs
The colour of the free range eggs are an incredible yellow  shade and the salmon and toast restore mind and vigour. I am not usually a breakfast eater but there is something about the fresh air that makes me hungry. Or perhaps that's what I convince myself with in order to eat more.
Home made jams
Beignets
And what's that I see? More beignets? Yes chef James has fried up a fresh batch of beignets for us and passes on his recipe for these delicious, deep fried morsels which I will be making. Nothing like donuts to start the day no?
James in what has to be one of the most scenic kitchens ever
Porcini mushrooms from the property
Excitedly James shows us this morning's fresh pick. He discovered porcini mushrooms on the property when he was driving in for his trial at Whare Kea and he spotted the porcinis under a silver birch tree. These porcinis have a different aroma and texture depending on the size. The larger ones are spongier and less aromatic wheras the smaller ones are packed with aroma and have firmer gills. We reluctantly depart the warm service of Whare Kea lodge which still manages to feel like you're visiting friends and staying at their house.
So tell me Dear Reader, if you were locked up in a department store all night, what would you get up to? And which department would be your first stop?
The greenest plane runway you could imagine...
NQN travelled to and explored New Zealand as a guest of Relais & Chateaux and Qantas
Whare Kea Lodge
494 Mt. Aspiring Road, Wanaka, New Zealand
Tel: +64 3 443 1400
http://www.wharekealodge.com/