After our rather adventurous day, we have dinner at Cafe de Paris, a restaurant that is said to serve classic French dishes. It has cooled down considerably and all I can think of is a nice warm soup and I'm hoping that if they do classics, that French Onion Soup will be on the menu. We rush in out of the cold and sit down and I'm relieved, there is French Onion Soup! Because it is the Wild Foods Weekend, there is a special menu that features some wild foods mixed among more regular dishes. Me, I'm just glad that I don't have to face another Huhu Grub!
French Onion Soup $9.50
The food arrives quickly and the French Onion Soup is rich in wine and very warming and just what I needed. There is one piece of gruyere topped bread (admittedly I always hope for a bit more as that's my favourite bit) and the serve is deceptively large.
Petite salad $6.50
The petite salad is a colourful mix of salad leaves, capsicum, carrot, red cabbage and snow pea shoots and is well dressed in an oil and vinegar dressing.
Beef Short Ribs
The serve of beef ribs is huge - in fact I think I've been served a main size of ribs even though I ordered an entree. I like my ribs two ways, soft and sweet. As long as they sauce has a touch of sweet (so good especially with pork ribs) and if they're soft and fall off the bone I'm happy. Thankfully they're both and come with halved chat potatoes. The sauce although liquidey is just the right amount of sweet, not cloyingly so and not nectary.
Wild Boar in puff pastry
I had forgotten how big the serves are in New Zealand and this is also a large serve. The soft pieces of wild board are cooked in a thick wine based sauce with a rectangular puff pastry container. It's good although I'm a bigger fan of the ribs so I swap back with Mr NQN who likes this. We have no room for dessert so we do a bit of people watching while getting the bill. We watch super heroes, Na'vi, Teenage Mutant Ninja turtles walk past us shivering. Apparently super hero status doesn't come with a coat.
The next morning we forego the hotel breakfast in search of greener pastures. We check out of our hotel, the Hokitika Beachfront Hotel which has a gorgeous view of the beach (hehe hence the name!) and stow our bags there.
We visit the Jade Factory for a little window shopping. Hokitika is known as the Greenstone or jade capital of New Zealand and jade is only found in the South Island of New Zealand. Lynette holds tours here and we learn of the legend of Pounamu (jade). Her father has one of the largest private collections of jade in New Zealand and only certain Maori tribes are allowed to collect jade that they find on the beach and in the wild. In 1997 all of the naturally occurring pounamu was handed back to the Ngai Tahu tribe in the South Island as part of the Ngai Tahu claims settlement.
There are some gorgeous pieces being carved there including a pendant that I covet ("No' says Mr NQN firmly although he admit it is pretty).
Jade tile paver on the street
The cheese room at the Hokitika Cheese & deli
Mostly New Zealand cheeses feature here
We stop by the Hokitika Cheese and Deli Shop for some breakfast and we have a look at their cheese room which looks well stocked with a variety of cheeses. We ask for their recommendations of New Zealand cheeses on a cheese platter and as we're feeling peckish for breakfast, we also order a whitebait sandwich and a Clearwater natural yogurt. Most of the partygoers from yesterday have left with a small trace of yesterday's festivities still remaining. Outside sits a tattoo bus for those that want to have an inked reminder of things.
Whitebait sandwich $6
Sadly the whitebait sandwich is a bit cold by the time it reaches us as I think they may have been waiting for the cheese platter to be prepared._
_
Clearwater Yoghurt $4.40
The Clearwater natural yoghurt is ever so slightly sweet_ with a layer of cream on top which you might be able to make out in the above picture. _The cream layer gives it a lovely richness that you can stir through the whole yogurt. _
_
_Cheese plate _
It comes out shortly later with little New Zealand flags with the names of the cheeses. We have an Evanstone Brie, a handmade Neudorf cheese, a Windsor blue and Karikaas pepper cheese. They come with peach & almond chutney, olive & tomato chutney,  cherry jelly, Turkish apricots, two types of crackers and a sprinkling of sunflower seeds. I particularly like the brie paired with the olive and tomato chutney, the Neudorf and the Windsor Blue with the peach & almond chutney and the Karikaas with the olive & tomato chutney.
The counter at Sweet Alice's - with an old fashioned register!
Maple & Walnut Fudge $6.10
We then stop into Sweet Alice's for a slab of fudge. There is also fudge sampling and we get to try a double chocolate fudge before deciding on the maple and walnut fudge which is beautifully smooth and strong with maple and walnuts.
Mallocino $4
Hot blackcurrant juice $2.50
We have a bit of time before our flight so we stop by a little cafe called Adz Cafe which we're drawn to (ok rather I am drawn to, Mr NQN couldn't really give a hoot) as it has a large teapot collection. There we order a mallocino which is a cappucino topped with two marshmallows and a hot blackcurrant juice. While sipping at our drinks, we check out the teapot collection which is actually rather impressive with some unique teapots including a hedgehog teapot and a porcelain one that looks like a toilet dolly.
Mr NQN's favourite? The teapot with the chubby legs.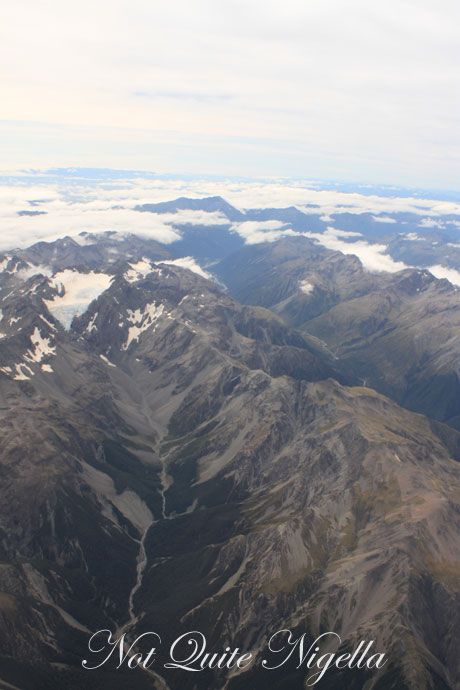 After our little DIY roving brunch, we take a taxi to Hokitika Airport where we board our flight that will take us to the next leg in our adventure. Stay tuned! :)
So tell me Dear Reader, would you ever get a tattoo and if so, what would it be? Or do you have one and what is it of?
NQN and Mr NQN travelled to New Zealand as a guest of Tourism New Zealand.
Cafe de Paris
19 Tancred St,
Hokitika, Westland
03-755 8933
Jade Factory
41 Weld Street
Hokitika 7810, New Zealand
(03) 755 8007
Hokitika Cheese & Deli
84 Revell St,
Hokitika, Westland
03-755 5432
Sweet Alice's
27 Tancred St Hokitika
03-755 5359
Adz Cafe
39 Tancred St,
Hokitika, Westland
03-755 8379