Readers of NQN are fabulous people as they suggest things that they think I'd like to make. One of these readers is Sydneygal who sent me this article from the NY Times about the resurgence of the Whoopie Pie. Said to be the next big thing after cupcakes, they're a more homely, less fancy version of a cupcake. I knew I had to make it, more out of curiosity as I only had a fleeting familiarity with just the concept having never eaten one before. Said to be named so as they were originally made by Amish  housewives to be given to  farmer husbands, they were said to exclaim "Whoopie!" upon discovering the treat in their lunchboxes.
I was watching The View...yes there I've said it. I watch The View. I never used to understand why people would want to watch a bunch of ladies bickering and yelling over each other simultaneously on screen and I certainly never watched the Australian version called The Catch up (the name was enough to dissuade me from watching) but slowly I became accustomed to watching The View and now watch it every day. My need to reach into the screen to throttle Elisabeth has even lessened although this is probably due to the US election being over.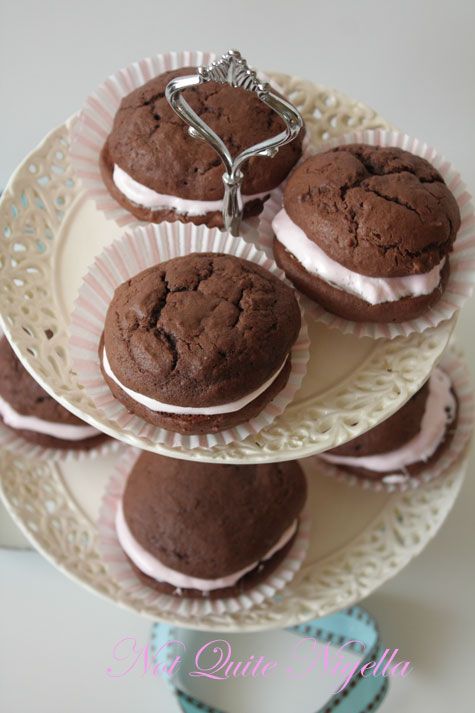 But I digress, they were also talking about the Whoopie Pie story. Suddenly the Whoopie Pie jumped to the top of the list and I found myself looking up the recipe to see whether I could do it. Having just made a cake, I was dangerously low on sugar in my pantry. And despite many suggestions from tweeps to knock on my neighbour's doors I schlepped it down to the shops to get my precious sugar. Which as it turns out, I didn't end up using due to the late hour.
I used Zingerman Bakehouse's recipe for the cake itself and decided to use the filling in the Taste.com.au recipe as it was easier than doing a Swiss Buttercream which I can't do as I don't have a handheld electric mixer-that broke and was replaced by the Kitchenaid. The filling is easy, just melt some marshmallows with a little water and sandwich together.
The cookies or cake or whatever you'd like to call them are soft but taste a bit like a supermarket chocolate cake-whilst looking like a cookie and while they are cooling they are delicate. By themselves, they aren't too bad although they do need a cream to wodge them together and give them some added oomph. I do think that a buttercream might be a better match for a filling than the marshmallows which while easy, end up being a bit bland. I added some tiny chocolate flakes to upp the chocolate count although the original recipe didn't specify these. In my humble opinion, I think they taste all the better for it.
Whoopie Pies!
Time: 1 hour
FOR THE CAKES:
1/4 pound/1 stick/125grams butter, at room temperature
1 teaspoon vanilla extract
1 1/4 teaspoons baking soda
1/3 cup small chocolate chips or flakes
FOR THE MARSHMALLOW FILLING:
Step 1 - For the cakes: Preheat oven to 350F/180C degrees. Cream together the butter and brown sugar using an electric mixer and add the egg and vanilla extract and beat until light and creamy. In a separate bowl, whisk together the baking soda, salt, flour and cocoa. Add dry ingredients to butter mixture in three parts, alternating with buttermilk, and combining well after each addition. Finally stir in the chocolate chips.
Step 2 - Using an ice cream scoop or a spoon, scoop out 12 x 1/4-cup mounds of batter and place about 6 inches apart on a parchment-lined baking sheet. Bake until tops are puffed and cakes spring back when touched-about 12 minutes. Remove from oven and cool completely before filling. They are delicate while cooling.
Step 3 - Have your pairs ready i.e. pair up similar sized halves. In a microwave proof bowl, melt marshmallows and water on high heat for 20 second burst (I needed a total of 40 seconds). The filling will be soft and spreadable but will set as time goes on so you may need to microwave it once or twice more. Don't sandwich them together straight away, the marshmallw filling will be too runny and they will slide off and may set in an imperfect position. I waited for about 5-10 minutes and then placed the tops on them making sure that they were sitting as upright as possible. Place in large cupcake liners for ease of eating
Step 4 - Store in an airtight container at room temperature for up to 3 days, or wrap individually and freeze for up to 3 months.