If you want to relive some childhood memories then may I offer you this riff on a childhood favourite, the Wagon Wheel? This Wagon Wheel Cake is more group and share friendly. It's a butter cookie base on the top and bottom and inside is a fresh raspberry marshmallow filling with raspberry jam. The whole cake is smothered in milk chocolate and then decorated with dark chocolate drips, berries and chocolates!
For those of you unfamiliar with a Wagon Wheel it's an Australian snack made of two cookies sandwiched together with marshmallow and jam and coated in chocolate. What prompted me into making one was that I often find childhood goodies disappointing when eaten in adulthood. It's like the childhood crush that you meet again. You'd rather have remembered them as they were, not with the well worn finish of time.
Some things don't age well and Wagon Wheels don't. The chocolate isn't very good, the marshmallow seems thinner and the whole thing appears as a sad facsimile of its earlier version. Maybe I romanticised how good they were or maybe I've grown up and my tastes have changed. Anyway, I wanted to make a giant one and I thought that Nina's fiance Garth's upcoming birthday would be the perfect opportunity.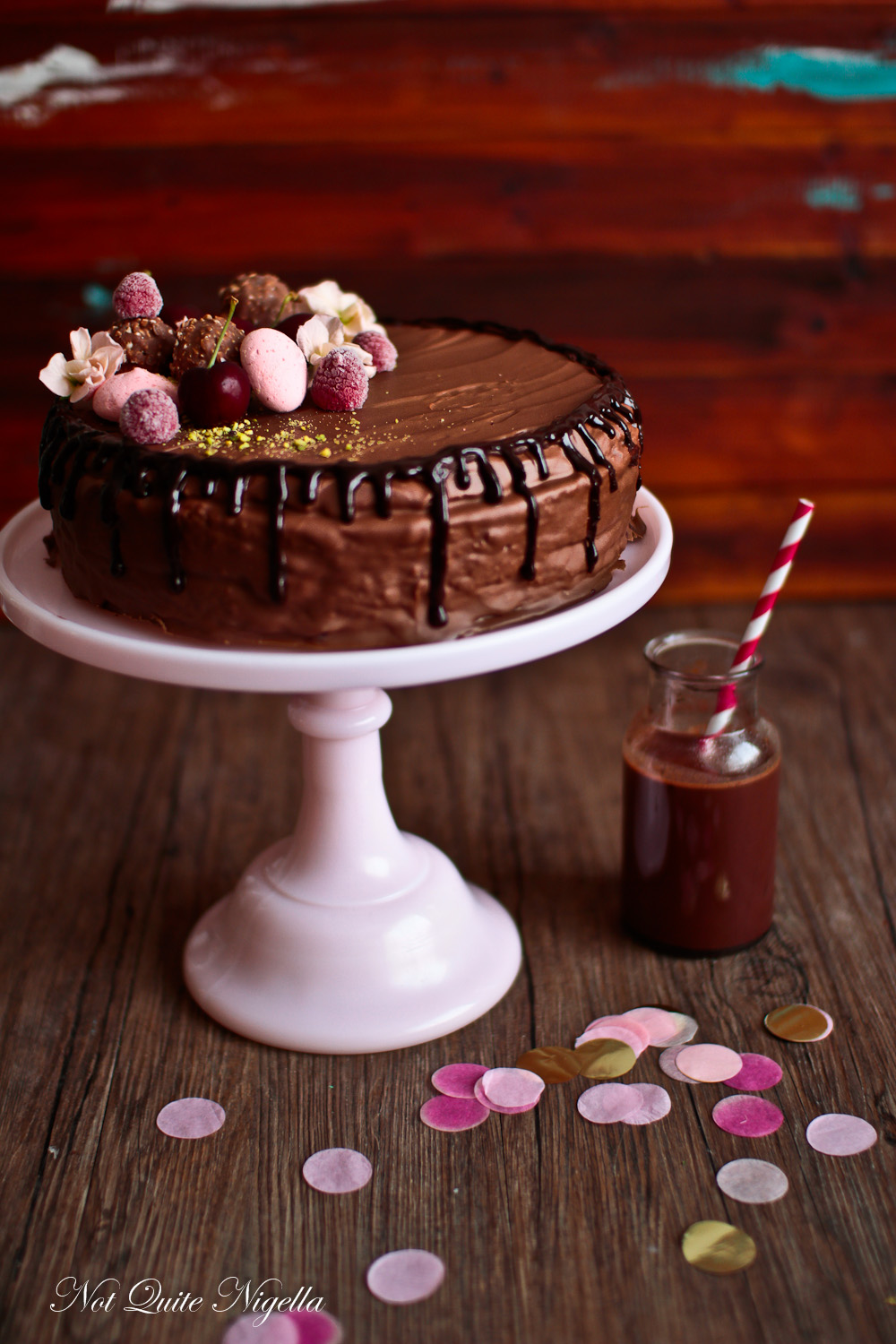 Nina and I have this agreement. Every year she bakes me a birthday cake and I bake her one. This year she decided that she would make me a Sharkando cake. You see she and Garth had invited Mr NQN and I over for dinner and a night watching bad movies. It's our new tradition apart from birthday cake making. The movies must be bad and in this case it was Sharknad so very bad, the clothes must be comfortable and we keep warm under a blanket. This is how we cope with winter.
Nina only makes cakes once a year-my birthday cake and I always expect some questions. She didn't disappoint. She sent me pictures of runny icing and declared that cooking was depressingly awful and that she felt exhausted by the end of it.
That night we arrived at her place and she presented me with a Sharknado cake. I absolutely loved it and my favourite part were the almond teeth! The cake itself was really moist and delicious-it had lots of spices and goodness from parsnip and she iced it with cream cheese icing which is my favourite. As some might say, this is going in the pool room aka the hall of fame for best cakes ever. I don't think my Wagon Wheel cake will come anywhere near her shark cake in terms of ingenuity!
Garth did like the Wagon Wheel cake saying, "Cake is awesome! Straight up slice of the 90s - I'm having flashbacks as we speak. I may even dust off the old parachute pants. Made it till we got home before having a slice, but only just. Poor Nina doesn't know what to compare it to. Perhaps the chocolate was too dark for segregated South Africa. But really. Aren't we all just jam filled..."
So tell me Dear Reader, how do you cope with Winter? Did you ever like Wagon Wheels? Do you find revisiting childhood foods disappointing? Have you ever watched Sharknado?
DID YOU MAKE THIS RECIPE? Share your creations by tagging @notquitenigella on Instagram with the hashtag #notquitenigella
Giant Wagon Wheel Cake
An Original Recipe by Lorraine Elliott
Preparation time: minutes
Cooking time:
For Biscuit layer:
250g/8.8ozs butter, softened
1/2 cup caster/superfine sugar
1/4 teaspoon salt
1 teaspoon vanilla bean paste
1 egg
2.5 cups plain all purpose flour
For Marshmallow Layer:
150g/3ozs raspberries
2 tablespoons caster sugar
3 egg whites, at room temperature
175g/6ozs caster/superfine sugar plus 75g/2.65ozs caster/superfine sugar extra
2 teaspoons liquid glucose
100ml/3.5 fl ozs water
3x4g/12g/0.45oz Titanium strength gelatine sheets (or enough gelatine powder to set 3 cups of liquid)
Coating and decoration:
1/3 cup raspberry jam
200g/7ozs. milk chocolate
2 teaspoons coconut oil
50g/1.7ozs/ dark chocolate
30ml/1oz. cream
Raspberries, chocolates, flowers and ground pistachios to decorate
Step 1 - First make the biscuit layers. Preheat oven to 180C/350F. Cream the butter and sugar until pale and fluffy (about 2 minutes). Then add salt, vanilla and egg and mix for 1 minute. Then on the slowest speed add in the flour until just combined. Divide into half.
Step 2 - Take a 20cm/8inch springform tin and grease the side collar. Then place a sheet of baking paper on the base and clip it into the side. Press down one half of the dough into an even round shape to the edge. Then unclip and slide the sheet of baking paper out of it with the dough on top and place it on a baking tray. Repeat with another sheet of baking paper but this time you don't need to remove it, you can bake the cookie in the clipped up springform tin. Bake both for 20 minutes or until lightly golden. Cool and spread the biscuit base in the springform tin with raspberry jam.
Step 3 - Make the marshmallow filling. Blend the raspberries with the sugar and sieve them to get rid of the pips. Set aside. Place the egg whites in a very clean mixer bowl fitted with a whisk attachment. Soak the gelatine sheets in cold water and then squeeze out excess water.
Step 4 - Place the 175g of sugar in a heavy based saucepan with the glucose and water. Turn on low heat and dissolve the sugar. Once it is dissolved, turn the heat up and boil without stirring until it reaches 118C/244F. Then start whipping the egg whites on high until you get soft peaks. Add the extra 75g of sugar to the egg whites til you get firm peaks.
Step 5 - Once the sugar reaches 127C/261F then remove it from the heat. Add in the gelatine and stir to completely melt. Pour this into the fluffy egg whites along with the reserved raspberry syrup and whip for 5 minutes until thick in texture. Pour over the raspberry jam base in the springform tin and smooth over the top. Allow to set for 2 hours at room temperature. Place the other biscuit round on top.
Step 6 - Melt the milk chocolate along with the coconut oil and spread over the whole cake. I found it easier to dollop the chocolate on the top and then smooth it down the sides. Allow to set completely.
Step 7 - Melt the dark chocolate and cream and then place in a small piping bag. Create a border around the outside of the cake and then pipe drips down the side. Place chocolates and fruit on top and sprinkle with ground pistachios.