Have I ever mentioned that I love reader recommendations? I probably have and one of my readers that has taken the time out to recommend to me a few places is Wayfarer. I jot the recommendations down in my Moleskine and I do try to get to as many as possible-when timing, friends and budgets permit. Fine Fish was one of those places that shouldn't have taken me long to get to. In neighbouring Neutral Bay, it is a mere 10 minute drive away and I do love a good fish and chips.
One Friday night Mr NQN and I find ourselves standing in front of the Fish Counter (the restaurant is upstairs). There are specials updated daily on the website so I know what's on offer but I have a hankering for good old fashioned fish and chips and a grilled salmon burger. Making my order at the counter we sit back and wait for the kitchen to cook our food. The staff are busy as they also cook the food for the restaurant upstairs and I take the chance to walk around and see what else in on offer. In the freezer there are all manner of items from fish stock, Canadian lobster tails, scallops, Balmain bug tail meat etc and on the shelves there are dips and sauces as well as tins of Petrossian Caviar on display. In the front counter are super fresh looking pieces of fish that you can get them to cook for you for the price of the fish plus $2 per 100g and I'm interested to see Patagonian Toothfish (Chilean Seabass).
Patagoanian Toothfish, called "The White Gold of the Southern Ocean" was a fish that was aggressively hunted in the 1980s which ended up threatening the species. It's said to be a very richly flavoured fish which goes well with lighter Asian flavours (as opposed to rich French style butter based sauces). The owner is friendly and chats easily about his produce.
Our number is called and I collect our goodies. I try the salmon burger and it is delicious with a nice fresh bun and salad. Full of just salmon and herbs and without filler it tastes like a grilled salmon fillet on a burger.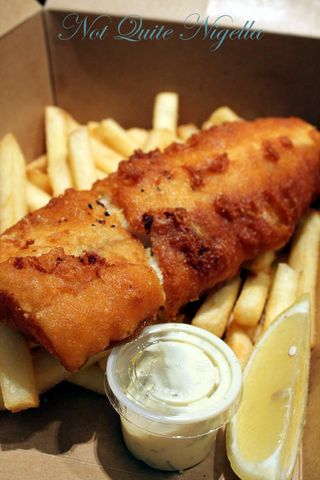 I open up our fish and chips and there is a large piece of fish and golden chips. The tartare is fantastic and  before long I've finished the container we've been given so we buy a bigger tub for $3.50. The fish is good although it possibly isn't quite as juicy as I've had but the chips are good and the whole thing is downed quickly with the delicious tartare.
And if you have any other reader recommendations for places to eat at or things to try, please feel free to leave them as a comment! :)
Finefish
75 Grosvenor Lane, Neutral Bay NSW
(rear of 188 Military Road)
Telephone:      (02) 9908 4448
Finefish counter & takeaway
Monday – Saturday: 10am – 8pm
Finefish restaurant
Lunch Tuesday – Friday: 12pm-3pm
Dinner Monday – Saturday: 5.30pm-9pm
http://finefish.com.au