It's no secret I'm fascinated by American food and food from the South is particularly tempting to me. So when Teena discovered South in Neutral Bay last year she and Gina, Hot dog and Philippe joined Mr NQN and I for a meal there that we really enjoyed (the ribs-oh those ribs!). Sure it was tiny and we mean tiny, with a Tabasco sauce mural, a possum above an awning inside and appealed to the kitsch in me. It was at times hard to get a booking at. So when I had heard South's owner Leo was opening up a new place called Blue Plate Bar & Grill I knew we had to visit which we did one Saturday night. And it's nothing like I expected.
I was tipped off by a friend that had dined there that it was fancier than South but when I walk through the heavy wooden doors I see that it is probably the polar opposite of South in terms of decor. There are chandeliers, heavy flocked curtains, an oyster bar and inside it sparkles. A Blue Plate special is a special of the day usually served at a diner so I had expected well... a diner. Even though it doesn't look like a diner, sure enough on a mirror there are the blue plate specials of the day with a different special for each day of the week.
It's Saturday and the special of the day is Surf and Turf with a steak topped with a whole Alaskan crab leg for the very reasonable price of $27. Prices are very similar or the same as South and the food-well it's the same down home cooking, just with more "North" options and in a much fancier setting. The bar is busy and they serve Mint Juleps should you be in the mood for some Southern cocktails.
Catfish Bites $14
Hot dog orders the catfish bites and they come with a mustardy remoulade sauce. They're coated in cornmeal and deep fried which gives it that extra crunch on the outside but the catfish fillets are moist and soft inside.
Philly Cheesesteak $16
Now I've always been a bit obsessed with these for no reason than that they look so obscene and I love melted cheese. It's essentially a scotch fillet steak that has been thinly sliced and cooked with mushrooms and brown onion and topped with lashings of cheese. It's enormous and when paired with the generous serve of fries you could happily eat just  this and be very full. The hoagie submarine bread roll is burnished on the outside with a slight sweetness, kind of like a cross between a bread roll and a brioche. It's good and I slather a bit of  tomato sauce on top and proceed to polish off my half.
Po' Boy $18
The Po' boy comes with a choice of fillings: oyster, shrimp or catfish. I had always wanted to try an oyster ones so oysters it is. It comes out in the same bun with four cornbread crumbed and deep fried oysters, shredded lettuce, tomato and mayonnaise. My image of po' boys is a roll filled to the brim with lots of those breaded and deep fried suckers amongst the lettuce and tomato and so the four oysters don't really suffice. Only every alternate bite gets some oyster and as a result you can't really taste them. I think it could have done with six or even eight oysters.
Hot Wings $16
These are Gina and Hot Dog's favourite as they've never been able to find true American wings before coming here. The wings come with a blue cheese dressing, celery and carrot sticks. They're saucy and vinegary and hit the spot.
Guacamole and Salsa $12
I try the home-made tortilla corn chips with guacamole and salsa. The corn chips are excellent and the guacamole and salsa are also good with the salsa having a light spicy tingle.
Crabcake appetiser $16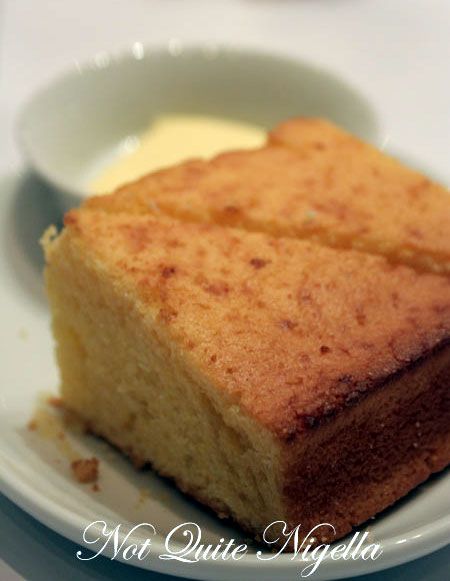 Cornbread $7
The cornbread is sweet and crumbly but the butter pat given is a tad too cold to spread on the very crumbly cornbread.
Jerk Chicken
Hot Dog has ordered the jerk chicken but his first plate comes out lukewarm so they apologise and make another one fresh for him. The replacement is markedly better and we can smell the jerk spices and the blackening as soon as it is set down on the table. The chicken comes with grill blackened stripes, a spicy, lingering Jamaican jerk seasoning with Habanero chillies and ginger and garlic (and spice lovers, yes it is spicy) and a pineapple salsa on top. It also comes with beans and rice which are both we assume kept bland to help balance the Jamaican jerk spiciness. Hot Dog just wished he had more salsa as he adores it. And nicely, they do comp this due to the issue with the lukewarm dish.
Chicago Deep Dish pizza $23
I know that there are some that just cannot abide Chicago deep dish pizzas. I'm not one of them. I love tomato and I love cheese and sausage. This comes out as a 1 inch thick and 23 cms in diameter pie. It is big and filling and Leo has spoken of selling this in quarters or halves as it's so large. It's scored into quarters and we take a knife to it. Due to the wet filling a slice doesn't come away easily and it's runnier than the Chicago deep dish pizzas I've had in Chicago. There's a thick pie crust on the sides and bottom and in the centre is a tomato rich filling with plenty of stringy mozzarella cheese woven throughout it and Italian sausage. It's messy but good and filling and I can only manage one quarter of it. Well I say only conveniently forgetting the half Po Boy and half Philly cheesesteak I ate earlier ;)
Half Rack o' Ribs $16
Now onto the ribs. Gina and Teena were both looking forward to the ribs so they decided to order a half serve. A half serve here is actually less than half a serve, it's about a third of the size of a full size serve at South and the price reflects this (a half serve is $16 and a full serve is $38). The only issue is that they're different here tonight. At South they've been incredibly soft and easily fall off the bone and utterly luscious. Tonight they're both struggling with getting the meat off. Gina has also received a dud piece where it's just full of fat so she leaves most of this behind after struggling for a good 20 minutes to extract some meat from it.
_New York Cheesecake $15
_
I'm devastated that the strawberry shortcake that I had been eyeing off all night isn't available so instead I settle for the New York cheesecake. It's actually fantastic-light with a lemon flavour and with a thin, buttery biscuit crust and served with a blueberry sauce on top.
Apple Pie $15
Gina's Apple Pie has a lovely buttery crust and just the right amount of sweetness for the apples.
Pecan pie $15
Teena's pecan pie is delicious in that sweet, caramelised molassesey taste although there's no molasses in it. I ought to know, I used to bake these pies for Leo at South a while back. And sorry I can't give out the recipe no matter how many times you ask! ;)
Perhaps it's teething problems that night but admittedly it is a much more comfortable place to relax. At South you always felt like you should eat and go because of the eager hordes of people being turned away but we could have happily sat at that booth and watched the room all night.
So tell me Dear Reader, which cuisine are you a little bit obsessed with?
Blue Plate Bar & Grill
24 Young Street (Entrance on Grosvenor Street),Neutral Bay, NSW
Tel:+61 (02) 9953 2942