I was kind of glad that it came at the end of a day of clumsiness. That is, the entire cocktail spilled on my dress. Yep, there I sat, drenched and sticky and our entrées were about to come. "Well at least I smell good" I said to Mr NQN while I sniffed my hand which smelled like cucumber and elderflower.
It was date night and we were at White Hart in Neutral Bay on Grosvenor Street which has become a hub of activity for Neutral Bay with lots of cute stores including Wild Basket and other restaurants. Neutral Bay's hipsters are out in full force and it seems many have already zeroed in on the bar at White Hart.
The gastropub's decor is full of tokens and tributes to Mother England. There are signs saying "Harney carriage, 8 seats", vintage wooden tennis rackets and cricket bats. The food menu is huge and I mean literally-if you put two side by side it's almost as big as the table. And even though I'm not a huge drinker, the cocktails and drinks list from mixologist Grant Collins sounds fantastic and I ooh and ahh about several that I want before realising that I could get drunk off the fumes of a tipsy gnat. And for beer enthusiasts, there is a list of rare beers on the very back page.
The cocktail itself was the Summer Garden one and it seems there's a bit of an homage to Heston Blumenthal's Sounds of the Sea. The cocktail comes out on a thick astroturf with edible chocolate soil, absinthe jelly worms and a little rake to work out any zen moments. You were supposed to sniff the mini watering can, listen to the music on the iPod and then take a sip of the cocktail. Unless of course you spill most of it on you (in my defence, it was wobbling on the very thick grass and Mr NQN had warned that it was going to topple literally before it happened) and it almost toppled several times.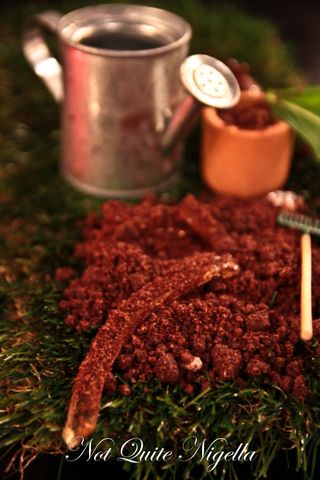 I did get a bit of a sip at the end and it was very cucumbery and floral. It contained London dry gin, fresh pressed cucumbers, devonshire cider, chamomile tea syrup and elderflower cordial. And whilst the iPod was a nice idea, it was so busy this Saturday night that I only got the occasional coo of a bird (or at least I think it was a bird).
_Mead sampler _
This looked larger than what we were expecting size wise and we ordered this as we had read that they brew their own mead here. And although I don't have a huge amount of experience with mead, I have to say that this mead was absolutely delicious with the flavour of honey and a bit of lime in it too.
The food came out very quickly as we were dining early. This was my favourite entree as I adore black pudding and this was nicely paired with apple pudding and a fine, crumble topping. The black pudding was peppery and rich with six large slices all with a nice crispy edge to them, a good nubbly texture and a soft centre.
This was Mr NQN's favourite as it was fresh and refreshing with the watermelon balls and slices of kingfish ceviche highlighted with lime and a little chilli and coriander.
We had to go with the traditional English roast beef and it was cooked medium rare. Unfortunately my first three bites contained some gristle although Mr NQN told me it was mainly around the outside and it was just bad luck (I wonder how many years bad luck you get for spilling a cocktail on yourself?). The potatoes could have been crispier although the beans were good and the Yorkshire pudding was a nice accompaniment to the meat.
We both liked the pie better of the two mains. Although the filling was quite runny and should have perhaps come with a spoon, the flavours were spot on and perfectly balanced. The puff pastry, well that was almost not needed (did I really say that about pastry?).
We didn't have a great deal of space in the tummy for dessert but the crumble was Mr NQN's choice. It wasn't bad but I thought that the crumble topping could have been more buttery and textured and the filling underneath sweeter. The ice cream came with some praline topping which gave it crunch.
Overall, White Hart is the kind of place that is best visited with friends, when you're not driving and you want to have some cocktails. Service is pleasant enough and the food is good although it feels like the drinks are really the focus here. Just don't follow my lead and drink the cocktails ;)
So tell me Dear Reader, are you accident prone? And have you ever spilled an entire drink on yourself? And are cocktails important to you when picking a place or is it mostly about the food?
White Hart
19-21 Grosvenor St, Neutral Bay NSW 2089
Tel: +61 (02) 8021 2115
Mon to Sat 5pm - Midnight