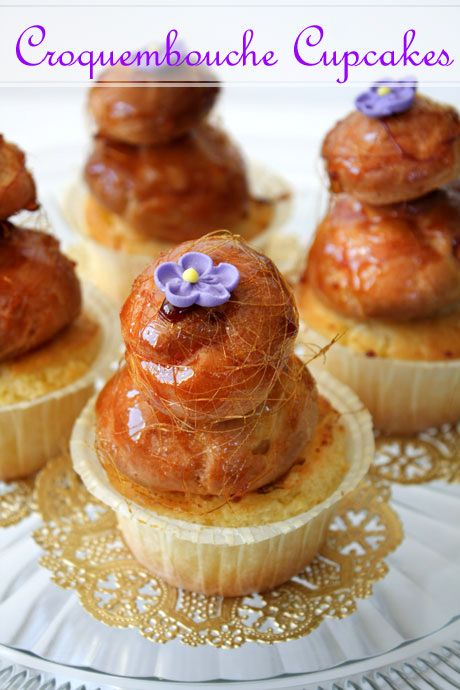 Tradespeople. Can't live with them, can't live without them. And if I had the choice I'd live without them. Renovating our new place is proving a challenge and I realised why they have such a bad reputation. Forget "The Cable Guy", why couldn't we have a movie called "The Disappearing Plumber". I for one would like to know what happened to mine.
I know what you're thinking: I got cocky. I had success with the Choux pastry and now I am just making it left, right and centre. The truth is, I just wanted to see if my choux was beginner's luck. I sometimes have that - the very first time I made macarons they worked and then the five batches after they didn't. So I wanted to see whether I would be able to replicate the initial choux success or whether I would be a one hit wonder.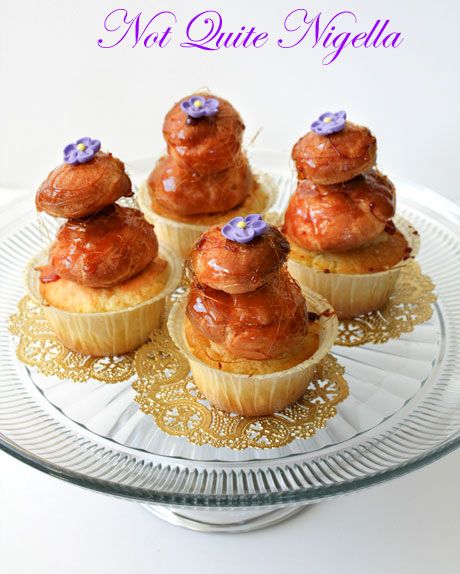 I also promised a friend that I'd try and make a Croquembouche for an event but with the upcoming move I had to beg off making the entire monstrosity. I hate to let people down so I did what I thought was an easier alternative. My enthusiasm for things always gets the better of me and once I decided to do it, I somehow neglected to think through the 10 steps needed in order to produce these. Before I knew it, I'd made the custard, choux and was about to make the cupcakes when I realised that making an entire croquembouche might have been easier. It was 2.30pm and I had to meet the plumber at the new place across the bridge at 4 pm. I was on step 5 and had to somehow get from step 5 to 10 and get the whole thing photographed before it was whisked away. I only just made it and I passed the cupcakes onto my happy friend who loved them but probably had no idea how close I was to not finishing them.
Please excuse the lack of in progress photos. Caramel and the ensuing panic does not make for good in progress photographs. But do trust me that these little cupcakes are divine. A crunchy toffee, a sumptuously creamy chilled vanilla custard burst inside and a soft vanilla cupcakes. Sweet dreams are made of this.
And then I got the call. You know the one from the plumber where he says he won't be able to make it to our place after all? And after my little screaming and cursing fit I calmed myself down and my friend asked me what was wrong. I explained to her and she was appropriately sympathetic but she also pointed out that I was lucky to get a call from them. Oh yes there's a special place for these kinds of people. And I am certain that they aren't served Croquembouche Cupcakes there.
So tell me Dear Reader, have you ever been stood up and who by?
Also the lucky winner of the Escapade Events opening night party double pass is Effie B! And for those of you who missed out, you can still subscribe for $10 and come along to the party :)
Croquembouche Cupcakes
An Original Recipe by Not Quite Nigella
Makes 12 cupcakes
Cupcake:
1 1/3 cups all purpose flour
1 heaped teaspoon baking powder
125g/1/2 cup unsalted butter
2/3 cup caster or superfine sugar
2 large eggs at room temperature
1/2 cup milk soured with a squeeze of lemon juice
1 teaspoon pure vanilla extract or vanilla bean paste
Choux pastry:
Custard filling:
8 fl oz (400 ml) whole milk
1.5 oz (40 g) plain flour
1/2 tablespoon pure vanilla extract or vanilla bean paste
Toffee
Step 1 - Make custard filling. Put milk in a small saucepan and heat until almost boiling but do not boil. Meanwhile beat eggs in a bowl with sugar until pale and fluffy and then whisk in flour (you can do this in an electric mixer too). When milk is almost boiling mix in thick eggy mixture and vanilla and stir constantly until thickend. Cover the surface of the custard closely with plastic wrap to prevent a skin forming and cool.
Step 2 - Make choux puffs. Preheat the oven to 210 degrees celsius convection. Lightly grease 2 oven trays and set aside. Combine the butter with water, sugar, milk & salt in a large heavy-based saucepan and bring to the boil. Remove from the heat and using a wooden spoon quickly beat in the flour. Return to the heat and continue beating until the mixture comes together and leaves the side of the pan. Cook, beating over low heat for 1-2 minutes to cook flour. Remove from heat and allow to cool slightly.
Step 3 - Transfer to a large bowl. Using a hand mixer, beat the mixture to release any more heat. Gradually add the eggs, one at a time. Beat well between each addition until all the eggs have been added and the mixture is thick and glossy. Beat for a few more minutes, or until thickened.
Step 4 - Spoon the choux mixture, in batches, into a piping bag fitted with a 1cm nozzle. Pipe mixture onto trays in two sizes, a smaller and a larger one leaving room for spreading. Bake for 20-25 minutes, in batches, or until firm and hollow when tapped. Prick a small hole in the bottom with a skewer to release the steam and return to the oven to completely dry out for 5 minutes. Transfer puffs to wire racks.
Step 5 - Make cupcake. Set oven to 180c/350F. In an electric mixer beat the butter until light and fluffy and then add sugar and beat until creamy. Add eggs one at a time ensuring that you beat well after each addition. Mix milk and vanilla together. Add one lot of flour and then one lot of the soured vanilla milk and then repeat until mixed. Do not overmix.
Step 6 - Line a muffin tray with cupcake liners and spoon into cases about 2/3rds full. Bake for 20 minutes until a skewer comes out clean.
Step 7 - Assemble the cupcakes. Cut out a small cone from the cupcake and fill the cavity with some of the custard filling. Trim the end of the cone and replace the lid on top. Poke holes in the bottom of the choux pastry with a chopstick or a skewer and affix a small plain tip to the top of a piping bag and fill  with the custard.
Step 8 - Make toffee. Firstly have a tray lined with baking paper ready. Then melt sugar, water and lemon juice on low heat in a heavy based saucepan until fully dissolved. Turn up heat to high and watch it like a hawk. After about 5 minutes, it should turn caramel. Turn heat down to very low, enough to keep the caramel liquid but stop it turning more brown. Using a pair of tongs in one hand and a fork in the other, dip the top of the  filled choux buns in the toffee mix. Be very careful, the caramel is very, very hot and you can burn yourself very easily. Use the fork to help the choux bun off the tongs and place toffee side up on a sheet of baking paper. It will cool within minutes.
Step 9 - When all the choux have been dipped, you should have enough toffee left over to spin and also use it to affix the choux buns to the cupcake and each other. Lightly dip the bottom of a larger choux  bun in the caramel and stick to the cupcake. Then dip a smaller one in and place that on top of the larger choux bun.
Step 10 - Once these have been done, take two forks and cooling the toffee slightly, make strands by dipping them into the toffee and making circular motions around the cupcake. If strands do not occur then the toffee needs to cool a little further. I find it easier to keep the stove on very low so that I can reheat the toffee if it sets too hard while you are spinning it. Top with a fresh violet (or a faux one if you happen to be out).
Choux recipe by Adriano Zumbo