First of all I need to start this story off with an apology to the people at Galley Foods. Mainly because up until my husband booked this last time I was sure I had been blacklisted from there. Long time readers probably know that I am on my Learner's License. Our first attempt was aborted when my husband saw the windy, narrow road that I had to drive and said that it would scare the boots off me. He knows my driving limits and I deferred to him. The second and third times were with friends who got sick and then my husband got sick and I had to cancel each and every booking. So on my fourth attempt, I asked my husband to call them and book using his phone number. I'm sure if they heard the name "Lorraine" and my phone number they'd hang up on me after a long, derisive laugh.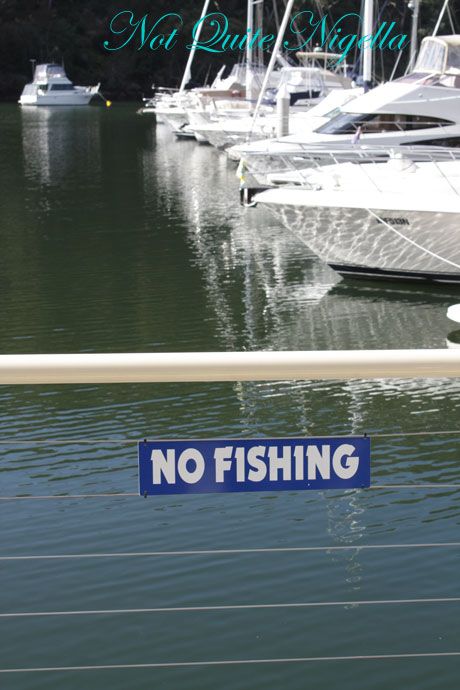 So one sunny Saturday afternoon Rose, Ronald, Nr NQN and I piled into the car and took the 1.5 hour drive out to the Kuringai Chase National Park. After the Pacific Highway, the route turns into Bobbin Head Road which is a picturesque drive and we get to the National Parks entrance and pay $11 entry fee (per car). After that Mr NQN and I swapped roles and he drove the rest of the way. For normal people, the road would probably be fine but for a nervous driver like me, the narrowness of the roads and lack of lane demarcation was too much.
Once inside the Kuringai National Park, the drive is pretty with lots of trees and a small rainforest area and within a few minutes we make it to the Empire Marina. There are signs for Boat Hire and a sign that says "No Fishing" and looking down from the wharf we see lots of fish snacking on bread pieces. We take a seat and have a look at the menu which is reasonably priced and features a lot of cafe style and Modern Australian dishes. It's a little chillier here as it's by the water and many fellow diners take advantage of the red, blue and black blankets that they provide for warmth but when the sun is out, it's gorgeous and hits the water just so. Service is very friendly and casual and everything conspires to make you feel like you're on holiday.
The Menu
Cappucino $3.50
The Toby's Estate cappucino is fantastically creamy and smooth and almost hot chocolatey. Rose and Ronald order one after tasting ours.
Salt and pepper Squid $18.50
The dish of the day is undoubtedly the salt and pepper squid. Tender as tender can be it's perfectly seasoned and comes with a delicious spicy tartare sauce which is so good we ask for more.
Steak Sandwich $17
The flavours in the steak sandwich are delicious with the sweet caramelised onion, cucumber, rocket and chipotle sour cream. The steak itself is fairly typical of a steak sandwich steak in that it's not the most tender cut but it's not bad especially in combination with the other flavours.
Piri Piri Chicken Burger with fries $16
Mr NQN is sick again so he doesn't share but I get a bite of the Piri Piri Chicken Burger with fries. The fries are a little cold but the burger is nice and fresh with a good portion of succulent marinated chicken. We see someone else's beef burger go past us and it looks huge and requires a skewer to hold it all together.
Mezze Plate for two $18
I love mezze plates as they usually mean a whole lot of different flavours and this one has a nice selection with jamon, goat's cheese, sun dried tomatoes (that are very sun dried), uber strong olives that remind me of red wine, rocket, chickpeas and grilled capsicum. I think a dip wouldn't have gone astray and would have loved perhaps a hummous or similar dip instead of the chickpeas as the chickpeas just fell off the bread when I put them on top.
Apple and cinnamon crumble with ice cream $12
We can't really fit in any more but we spy eight apple and cinnamon crumbles go past us and we can't resist. We order one to share and wait the requisite 10-15 minutes while it is warmed. The crumble topping is made of oatmeal, butter and brown sugar and the apple and cinnamon filling underneath it is chunky and not too soft and there is a good ratio between the two. And of course it's not complete without the vanilla ice cream.
Indigenous stone carving-can you see the fish?
Roo Poo Paper-yes paper made out of Kangaroo Poo!
After our meal we walk a bit of it off and read the signs that give us a bit of a history of the area (Bobbin is Aboriginal for "place of smoke"). We walk past the Indigenous stone carvings and visit the gift shop across the nearby bridge where we purchase some Lemon Myrtle black tea and see such curiousities as "Roo Poo paper". Yes it's paper made from pulp and Kangaroo poo! it's a roughly textured paper and feels almost like Braille.
Spider Buttons perfect for Halloween!
So tell me Dear Reader, what the strangest thing you've ever seen in a gift shop?
Galley Foods
Shop 4, Empire Marina, Bobbin Head Road, Bobbin Head, Kuringai Chase National Park, NSW
Open 7 days
Monday to Friday 8.30am-4pm
(Take away only after 3.30pm)
Saturday and Sunday 8.00am-4pm
(Take away only after 3.30pm)
Kitchen closes 3pm