"Have you been to Cafe Giulia?" Mel asks and when I say no but I've heard good things about it, she swings her Mini Cooper across a few lanes and zips up some side streets. "That was very naughty to do that" she says half seriously. Within a few minutes we've stopped near Cafe Giulia, famous around Sydney for their meals. "Why exactly is it so famous?" I ask Mel and she replies "The serves are huuuge and the service is wonderful and unpretentious, and that's from everyone there". A minor miracle has just occured and I check the ground for signs that hell has frozen over.
Housed in a renovated corner Butcher shop, it's a large and long space with room out the back for a little courtyard. We're greeted by a gigantic chalkboard menu and Mel goes through what is good. I have a feeling this a regular haunt of hers and I decide on the Breakfast Special (as a late riser, I love an all day breakfast). Juices are also said to be good so I order one of those. We order and pay at the counter and the staff are friendly - as the sticker on the chalkboard menu says "Campbelltown is for Lovers".
_Beetroot, orange, pineapple and passionfruit juice (left), Pineapple, mint, apple & ginger juice (right) $5.90 _
Our juices arrive and mine is sweet and delicious. Thankfully ice free and just full of fantastically fresh flavours and it's a huge, fresh, frothy serve.
My breakfast special arrives and it's a stack of three corn fritters, poached eggs, bacon, avocado, beetroot & onion jam and a yogurt sauce. The corn fritters are lukewarm (not because of excessive photo taking!) which is a bit disappointing (I like freshly fried corn fritters) and they more pikelety than other corn fritters I've had before. The rest of it is very filling though and there's a lot of bacon and I particularly like the beetroot and onion jam.
The Rosemary and Sea salt chip serving is huge and they're a tad more cooked that I like and a result a bit dry although this doesn't stop me from polishing quite a few off.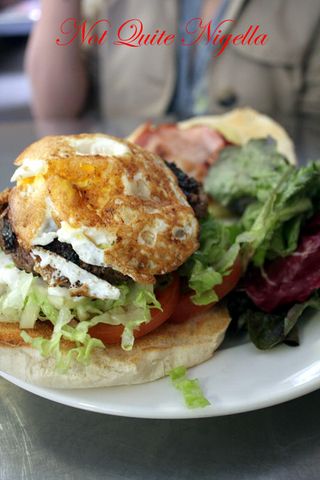 I don't try any of Mel's burger but she has trouble finishing it even though the bun goes untouched. A testament to it's size methinks. It's not fancy food, hell sometimes it's cold, but with such friendly service and fantastic prices and ginormous serves I see why it has become such a hit.
So tell me Dear Reader, what is your weekend morning routine?
Cafe Guilia, Chippendale
92 Abercrombie Street, Chippendale NSW
Tel: +61 (02) 9698 4424
Open Tuesday to Friday 6.30am-4pm
Saturday and Sunday 8am-3pm
Closed Mondays and Public Holidays