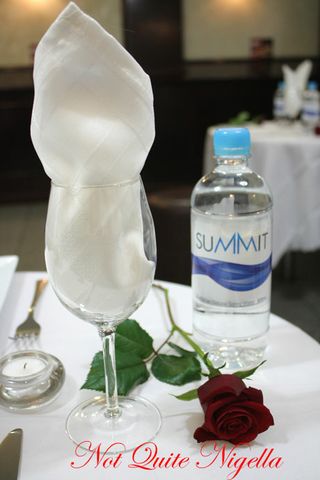 This is one of those questions that I never thought I'd ever ask or answer in my lifetime. I recall last year speaking to a McDonalds executive at the Seared Chicken burger launch and impressing on her my love of Wagyu burgers. She seemed interested enough but I could see that there were probably 1,000,000 reasons why they couldn't do it. Fast forward almost a year later and I find myself upstairs in the George Street store in a cordoned off area. There are red roses on the tables, tablecloths and wine glassses and a floral arrangement. And the reason? McDonalds have released two Gourmet Angus Beef burgers.
There are two burgers in the new range, the first one being the Grand Angus which has the Angus patty, red onion rings, McDonalds cheese, lettuce, tomato, mustard, mayonnaise and salad and 2 pickles (yes I counted, pickle fiend here). Then there's the more carnivorous option which is the Mighty Angus that has the Angus Patty, bacon, cheese, mayonnaise, red onion rings as well as and caramelised onion relish on it. Both are on a rectangular sourdough type of bun although truth be told it is more like a hybird of a sourdough than an actual sourdough as it's still soft but not an Artisan sourdough They're presented to us by Daniel Gould who is the McDonalds Executive Chef. Yes, McDonalds has an executive chef - but more on that later!
I try the first one (with chips and sachets of the sweet & sour sauce which is my favourite). I always find that there's never enough sauce or pickles on burgers so I daub some more sauce and dive in. As for whether they are distinguishable as an Angus burger versus other beef burgers, the mix of Mcdonalds condiments mask the patty flavour so perhaps not although it's not a bad burger at all. "I love  McDonalds cheese" Daniel says in a rapturous tone. The patty is 150grams and he later explains that the gourmet burgers are what they call a "3 to 1 patty" which translates to "3 to 1 pound patty" as in they get 3 burger patties per pound (453grams) hence the larger 150 gram patty. Quarter Pounder burgers are 4 to 1 so their patties weigh 113grams and cheeseburgers are 10 to 1s so their patties weigh 45grams.
The second burger is their meaty option with all of the salad removed and instead replaced with caramelised onions (called tangy relish) and bacon. Perhaps its' the fact that I've already had the better part of one burger and the fact that I love salad in burgers but I feel myself almost itching towards the first one. The upside of this one is that it is juicier and therefore there's more sauce via the sweet caramelised onions and it is a more luscious burger but I'm the kind that buys a burger to takeaway and takes it home and then piles lettuce, tomato, beetroot and grated carrot on it so my preference as a salad lover is for the Grand Angus whilst I'd see most going for the Mighty Angus.
I'm interested in talking to Daniel Gould to get the lowdown on McDonalds. I ask him where he works and he says that he spends most of his time at the Thornleigh store where the Head Office is located and behind the store is the training centre with exactly the same set up as the "Made for you" lines (with the exception of the computer equipment). He says that these particular burgers took about 6-8 months to create from beginning to end. The process is they give him a brief and then he responds to it with his ideas and then every aspect of McDonalds corporate gets involved and when all are in agreement the burger is released.
He tells us of when he and his team went on a "Burger Safari" where they ate burgers from from all sorts of gourmet burger stores like Bite Me Burger etc to see what they were doing. And what of Wagyu? He actually did make up some Wagyu burgers for everyone to try and these were very well received at the Head Office but when it came down to costings, accessibility and market awareness of Wagyu and the fact that it was more premium than the majority of McDonalds customers would know or have eaten, it was decided that it would be Angus beef instead which had broader market awareness via their presence in supermarkets.
I wanted to know, what does a burger have to do to make the permanent menu? Apart from sales of course, these Angus burger will be part of the permanent menu which starts with the Premium range, the core range (Big Macs, Fillet O' Fish and cheeseburgers) and then there's the Value range. Most items are released and finish before the McHappy Day in November leading up to Christmas as dealing with new unfamiliar burgers can have an impact on the stores and their efficiency during the busy holiday season.
And as he loves the cheese so much, will we see another cheese? It comes down to costs. The seared and crispy burgers have a Coon cheese which is more expensive cheese but realistically speaking, probably not. There go my plans for a Wagyu burger with gourmet cheese I suppose!
What's the most popular burger? It would be the humble cheeseburger in terms of number of units sold. They're noticing that some customers (i.e. hungry men folk) buy one regular sized burger and top it up with a cheeseburger (an entree if you will).
And lastly the big question-have the burgers actually shrunk? They swear that they haven't despite us being positive that they have. He tell us that it's just us that have grown up bigger! Hmmmm...
McDonalds Angus burgers are available for $6.45 and $6.75.
The Winners of the Angus vouchers are:
_John R.
_
_Katrina S. _
Leemin C.
Naz B.
Peijin T.
_Congratulations to the winners and thanks to everyone for entering! :)
_
And because the people at McDonalds love Not Quite Nigella readers, we have 5 exclusive Angus burger vouchers to give away to readers. All you have to do is tell me your favourite McDonalds item! Each voucher is valid for a Mighty Angus or a Grand Angus burger. Enter via a comment to this story. This competition is for NSW residents only and closes at midnight the 12th of September, 2009 (AEST).
Good luck to everyone!
Love,
Lorraine
xxx