"I think a lot of people come here after the gym" Dillon says and we look around. Well, if I were to sweat it off at the gym I might reward myself with a burger. Mr NQN, my buddy Christie and her husband Dillon and I are at the Grill'd in Darlinghurst. Mr NQN has had a hard day at work and all he wants is a juicy burger. This branch of Grill'd is so new that there's a "You can't touch this" sign over the beers in the fridge as they await their liquor license (slightly torturing the boys I can imagine). There is a Learners sign asking diners to be patient as the staff are new.
We're sitting at the large communal table at the front and looking at the menu. Burger fillings are divided into beef, chicken, lamb, veggie and steak sandwiches with most of the burger options being for the beef burgers. I have a hard time choosing as I usually like veggie burgers but they aren't jumping out at me. Another unusual thing is the lack of side orders. It's chips with a dipping sauce and that is it. No other types of fries, desserts or drinks aside from pre packaged soft drinks. Even if you wanted to buy more, you couldn't. There are two sample rolls on the counter, a large flour dusted soft white panini or a wholemeal roll. There is a gluten free option but oddly it does say "Gluten free rolls may contain traces of gluten" which I suspect would not please a celiac's disease. Perhaps they're being overly cautious as they may be processed on the same equipment as other buns.
The Almighty $12.50
Service is very friendly and pleasant and we take our numbers to the table. We're not waiting long and they bring us our burgers. Dillon's order was the Almighty which is pretty much the works  burger with a beef patty, cheese, bacon, egg (free range), beetroot, salad, relish and herbed mayonnaise.  It's enormous and his words were "The Almighty is a good, honest Aussie works burger. Just enough beetroot without going over the top. Sometimes the fried egg can be too crispy but the Almighty's was perfect, lifting a pretty good burger to the next level. The Almighty would have gotten a perfect score if it wasn't for the excess flour on the bun. I was covered in the stuff by the end of it!"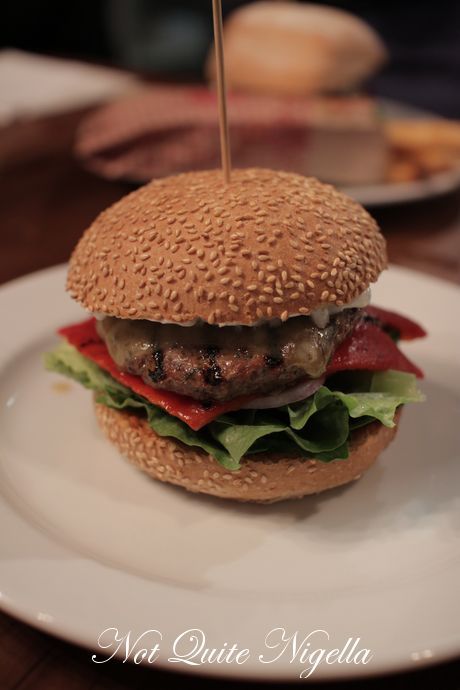 Hot Mama $11.90
Ordered on part for the name Christie's burger has a beef patty, roasted capsicum, dill pickle, cheese, tzatziki, salad and harissa paste. It's good although it could use some more spiciness as this is a very mild Harissa paste (the one in my fridge at home is super hot). It's easier to eat than Dillon's burger too.
Simon Says $11.90
We're not sure who Simon is but Mr NQN's burger has a grilled chicken breast, avocado, bacon, salad, relish and herbed mayonnaise. We find the chicken breast quite dry and tough and hard to bite into and it throws the burger off balance when you're trying to get a bite with everything and you end up getting a bite with a huge amount of the chicken. The chips are fine, not the best that I've had but crispy. We try them with the sweet chilli mayo and the herbed mayo which are both good with the herbed mayo being a little more unusual and strong in rosemary and oregano.
Scotch Fillet Salad $12.90
I know I know, why order salad when going to a burger place but this is for those of you like me that want to eat a bit low carb in anticipation of bikini season. The salad leaves are rocket (arugula) with spanish onion, feta, beetroot relish and an olive oil and balsamic dressing with pieces of scotch fillet. The scotch fillet is good and the beetroot relish is delicious although mine only has a tiny amount of feta (flecks really) and appears to have little to no dressing which makes it rather dry and I use the dipping sauce to help balance it out.
"Hi guys, how are you doing?" one of the staff say to us. "We accidentally double cooked your order" he says to Christie and Dillon and offers us the extra burgers. Mr NQN's eyes light up as he wasn't very satisfied with the chicken burger. He happily digs into the almighty and the Hot Mama and finishes them leaving behind a couple of pieces of bread. The boy's picks? Definitely the beef burgers.
So tell me Dear Reader, which type of patty do you like on your burger? Beef, chicken, veggie or lamb? Or another one?
NQN and Mr NQN dined as guests of Grill'd
Grill'd Burgers
241 Crown St, Darlinghurst, NSW
Tel: +61 (02) 9380 4800