I was having the post trip blues. I had arrived home in Sydney after almost a month away visiting seven countries and nothing looked as exciting anymore. "I want to be away again..." I said longingly to my friend and fellow travel writer Ute. So she came up with an idea that would realign me with my home city, to chase some food trucks. I loved the idea, after all I had slept through the launch of Eat Art Truck much to my annoyance so this would be a fun Friday night activity.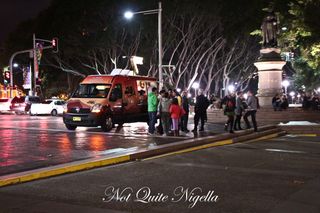 For a city without a great deal of street food, everyone was all atwitter about the food truck phenomenon which is part of a 12 month trial currently under way. In January 2012, it was announced that there were to be ten food trucks that had earned licenses from an application pool of 32.  There were grumblings about delays and people muttered impatiently if the city of Sydney could deliver anything on time. It was a good five months until anything appeared on the scene and a much needed smartphone application is still set to be launched.
Like Los Angeles where they enjoy huge popularity and have become a dining avenue of their own, the food trucks would tweet their locations for that day and hopefully hungry hordes of diners would queue up. For now I would be tracking them on twitter and seeing where they would pop up and going through responses to fish out the all important location information.
It was a little hard to tell who was yet operating and it was only when I direct messaged some that I realised that their operations were still a few weeks away. The two that were in operation in the city area on the evening were Eat ArtTruck and Cantina Mobil. Eat Art Truck were scheduled to make an appearance at Customs House at 9pm and Cantina Mobil at Queens Square at 5pm. The two trucks were very different propositions and at very different locations.
It's 5:30pm and the area just outside the Legal Courts is a deserted place on a Friday evening so when we arrive at Cantina Mobil, there is not much of a queue and food is given out quickly. We basically chose one of each of the food items and bypassed the non alcoholic sangria on offer. The soft tacos (a choice of hard or soft) are $5 while the burrito is $10 and a bowl of corn is $4.
We sit down to eat it and the soft taco with the beef filling is good with a nicely seasoned, tender beef filling. Also in the taco is lettuce, chilli con queso, chilli corn and tomato salsa.
The soft fresh burrito has a good amount of slow cooked spicy chipotle beef with cayenne chilli sauce and lime which gives it a nice tang. We were supposed to get chicken in this but we only saw it was beef once we bit into it. There is  more beef towards the bottom of the burrito while the top has more of the beans and lettuce. The prices are key here and they're not what you might consider cheap although they're not unexpected in Sydney.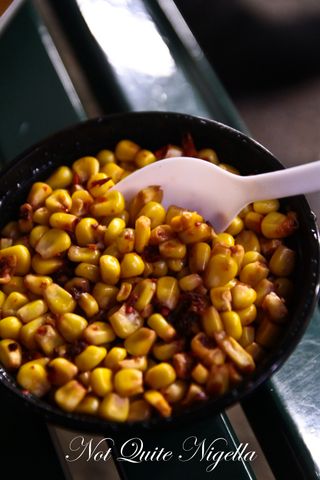 The corn, spiced with cumin and chilli is juicy is a good accompaniment to the meaty mains. We watch as a small queue gathers and wonder if the way out location is a place that best serves or perhaps somewhere nearer to Hyde Park and Elizabeth street would be better. And whilst the food was good and I would eat it again, it isn't quite distinct enough from other offerings around to make me want to track its location.
Dinner quickly finished we have three hours to wait until Eat Art Truck swings open its doors to the public so we sit and chat and then make our way slowly down to the Opera House and have a drink there while watching the Vivid light show. At 9pm we make our way to Customs House. There is already a healthy looking crowd standing there watching the colourful transitions of light reflected on Customs House. There is also a queue waiting at Eat Art Truck for their orders and peering at the menu. We take a look and there is so much that we want to order so we decide on one of everything.
If one truck had a name behind it it was the Eat Art Truck with former Tetsuya's sous chef Stuart McGill there plating and packing things quickly. The menu does sound different to what you might find elsewhere and really nails the concept of a food truck offering things that you would actually follow someone on twitter to eat.
Everything is cooked to order and we wait about 10 minutes for our order. He apologises to everyone for the wait when they pick up their order and Ute is pleased that the girl behind the counter offered us the meal deal where you get three items and a drink for $25 (essentially the drink for free). The prices start at $5 for food up to $12 and everything looks and smells wonderful as it wafts past us in the arms of another diner.
There are two menus, A and B. Menu A is said to operate on Wednesdays to Thursdays and menu B for Friday and Saturday with Sunday being a mix of both menus with an experimental dish devised for the day. However tonight we seem to have a mix of both menus. You do want to get in early, because as the night progresses, items will run out. Mains were sold out in less than 1.5 hours according to their twitter feed.
We chose this based on the cashier's recommendation and it was fantastic. It was fresh, slightly thick and with just the right amount of sweetness.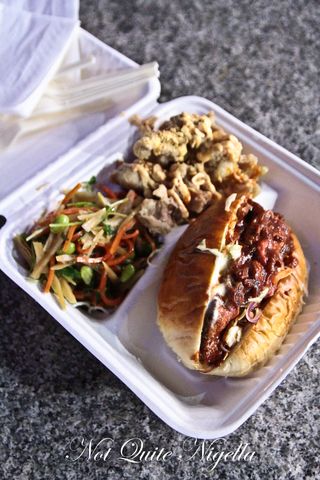 "What's sembe?" Ute asks. I answer that I only know of sembei, the rice cracker, not sembe. It turns out that the chicken sembe is a lightly breaded and deep fried chicken skin with a spicy mayonnaise drizzled on top. Unusual but not in a bad way at all, although at first bite we wonder where the meat is and by the second piece, you realise that it's chicken skin. The kinpira is a salad that I used to buy a lot when I lived in Japan as it was tasty and healthy. Kinpira is the method of slicing and sauteeing vegetables in soy, mirin and sake. The vegetables (eg. lotus root, burdock and carrot) are served cold, cut up as matchsticks with edamame and wakame seaweed. The last item was the one that set my heart aflutter: a bbq beef bun in a soft milky bun with slaw (with either hot sauce or mustard). The burnished soft bun is filled generously with tender, soft, melting beef which is carved thickly.
Ssam, a Korean dish made with ssam jang, a hot sauce with bean, chilli, gochujang and vinegar, is given the confit spatchcock treatment.  It is thinly shredded, spicy spatchcock which is full of flavour. It is encased in a soft butter lettuce leaf.
One last order for chicken wings (and be warned, bring wipes for these beauties)! They come out piping hot with a crunchy outer. They are flavoursome and moreish with what tastes like miso. It is also given a lightly spicy kick from the Japanese chilli powder shichimi togaroshi.
Oh and the art! With all of that I didn't mention the art did I? On the back of the truck is an art installation by artist Phibs. Apparently this changes monthly and at times, you can see him creating his art although this evening, it is finished.
Time will tell whether the food truck concept will last and perhaps some operators will find times easier than others due to their offerings and locations. But on a cold Winter's evening, when I would have normally been in bed, I found myself loving being back in Sydney.
So tell me Dear Reader, what do you think of the Food Truck concept? Would you try it? Do you think they will last? And which one sounds the most interesting to you?
At the moment, food truck locations can be found on facebook and twitter. The final list of trucks is:
Agape @agapeorganic
Al Carbon @alcarbontacos
Bite Sized Delights
Started operations: Cantina Mobil @catinamobil
Started operations: Eat Art Truck @eatarttruck
Let's Do Yum Cha @LetsDoYumCha
Taco Truck
Tsuru @TsuruFoodTruck
Urban Pasta @UrbanPasta
Veggie Patch