I've often spoken to my little black book  you know the one where I keep my list of "must eat at" restaurants in. One entry that has outlasted this book and the two before was The Dutch Shop in Smithfield. You see we don't really live close to Smithfield and they have certain opening hours which make it hard to go out there unless you can drive (not I currently, due to a lack of parking prowess). Luckily I have a friend that can drive and wants to go there. "You really do have a black book!" she says seeing my Moleskine with "The Dutch Shop" entry written down many moons ago.
She's well versed in Dutch food as her husband is Dutch and when I was invited to a lunch at her house a couple of weeks ago she fed us a smorgasbord of delicious Dutch and Malaysian dishes. When I asked her where she had purchased them from, she mentioned the Dutch Shop and my eyes lit up. "Oh I've been meaning to got there for the longest time!" and instantly a date was made to go. She needed to stock up on Frikkadelle sausages and I needed help negotiating my way through the Dutch only labels as my Dutch is limited to words like "Clog".
I know we're in for a treat when we pull up outside. It's in the middle of an Industrial type area so you'd never know it existed and the outside is so quaint and kitsch I suppress a squeal.  The front of the shop is the grocery store where there are all manner of Dutch goodies which she shows me. There's  Stroopwaffels, those firm round waffles that are filled with molasses type of filling sandwiched together. She explains the best way to eat these is by placing them on top of a cup of tea or coffee and allowing the steam to heat them them up.
There's also several types of Dutch process cocoa (Blooker, Van Houton or Droste) and I make a mental note to refill my stash of Droste. She explains that there are also a lot of pre-packaged foods as the Dutch are practical people who eat to live (like Mr NQN) rather than say the French who Live to Eat (like me I suppose). There are also lots of types of cheeses, many of them spiced and whilst Edam and Gouda are the most well known cheeses, she tells me everyday Dutch prefer Gouda rather than Edam.
Rusk selection with Hagelslag (hail)
There's also rusk biscuits which feature heavily in the Dutch diet and they also use these crumbled up in meatballs. The sprinkles are called _Hagelslag _and roughly translate to "hail" and when new babies are born and people visit the parents in hospital or at home (85% of Dutch women give birth at home!), visitors are served either pink or blue topped rusks according to the baby's gender.
Sauces, sauces and more sauces!
Butter cake (centre)
Sauces also line the shelves and there are plenty of "frittesausse" (fries sauce) which is a slightly tangier/more sour version of mayonnaise and of course a multitude of curry sauces. She tells me that Buttercake is a very popular Dutch cake and one where people have a strong opinion should you diverge from the traditional recipe - she has learnt that from experience! There are also more familiar biscuits such as the Dutch Speculaas and Almond Fingers.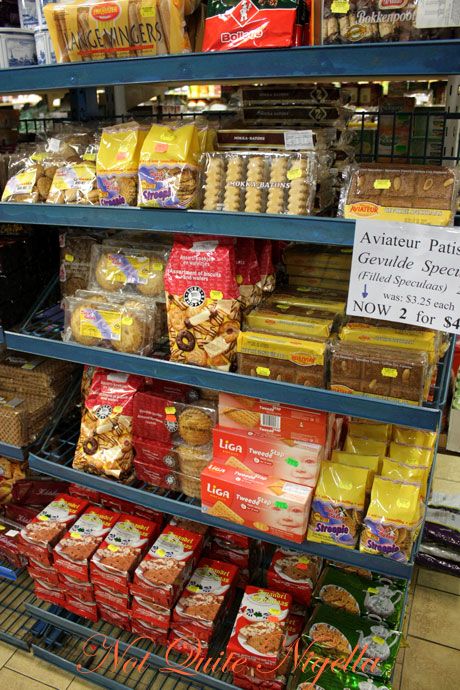 Biscuit selection
Little house figurines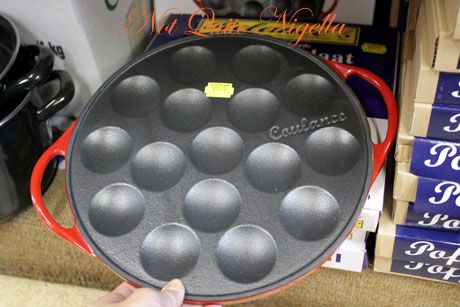 Poffertjes pans
Poffertjes pans are also stocked as well as traditional knick knacks of small houses (the Dutch are very house proud).
After all of this browsing, we enter the middle section which is the cafe where you can order Dutch snacks with or without bread as well as drinks, Dutch coffee and tea.The menu is very reasonably priced, dangerously so, so the urge to try one of everything has to be suppressed. Dutch music plays in the background which makes me feel like I'm on holiday and yes there is carpet on the table.
Cassis $3.25
The cassis or blackcurrant drink is a fizzy blackcurrant drink, much like Ribena mixed with sparkling mineral water.
Herring with onions $4.75
The herring dish is a fillet of herring with raw chopped onions on top. I do like herring and its distinct taste although I find I can only have it in smaller amounts or with remoulade to break up the very rich, fishy taste.
Deluxe Croquette in a bun $3.50
The croquette (kroket) is a national food. She tells me of vending machines in Holland that sell all manner of deep fried foods. There is a round version which is the bitterballen and the longer version which is the kroket or croquette but they have the same filling inside. I adore these and the filling is so, so, so soft whilst the outside is nice and crisp. Yum Cha addicts, the filling is similar in texture to the taro stuffed deep fried footballs that you get.
Apple Tart $5
The apple tart is a beauty. It's a proud, high wedge of pie with layers and layers of soft apples interspersed with  a cinnamon filling. It comes with a squirt of cream and is not too sweet but its size means that I need to take some home for Mr NQN (and he polishes it off in two satisfied lip smacking bites).
The back is the furniture store is where oak furniture Dutch style is stocked. There are also wooden clogs as well as soft fabric clogs that are more commonly used in the house as well as a selection of music.
Soft fabric clogs
Dutch Music
And the tale of the humble carrot? You may already know this but I had no idea of this. Carrots actually originated in Afghanistan and were white, red, yellow or purple.  She tells me that Orange is also the colour of the Royal family in Holland and it is their love of the House of Orange (the Dutch Royal family) that led the Dutch into breeding orange carrots by crossing yellow and red carrots during the 16th Century.  The Dutch have also helped develop a sweeter and more practical carrot. And apparently in England women used to use carrot tops as hat decorations (yes, I'm being serious - I can definitely see feathers as a modern day carrot top).
I buy some goodies including Bitterballen, the ball shape version of croquettes, Droste Cocoa, Apricot and Pear essence and some stroop waffles and take them home to eat. And yes I dipped it in the tea just as she suggested and it was a great alternative to a biscuit (the molasses-like centre helps it avoid collapsing altogether) but I also liked it plain. The big hit with my parents and husband was the Bitterballen though. They immediately wanted to rush out to buy more of them and when I told them where, I could see that a trip back to Smithfield would be on the cards...
So tell me Dear Reader, am I the only one that finds this picture quite amusing? ;)
The Dutch Shop
85 Market Street, Smithfield, NSW
Tel: +61 (02) 9604 0233
Tue-Fri 9:00am- 4:30pm
Sat-Sun 9:00am- 4:00pm
The Cafe is cash only
Store accepts: Bankcard, Cash, Cheque, EFTPOS, Mastercard, Money Order, VISA
http://sydney.citysearch.com.au/E/V/SYDNE/0028/12/30/1.html
Lamps made using cow stomach lining!