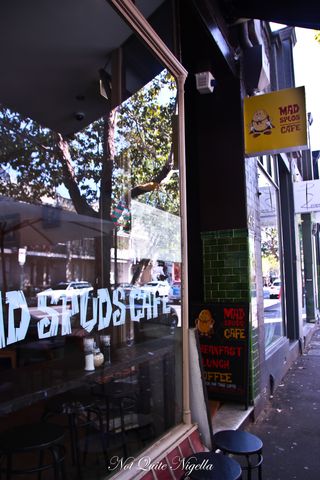 Every day I make lunch for Mr NQN. Except Fridays when he goes out for lunch. Recently his favourite dumpling place stopped making dumplings and moved to making less exciting sandwiches and drinks and he facebooked how disappointed he was about that. So when it came around to Friday I suggested that we meet up with friends Buxom Wench and Silver Fox for lunch in Surry Hills just near his work. But where would we go?
Remembering Mr NQN's warning about there always being a cold snap free during September I recalled a winter friendly favourite. A few months ago, there was a week where all I was hearing was "have you tried that potato place?" My ears pricked up, I mean anywhere that specialises in just one thing has got to be interesting, or at least heavily invested in doing it well. At Mad Spuds on Crown Street, there is indoor and outdoor seating and plenty of potato paraphernalia inside. Mr Potato Heads in various collector's editions sit on display, potato drawings, any potato related you could think of really.
The edible potatoes in question here are organic potatoes from Robertson in the Southern Highlands of NSW. They are grown in volcanic red soil and watered through the natural springs. They come in varieties like King Edwards, Sebago, Spunta, Desire & Pink Fir. Buxom Wench asks and today's is a sebago potato. There is also a  King Edward potato oven that they tell us is good for cooking the potatoes as it makes them crisp on the outside and fluffy on the inside. Items are marked as gluten free or vegetarian and there is an Irish bent to the menu items. Service is very friendly and welcoming.
The mad spud stack is brought to the table and promptly loses its two top layers. No matter, they're easily put back on. It starts at the bottom with a crispy mashed potato cake with pieces of pan fried halloumi, avocado, caramelised onion, and topped with two pieces of potato skins, sweet potato and a surrounding pool of mint yoghurt. It's a mixture of textures and tastes, all really quite complementary from the slightly crunchy skins the soft inner of the potato cake and the squeaky saltiness of the halloumi.
I would gladly pass up an eggs benedict for this potato cake rolled in oats served with a piece of lightly toasted bread, two poached eggs, prosciutto, feta and Guinness onion relish. It's best when you get a bit of everything into your bite, particularly the prosciutto which brings it all together nicely.
I've always loved eating potato skins - even when I make mashed potato, I save the skin from the ricer and eat it with dressing as a salad on its own. The menu even tells us that the skins are a source of vitamin C, vitamin B6, copper, potassium, manganese and dietary fibre. These potato skins were roasted, with the inside scooped out, stuffed with black pudding and then flash fried. Finally, a layer of aged cheddar and drunken apple relish were added. Silver Fox and Mr NQN are less keen on black pudding or blood sausage than Buxom Wench and I are but I really like this especially with some of the sour cream on the bottom layer and the yellowy orange sauce that has a hint of Indian spices.
I thought Silver Fox and Mr NQN might like this spicy number as Buxom Wench and I have ordered the blood sausage potato skins. The servings are bigger than I had imagined and there are two enormous roast potatoes split and filled with avocado and chilli salsa. There's a side of Mexican style beef and a small pot of sour cream and a creamy seven seed coleslaw which has fennel, cumin, linseed, sesame, poppy, mustard and sunflower seeds. I found that I left quite a bit of the potato behind-I was admittedly potato-ed out.
I really ordered this because I saw that Buxom Wench was having a soy hot chocolate and I thought that she might have liked this to go with it (and reportedly, it's so good that she has to check whether it is made with soy). The cookie was fine although I wouldn't necessarily order it again in favour of some of the other sweets.
Sure you need to literally stab your way in with a fork and the bottom layer is quite thick but the rich caramel and thin layer of chocolate makes the excavation work worthwhile.
The other goodie is the funky stuffed monkey which reminds me of an Eastern European biscuit served with tea or coffee. It's crumbly and sweet pastry filled with dried fruit and is perfect for dipping in a hot drink.
So tell me Dear Reader, do you bring your lunch to work or do you buy it in? And if you bring your own, what do you usually bring? A sandwich? Salad or leftovers?
Mad Spuds Cafe
479 Crown Street Surry Hills NSW 2010, Australia
Tel: +61 (02)9698 8108